Entertainment
Entertainment
Watchers of a roadside television being entertained by a live cricket match between India and Pakistan (2003) Entertainment is something that holds the attention and interest of an audience , or gives pleasure and delight. It can be an idea or a task, but is more likely to be one of the activities or events that have developed over thousands of years specifically for the purpose of keeping an audience's attention. [ 1 ] Although people's attention is held by different things, because individuals have different preferences in entertainment, most forms are recognisable and familiar. Storytelling , music , drama , dance , and different kinds of performance exist in all cultures, were supported in royal courts , developed into sophisticated forms and over time became available to all citizens.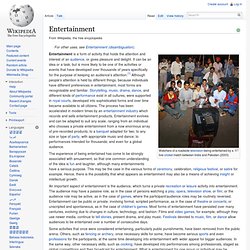 Entertainment
DilbertDogbertTheConsultant.gif (GIF Image, 750x342 pixels)
www.threespeech.com/blog/wp-content/uploads/2009/02/Entertainment_v5.jpg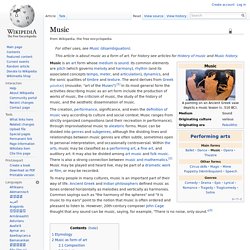 Music is an art form whose medium is sound and silence. Its common elements are pitch (which governs melody and harmony ), rhythm (and its associated concepts tempo , meter , and articulation ), dynamics , and the sonic qualities of timbre and texture . The word derives from Greek μουσική ( mousike ; "art of the Muses "). [ 1 ] The creation, performance , significance, and even the definition of music vary according to culture and social context. Music ranges from strictly organized compositions (and their recreation in performance), through improvisational music to aleatoric forms. Music can be divided into genres and subgenres , although the dividing lines and relationships between music genres are often subtle, sometimes open to individual interpretation, and occasionally controversial.
Sport (or, primarily in North America, sports ) is all forms of competitive physical activity which, [ 1 ] through casual or organised participation, aim to use, maintain or improve physical ability and provide entertainment to participants. [ 2 ] Hundreds of sports exist, from those requiring only two participants, through to those with hundreds of simultaneous participants, either in teams or competing as individuals. Sport is generally recognised as activities which are based in physical athleticism or physical dexterity , with the largest major competitions such as the Olympic Games admitting only sports meeting this definition, [ 3 ] and other organisations such as the Council of Europe using definitions precluding activities without a physical element from classification as sports. [ 2 ] However, a number of competitive, but non-physical, activities claim recognition as mind sports .