Writing
Illustrations Of Unusual And Rarely Spoken Words. Recumbentibus—A knockout punch, either verbal or physical. The Irish illustration duo of James and Michael Fizgarald, or also known as The Project Twins, have come up with a series of illustrations that visually represent rarely spoken and heard of words. In their series called 'A-Z of Unusual Words', the meaning of the words have been visually defined in the form of a whimsical poster—which can be purchased on their website. Here are some of their 'informative' posters: Acersecomic—A Person whose hair has never been cut. 100 Exquisite Adjectives. By Mark Nichol Adjectives — descriptive words that modify nouns — often come under fire for their cluttering quality, but often it's quality, not quantity, that is the issue.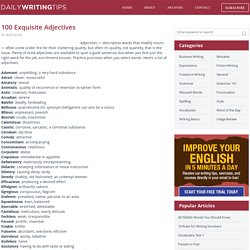 Plenty of tired adjectives are available to spoil a good sentence, but when you find just the right word for the job, enrichment ensues. Practice precision when you select words. Perfumes Inspired By Dead Writers. Originally posted on Book Riot: Falling down the Etsy rabbit hole is one of my internet-ish weaknesses, and upon one of these bottomless falls I came across this Dead Writers Perfume, which is made with "black tea, vetiver, clove, musk, vanilla, heliotrope, and tobacco.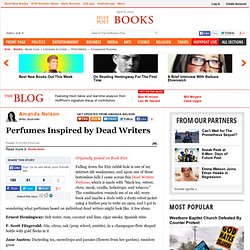 " The combination reminds me of an old, worn book and maybe a dude with a dusty velvet jacket using a feather pen to write an opus, and I got to wondering what perfumes based on individual dead writers might look like. A few ideas: Ernest Hemingway: Salt water, rum, coconut and lime, cigar smoke, Spanish wine F. My Kryptonite by Katrina Wendt. I had built a wallLayer by layerMortar and stone Until it was so highAnd so strongI thought no one could break it.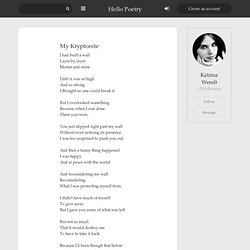 But I overlooked somethingBecause when I was doneThere you were. You just slipped right past my wallWithout even noticing its presence.I was too surprised to push you out.
Tips. Underlined Book Quotes Become Clever Illustrations. Bookworm or not, you can't help but enjoy these black and white illustrations of literary quotes by Evan Robertson.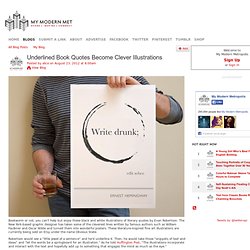 The New York-based graphic designer has taken some of the cleverest lines written by famous authors such as William Faulkner and Oscar Wilde and turned them into wonderful posters. These literature-inspired fine art illustrations are currently being sold on Etsy under the name Obvious State. BlaBlaMeter - Bullshit detection tool. 14 Punctuation Marks That You Never Knew Existed. 8 Cute DIY Bookmark Ideas | Good Life Eats - StumbleUpon. Bookmarks | 26 comments I don't really use real bookmarks.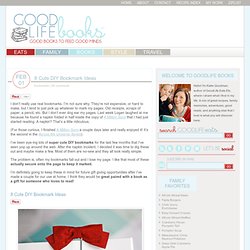 I'm not sure why. They're not expensive, or hard to make, but I tend to just pick up whatever to mark my pages. Old receipts, scraps of paper, a pencil, etc. The Top 10 Banned books of all time - ShortLists - ShortList Magazine - StumbleUpon. Women's | Out of Print Clothing - StumbleUpon. Common Themes in Literture. Common Themes in Literature It has been argued that there are anywhere between 3 and 40 main themes in literature that continue to be explored by each successive generation of writers.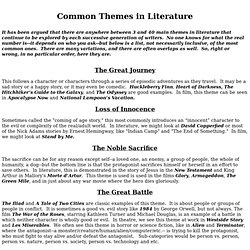 No one knows for what the real number is--it depends on who you ask--but below is a list, not necessarily inclusive, of the most common ones. There are many variations, and there are often overlaps as well. Watch CliffsNotes Episodes - Hamlet, Romeo & Juliet, Macbeth and More |...
---