Literature
105 Writing Tips from Professional Writers - StumbleUpon. Print - The 75 Books Every Man Should Read - Esquire - StumbleUpon. - StumbleUpon. John Irving. John Winslow Irving (born John Wallace Blunt, Jr.; March 2, 1942) is an American novelist and Academy Award-winning screenwriter.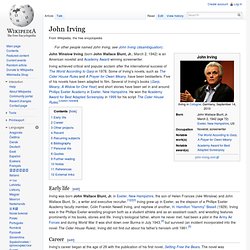 Early life[edit] Irving was born John Wallace Blunt, Jr. in Exeter, New Hampshire, the son of Helen Frances (née Winslow) and John Wallace Blunt, Sr., a writer and executive recruiter.[1][2][3] Irving grew up in Exeter, as the stepson of a Phillips Exeter Academy faculty member, Colin Franklin Newell Irving, and nephew of another, H. Hamilton "Hammy" Bissell (1929). The Best 100 Opening Lines From Books / Life / Stylist Magazine - StumbleUpon. Chosen by: Clare Balding "It was the best of times, it was the worst of times, it was the age of wisdom, it was the age of foolishness, it was the epoch of belief, it was the epoch of incredulity, it was the season of Light, it was the season of Darkness, it was the spring of hope, it was the winter of despair, we had everything before us, we had nothing before us, we were all going direct to Heaven, we were all going direct the other way."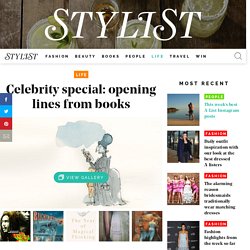 A Tale Of Two Cities, Charles Dickens. - StumbleUpon. Whichbook | A new way of choosing what to read next. The Book of the New Sun. The Book of the New Sun (1980–83) is a series of four science fantasy novels or one four-volume novel by the American author Gene Wolfe.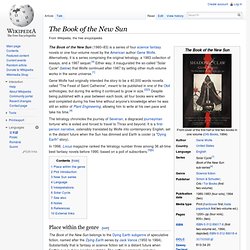 Alternatively, it is a series comprising the original tetralogy, a 1983 collection of essays, and a 1987 sequel. [a] Either way, it inaugurated the so-called "Solar Cycle" (below) that Wolfe continued after 1987 by setting other multi-volume works in the same universe.[1] Place within the genre[edit] Plot introduction[edit] Top 6 Sites that Inspire and Educate & Life Scoop.
If you're a professional who likes to be intellectually stimulated and you enjoy keeping up with the latest news and breaking trends, the internet provides you with an endless choice of carefully curated sites to visit.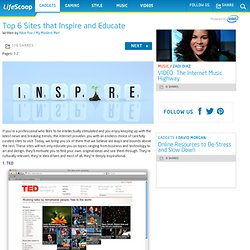 Today, we bring you six of them that we believe are leaps and bounds above the rest. These sites will not only educate you on topics ranging from business and technology to art and design, they'll motivate you to find your own, original ideas and see them through. The Whitsun Weddings by Philip Larkin. Although Philip Larkin turned down the office of Britain's poet laureate following the death of John Betjeman in 1984 (it ended up going to Ted Hughes), Larkin had already inherited Betjeman's cultural place in Britain and was one of the country's most popular poets.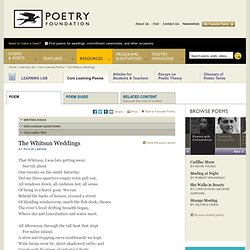 Three of his poems, including "The Whitsun Weddings," appear in The Nation's Favourite Poems (BBC, 1996), an anthology of the 100 most popular poems in the UK; only T.S. Eliot and W.B. Ian McEwan Website: Articles Written by Ian McEwan.
---