Language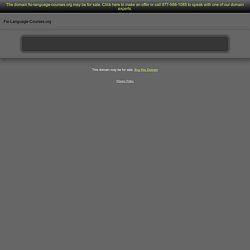 Welcome to fsi-language-courses.org - the home for language courses developed by the Foreign Service Institute.
Free Touch Typing Tutor | Open Source Software
Irish - Giota Beag: Irish Level 1
Languages - Japanese - A Guide to Japanese - 10 facts, 20 key phrases and the alphabet
Languages - A Guide to Russian - 10 facts, 20 key phrases and the alphabet
Formas del verbo querer
Liebhaber Schiller: Der Mann, dem eine Schwester nicht genug war - SPIEGEL ONLINE - Nachrichten - Kultur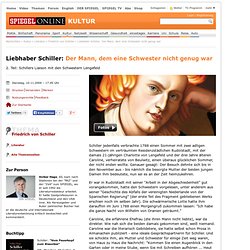 Schiller jedenfalls verbrachte 1788 einen Sommer mit zwei adligen Schwestern im verträumten Residenzstädtchen Rudolstadt, mit der damals 21-jährigen Charlotte von Lengefeld und der drei Jahre älteren Caroline, verheiratete von Beulwitz, einen überaus glücklichen Sommer, der nicht enden wollte.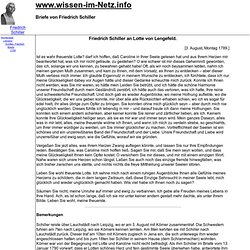 Friedrich Schiller an Lotte von Lengefeld.
Friedrich Schiller: Briefe - Lotte von Lengefeld - 3.8.1789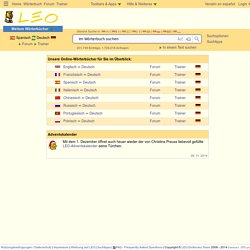 Hoy llega a su fin la fase de prueba de la nueva versión del diccionario LEO. A partir de mañana, la "nueva" será la versión estándar. El hecho de que hayamos podido llevar a buen puerto dicho cambio se lo debemos, en gran medida, a ustedes, sus numerosas propuestas de mejora y su paciencia. A pesar de que esta no ha sido la primera vez que efectuamos cambios en la página, sí ha sido la vez más compleja, especialmente desde el punto de vista técnico. Ahora bien, la complejidad en toda su magnitud no quedó clara hasta que pusimos la nueva web disponible a un gran número de usuarios, debido a las "innumerables" combinaciones posibles de versión de navegador y sistemas operativos existentes y a la amplia variedad de tipos de acceso. Así, la fase de prueba ha supuesto, para muchos de ustedes, también una "fase de frustación".
dict.leo.org - Deutsch-Spanisches Wörterbuch
Mit dem heutigen Tag beenden wir die Testphase für die neue Wörterbuchversion, die neue wird hiermit zur Standardversion. Dass wir den Umstieg heute vollziehen können, verdanken wir in großem Maß Ihren zahlreichen Verbesserungshinweisen - und Ihrer Geduld. Auch wenn dies nicht unsere erste Umstellung war, so war es doch die komplexeste, vor allem von Seiten der Technik her. Wie komplex, das hat sich leider erst im großflächigen Einsatz gezeigt, durch die "zahllosen" Kombinationen von Browser- und Betriebssystemversionen und durch das breitgefächerte Zugriffsverhalten der Nutzer. So gestaltete sich die Testphase für viele von Ihnen leider auch zur "Frustphase" - wir bitten nachträglich nochmals um Nachsicht für die aufgetretenen Misslichkeiten.