Techie classroom
is my site, it contains apps by content area, articles, information, resources and about anything you want to know. Add to daily. Mind Leap makes sure that parents and educators know which apps are educational and which aren't, which keep kids engaged and which bore them to tears. And, we encourage developers to build great stuff that turns kids on to learning. We're a review blog for parents who want to find the best children's iPhone, iPad, and Android apps without slogging through the entire internet.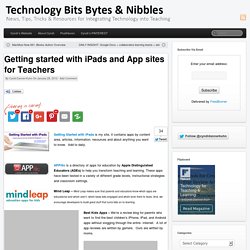 Getting started with iPads and App sites for Teachers
It's time for holiday road trips and you know what that means: driving, flying, cranky kids, and… teaching opportunities! What's that, you say? Well, there is so much downtime during the holidays where kids and adults spend hours just passing the time… why not try out some new apps on your phone?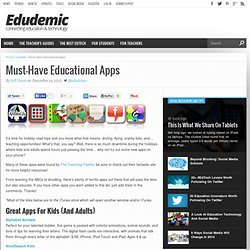 Read them in iBooks, send them to your friends, or submit them to the iBookstore. Ideal for children's picture books, photo books, art books, cook books, manuals, textbooks, and the list goes on. ★ The no #1 Book app for the iPad in 18 countries ★ "Book Creator makes e-book publishing easy" – wired.com ★ One of the Top 50 Apps for the iPad – The Guardian 2011 Watch the video of Book Creator in action and find out more at www.redjumper.net/bookcreator eBook Creator $3.99 http://itunes.apple.com/us/app/ebook-creator/id448273828?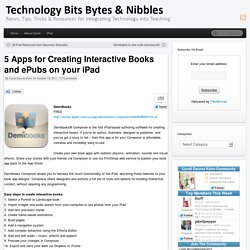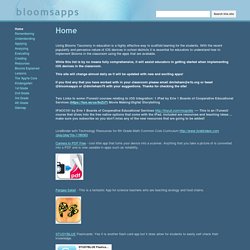 Using Blooms Taxonomy in education is a highly effective way to scaffold learning for the students. With the recent popularity and pervasive nature of iOS devices in school districts it is essential for educators to understand how to implement Blooms in the classroom using the apps that are available. While this list is by no means fully comprehensive, it will assist educators in getting started when implementing iOS devices in the classroom. This site will change almost daily as it will be updated with new and exciting apps! If you find any that you have worked with in your classroom please email dmileham@e1b.org or tweet @bloomsapps or @dmileham75 with your suggestions. Thanks for checking the site!
After seeing the chart on of Bloom's Taxonomy on bloomsapps , I thought I could make a more thorough table. I like the headings that were used in the chart. Creating Compile information together in a different way by combining elements in a new pattern or proposing alternative solutions.