Tips and Tricks
Design - Welcome
Improve Flash Catalyst Performance
After installing VMWare 2.0 and VirtualBox 2.0.2 i wanted to make a comparison of both virtualization engines.
Using VMWare Images with Virtualbox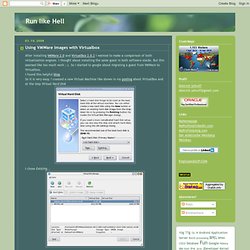 Introduction VirtualBox is a free and OpenSource alternative to VMWare.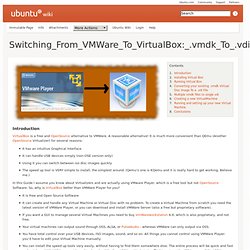 Magazine/HowTo/Switching_From_VMWare_To_VirtualBox:_.vmdk_To_.vdi_Using_Qemu_+_VdiTool
How to Identify and Avoid Spreading Misinformation, Myths, and Urban Legends on the Internet - Lifehacker
Linux shortcuts - Google Chrome Help
The Intermediate Guide to Living Entirely Inside Chrome - Lifehacker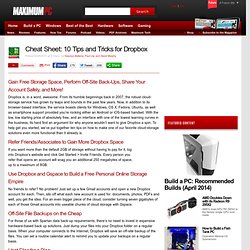 Gain Free Storage Space, Perform Off-Site Back-Ups, Share Your Account Safely, and More!
Cheat Sheet: 10 Tips and Tricks for Dropbox
How to Force Your Android Phone to Check for a System Update
The Best Times to Buy Anything in 2011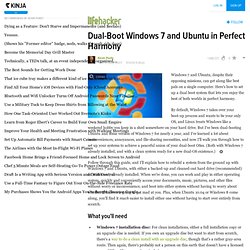 Windows 7 and Ubuntu, despite their opposing missions, can get along like best pals on a single computer.
Dual-Boot Windows 7 and Ubuntu in Perfect Harmony
Malaysia's Largest Online Community - Gift The Gift Of Knowledge To An Un Android-Savvy Friend Today
Last week, I sent a note to my team with some of my favorite tips and apps for Nexus S, which features Android 2.3, Gingerbread . A lot of Googlers liked it, so we thought some of you might enjoy it as well. (Note: Many of the tips are specific to Android 2.3.)
Some cool Android tips and tricks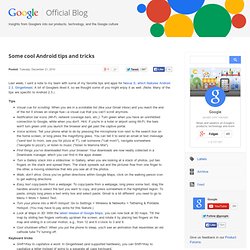 Stop Firefox from Automatically Entering "Work Offline" Mode
How to Get Things Done on an Airplane
Top 10 MindManager Features You Didn't Know About | The Mindjet Blog
There's an 80/20 rule for software. 80% of people will use or get value from 20% of the features. Given that, what if you flipped the equation around and asked, what 20% more could I do or learn to be 80% more effective?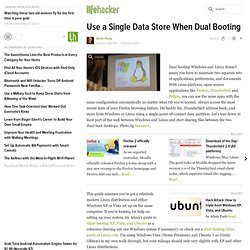 Use a Single Data Store When Dual Booting
Dual booting Windows and Linux doesn't mean you have to maintain two separate sets of applications, preferences, and documents. With cross-platform, open-source applications like Firefox , Thunderbird and Pidgin , you can use the same apps with the same configuration automatically no matter what OS you've booted. Always access the most recent state of your Firefox browsing history, IM buddy list, Thunderbird address book, and more from Windows or Linux using a single-point-of-contact data partition.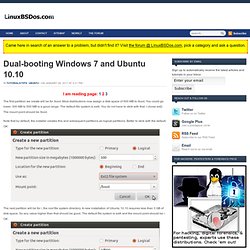 The first partition we create will be for /boot.
Dual-booting Windows 7 and Ubuntu 10.10
32 Ways to Secure Your Digital Life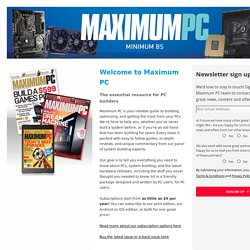 For every freedom and convenience we enjoy in our digital lives, there are countless cyber do-badders looking for ways to exploit them.
How I Use Visualization To Drive Creativity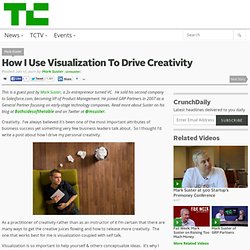 This is a guest post by Mark Suster , a 2x entrepreneur turned VC.
Just got an Android phone? The best apps, accessories, and tips
Taking a smartphone out of the box for the first time can elicit a wide spectrum of emotions, starting with unadulterated excitement that can quickly devolve into panic, chaos, and confusion: what do you do now? How do you make it awesome?
Optimize caching
Most web pages include resources that change infrequently, such as CSS files, image files, JavaScript files, and so on. These resources take time to download over the network, which increases the time it takes to load a web page.
How to Pick Your Next Android Phone: The Specs That Matter (and the Ones That Don't)
How to Crack Just About Any Mac App (and How to Prevent It)
How to Paint with Light
4-Hour Body - Six Minute Abs
Holiday Fat Hack: How to Eat Like a Santa and Not Turn Into One
Most Popular How-To Guides of 2010
Hackintosh Introduction - Lifehacker
If you're on Windows, need to use OS X, but don't want to buy or build a new computer , reader Bobby Patton shows us how to run Snow Leopard in a virtual machine on Windows with just a few tweaks.
Nothing can stand in for a good night's sleep. Today we're not going to show you how to scrape by with less sleep; instead, we're going to help you reboot your sleeping habits so you get the sleep you need (and deserve). Photo by groenmen .
Usenet is a wonderful service for finding and downloading digital media, giving you speed and reliability you won't find with other file-sharing options—like, say, BitTorrent. Here's a quick guide on setting up and getting started with Usenet. An Introduction to Usenet
10 Webapps that Add Great New Features to Gmail
Most Popular Free Mac Downloads of 2010
Most Popular Firefox Extensions and Posts of 2010
The Best How-To's of the Year
Most Popular Free Windows Downloads of 2010
Most Popular Linux Downloads and Posts of 2010
4-Hour Body - The Principle of the Minimum Effective Dose
Unified Remote