Tips and Tricks
Design - Welcome
After installing VMWare 2.0 and VirtualBox 2.0.2 i wanted to make a comparison of both virtualization engines. I thought about installing the same guest in both software stacks. But this seemed like too much work ;-). So i started to google about migrating a guest from VMWare to Virtualbox.I found this helpful blog.So it is very easy.
Using VMWare Images with Virtualbox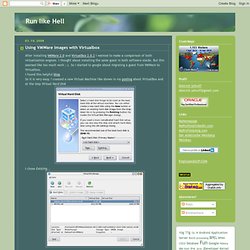 Introduction VirtualBox is a free and OpenSource alternative to VMWare. A reasonable alternative! It is much more convenient than QEmu (Another OpenSource Virtualizer) for several reasons: It has an intuitive Graphical Interface It can handle USB devices simply (non-OSE version only) Using it you can switch between iso disc images quickly The speed up tool is VERY simple to install, the simplest around. (Qemu's one is KQemu and it is really hard to get working.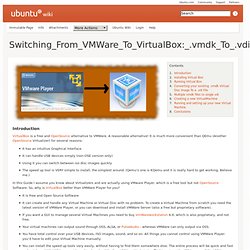 Magazine/HowTo/Switching_From_VMWare_To_VirtualBox:_.vmdk_To_.vdi_Using_Qemu_+_VdiTool
How to Identify and Avoid Spreading Misinformation, Myths, and Urban Legends on the Internet - Lifehacker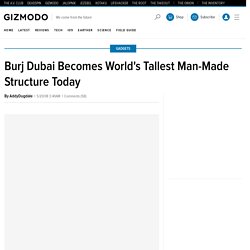 The Intermediate Guide to Living Entirely Inside Chrome - Lifehacker
@Heihachi.vs.Kazuya: Dubai's oil revenue is now only around 6% of it's GDP Banking, trade, tourism and ownership of many foreign investments is the lion's share. That includes purchase of U.S. companies. The pattern of acceleration in US debt accumulation and the acceleration in the sell-off of American property, companies, resources, and other assets to cover the difference is happening at an alarming rate, especially in response to the credit debacle.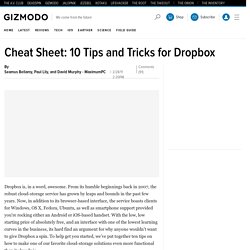 Dropbox is, in a word, awesome. From its humble beginnings back in 2007, the robust cloud-storage service has grown by leaps and bounds in the past few years. Now, in addition to its browser-based interface, the service boasts clients for Windows, OS X, Fedora, Ubuntu, as well as smartphone support provided you're rocking either an Android or iOS-based handset. With the low, low starting price of absolutely free, and an interface with one of the lowest learning curves in the business, its hard find an argument for why anyone wouldn't want to give Dropbox a spin. To help get you started, we've put together ten tips on how to make one of our favorite cloud-storage solutions even more functional than it already is.
Cheat Sheet: 10 Tips and Tricks for Dropbox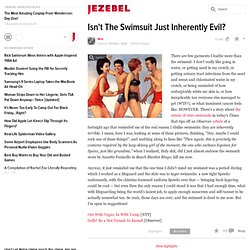 SExpand There are few garments I loathe more than the swimsuit. I don't really like going in water, or getting sand in my crotch, or getting urinary tract infections from the sand and sweat and chlorinated water in my crotch, or being reminded of how unforgivably white my skin is, or how inexplicably tan everyone else managed to get (WTF?), or what imminent cancer feels like. HOWEVER. There's a story about the return of retro swimsuits in today's Times that rips off an Observer article of a fortnight ago that reminded me of the real reason I dislike swimsuits: they are inherently terrible.
How to Force Your Android Phone to Check for a System Update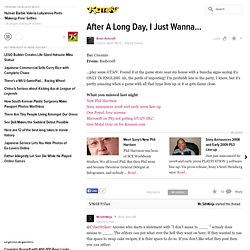 The Best Times to Buy Anything in 2011
@Mommar: @vanderblade: I have to throw my hat of agreement +2 into this little thread. The game is good, but it's nowhere near the perfect 10 that the entire gaming press vomited out in unison.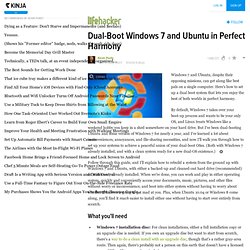 SExpand Windows 7 and Ubuntu, despite their opposing missions, can get along like best pals on a single computer. Here's how to set up a dual boot system that lets you enjoy the best of both worlds in perfect harmony. By default, Windows 7 takes over your boot-up process and wants to be your only OS, and Linux treats Windows like a weekend hobby you keep in a shed somewhere on your hard drive.
Dual-Boot Windows 7 and Ubuntu in Perfect Harmony
Malaysia's Largest Online Community - Gift The Gift Of Knowledge To An Un Android-Savvy Friend Today
Some cool Android tips and tricks
Bummertown Thursday, dudes. There's a death toll of 20,000 in China, some 2 million displaced people in Burma (and a newly-passed referendum ensures they will all remain comprehensively and brutally oppressed!) and longest and most depressing of all, a not brief Times cover story on John McCain and All The Places In The World That Have Sucked Since The Seventies.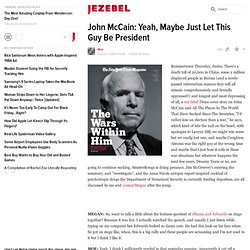 Stop Firefox from Automatically Entering "Work Offline" Mode
I've got my own 360 collection going right now, the only difference between me and this guy is, I refuse to buy total shit I'll never enjoy. Except Two Worlds and Perfect Dark Zero, only cause I found em for under 9 bucks. I've got just about every single 360 game that stands at an average critics review score of around 7ish or higher. 56 Xbox 360 Games 23 Original Xbox Games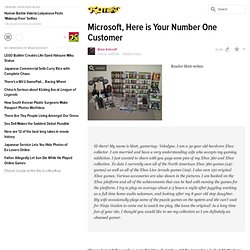 How to Get Things Done on an Airplane
Top 10 MindManager Features You Didn't Know About | The Mindjet Blog
There's an 80/20 rule for software. 80% of people will use or get value from 20% of the features. Given that, what if you flipped the equation around and asked, what 20% more could I do or learn to be 80% more effective?
How do japanese multiply??
Use a Single Data Store When Dual Booting
I really appreciated the help offered in this guide since I wanted to finally start a more permanent transition into Ubuntu. I still keep a full version of Xp on its own 80gig HD (no sense in spoiling
The first partition we create will be for /boot. Most distributions now assign a disk space of 500 MB to /boot. You could go lower. 300 MB to 500 MB is a good range. The default file system is ext4. You do not have to stick with that.
Dual-booting Windows 7 and Ubuntu 10.10
32 Ways to Secure Your Digital Life
For every freedom and convenience we enjoy in our digital lives, there are countless cyber do-badders looking for ways to exploit them. Fight back with these 32 ways to protect your digital life! Mark. Sucker. Victim.
How I Use Visualization To Drive Creativity
This is a guest post by Mark Suster, a 2x entrepreneur turned VC. He sold his second company to Salesforce.com, becoming VP of Product Management. He joined GRP Partners in 2007 as a General Partner focusing on early-stage technology companies. Read more about Suster on his blog at Bothsidesofthetable and on Twitter at @msuster. Creativity.
Just got an Android phone? The best apps, accessories, and tips
Taking a smartphone out of the box for the first time can elicit a wide spectrum of emotions, starting with unadulterated excitement that can quickly devolve into panic, chaos, and confusion: what do you do now? How do you make it awesome? How do you emanate an air of "cool" on the subway by using apps specifically designed to make you look like a badass? Well, fear not, newly-minted Android smartphone owner: as always, we've got your back. Read on for all the apps, accessories, and tips you should be investigating right this very second. Great apps
Optimize caching
How to Pick Your Next Android Phone: The Specs That Matter (and the Ones That Don't)
How to Paint with Light
4-Hour Body - Six Minute Abs
Holiday Fat Hack: How to Eat Like a Santa and Not Turn Into One
Most Popular How-To Guides of 2010
Hackintosh Introduction - Lifehacker
How to Run Mac OS X in VirtualBox on Windows
How to Reboot Your Sleep Cycle and Get the Rest You Deserve
How to Get Started with Usenet in Three Simple Steps
10 Webapps that Add Great New Features to Gmail
10 Terrific PC Accessories
Most Popular Firefox Extensions and Posts of 2010
The Best How-To's of the Year
Most Popular Free Windows Downloads of 2010
Most Popular Linux Downloads and Posts of 2010
How to Boost Your BitTorrent Speed and Privacy
The Ultimate Start to Finish Guide to Your XBMC Media Center
How to Manipulate People
Recover Data Like a Forensics Expert Using an Ubuntu Live CD
4-Hour Body - The Principle of the Minimum Effective Dose
7 Image Search Tools That Will Change Your Life
Unified Remote