Blogging
Blog Design For ROI Rule #7: Blend Ads With Content & Encourage Comments. - StumbleUpon. Do you have a goal for your blog's subscriber count?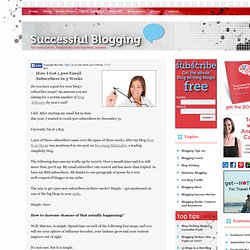 An amount you are aiming for a certain number of blog followers by year's end? I did. After starting my email list in June this year, I wanted to reach 500 subscribers by December 31. Currently I'm at 1,832. 5 Economic Trends that Affect Freelancers. Are You Being Conned? Fair Sponsored Blog Post Rates and Best Practice Guidelines. Looking for sponsored blog post rates?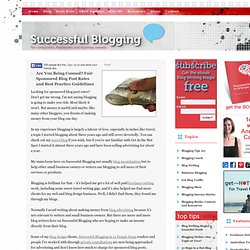 Don't get me wrong, I'm not saying blogging is going to make you rich. Most likely it won't. But money is useful and maybe, like many other bloggers, you dream of making money from your blog one day. In my experience blogging is largely a labour of love, especially in niches like travel, a topic I started blogging about three years ago and still cover devotedly.
10 Essential Ingredients Of A Successful Blog. - StumbleUpon. While the Internet still retains some of the "wild wild west" feel, increasingly, Internet activity, and particularly blogging, is being shaped and governed by state and federal laws.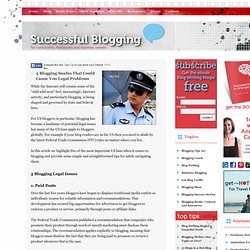 For US bloggers in particular, blogging has become a landmine of potential legal issues but many of the US laws apply to bloggers globally. For example if your blog readers are in the US then you need to abide by the latest Federal Trade Commission (FTC) rules no matter where you live. In this article we highlight five of the most important US laws when it comes to blogging and provide some simple and straightforward tips for safely navigating them. 5 Blogging Legal Issues. How Do You Plan to Take Your Website to the Next Level in 2013? Blogging, Social Media How Do You Plan to Take Your Website to the Next Level in 2013?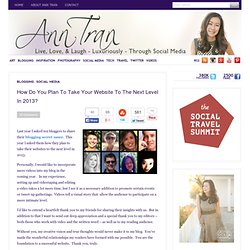 Last year I asked ten bloggers to share their blogging secret sauce. This year I asked them how they plan to take their websites to the next level in 2013. Personally, I would like to incorporate more videos into my blog in the coming year. - StumbleUpon. Do you get fed up visiting blogs where you can't work out what to click or how to find the information you need?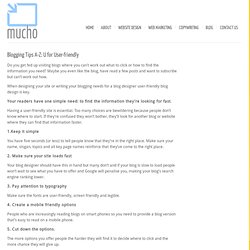 Maybe you even like the blog, have read a few posts and want to subscribe but can't work out how. When designing your site or writing your blogging needs for a blog designer user-friendly blog design is key. Your readers have one simple need: to find the information they're looking for fast. Having a user-friendly site is essential. Too many choices are bewildering because people don't know where to start.
How Often Should You Post New Content to Your Blog? - StumbleUpon. To succeed at blogging you need to focus on people.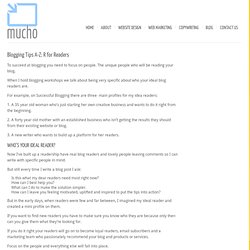 The unique people who will be reading your blog. When I hold blogging workshops we talk about being very specific about who your ideal blog readers are. For example, on Successful Blogging there are three main profiles for my idea readers: 50 Title Ideas for Blog Post & Article Writing. The Business Blogger's Ultimate Guide to WordPress Plugins. Three Basic Elements of Content that Spreads. 102 Reasons To Start A Blog in 2013 - JordanFried.com | JordanFried.com. Wow – this post took a lot longer to write than I thought!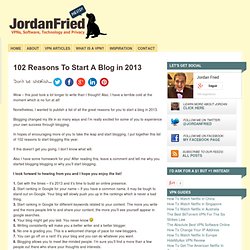 Also, I have a terrible cold at the moment which is no fun at all! Nonetheless, I wanted to publish a list of all the great reasons for you to start a blog in 2013. Blogging changed my life in so many ways and I'm really excited for some of you to experience your own success through blogging. 20-Steps-to-Launching-Your-Blog.pdf (application/pdf Object) How To Start A Blog: Complete Guide (7189 Words) How to start a blog?
It may look like a very complicated task, especially when you don't have any technical background. When I first jumped into the world of blogging and wanted to start a blog, I had no idea about where to start and if I had found a guide such as this one, it would have saved me hours (if not days) of online research to get everything I needed to start a blog the right way. This is the exact reason why I decided to put together this extremely detailed guide to start a blog on WordPress.
It is designed to teach you everything you need to start a blog the right way. It covers a wide variety of topics from Domain Names, WebHosts, to Traffic Sources. Make Money Blogging – How To Make 2013 Your Best Blogging Year. You can look at 2013 as the same old same old, or you can look at it as an opportunity for a fresh.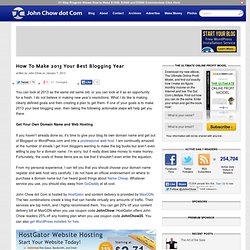 I do not believe in making new year's resolutions. What I do like is making clearly defined goals and then creating a plan to get them. If one of your goals is to make 2013 your best blogging year, then taking the following actionable steps will help get you there. Get Your Own Domain Name and Web Hosting If you haven't already done so, it's time to give your blog its own domain name and get out of Blogspot or WordPress.com and into a professional web host.
Be A Blogger That Stands On His Own Two Feet. Posted by John Paul Aguiar in Blogging Be A Blogger That Can Stand Alone You want to be a blogger, right?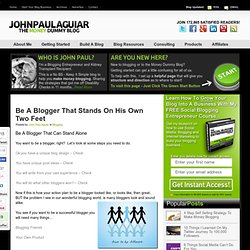 Guest blogging: Looking for guest bloggers or guest post? Join MyBlogGuest! BEST-SELLING WSO EVER! Video 'Players' Just Became Obsolete... FAQ and more... See more Frequently Asked Questions here This update should solve issues with any confusion around downloading or activating Simple Video Pro and/or FanBuzz. We have implemented a new download page and streamlined process. If you continue to experience issues, please open a support ticket at the link above. Redefining "Quality Content" … And Writing It. Photography Blogger. Category: Blog Networks Description Are you a photographer with a tip to share? Do you want a place to display and talk about some of your best photography? Are you interested in helping others to improve their photography skills or build their business? We would LOVE for you to share your knowledge with Rock the Shot readers.
How I'm Going To Make $100,000 in 2012. I wanted to write this article to keep you up to date with how I plan to monetize my young website in a big way in 2012. When I first started blogging, I always thought that it was a natural progression to gain a following and then try to write and sell an ebook to make more money.
The when that's up and running, I could start getting into affiliate marketing. The problem is that that's just not me, and I wanted to get into making big money, in my own style. I set myself a rather ambitious new years resolution this year, which I fully plan on achieving, which is to make $100,000. That far surpasses anything else I've made in previous years, but by setting myself the task, my state of mind had changed. 15 Bloggers to Watch in 2013. What Content Works Where? Smarter Traffic (and Revenue) Building Through Social Media.
The Two Most Important Words in Blogging. 10 Ways to Build Authority as an Online Writer. Technical Blogger. Category: Blog Networks Description Net Solutions is looking for enthusiastic technical bloggers for our technology related blogs on topics similar to what are being mentioned here: The written content must be engaging, relevant and written in such a way that it positions Net Solutions as an expert in that particular area and triggers the reader to know more about our services. S Guide to your First Week of Blogging. Passionate Bloggers Wanted For Articles About The Dangerous Goods Industry. DG Air Freight is looking for a Passionate Bloggers Wanted For Articles About The Dangerous Goods Industry Category: Corporate/Business Description First things first, our going rate is competitive: Darren Rowse - Google+ - I spoke with one blogger yesterday and asked him what his…
---