ESL
Lessons With PPTs – ESL Teacher Resources : Teaching ESL Made Simple. Cinematography | VCE Media, VELS Media, Media Arts, digital literacy, media education, filmmaking | lessonbucket. If you're keen to start making films, understanding the basic terminology of cinema is a must!
Shot Size Shot size refers to how close the camera is to the subject. Audio Books. Literacy Secretariat. 16 Incredible iPad Apps for ESL Learners. Dust Echoes. Eslwikiwise - Wikis and ESL Pedagogy. English As An Additional Language. Video Based ENGLISH LISTENING COMPREHENSION for ESL Students - Page 1. VIDEO BASED EXERCISES FOR ESL | Page 1 (Movie Trailers): Welcome to our section of video-based ENGLISH LISTENING COMPREHENSION for ESL (English as a second language) students, a great way to practice understanding real spoken English.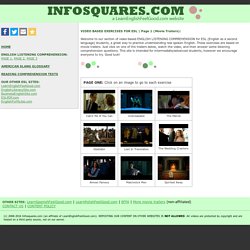 These exercises are based on movie trailers. Just click on one of the trailers below, watch the video, and then answer some listening comprehension questions. TESOL Webinars. ELL to Go. ELL | Feature ELL to Go Two schools transform their ELL programs by giving students around-the-clock access to some of the latest mobile devices.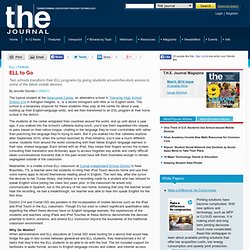 By Jennifer Demski05/02/11 The typical student at the Newcomer Center, an alternative school in Township High School District 214 in Arlington Heights, IL, is a recent immigrant with little or no English skills. HSC 2009-2012 Prescription Units of Work and Support Materials.
Primaryeslteachersnetwork.wikispaces. ESL Scales The ESL Scales are used by teachers as an assessment tool which describes the English language development of ESL learners in oral interaction, reading and responding and writing.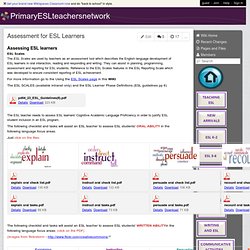 They can assist in planning, programming, assessment and reporting for ESL students. Reference to the ESL Scales features in the ESL Reporting Scale which was developed to ensure consistent reporting of ESL achievement. For more information go to the Using the ESL Scales page in this WIKI. ESOL Courses - Free English Lessons Online. ESL Resources. English as a Second Language is common in our multicultural nation.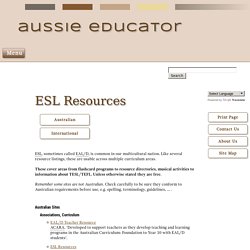 Like several resource listings, these are usable across multiple curriculum areas. They cover all areas from flashcard programs to resource directories, musical activities to information about TESL/TEFL. Student Language Resources. The Creative Language Class. Time for an upgrade!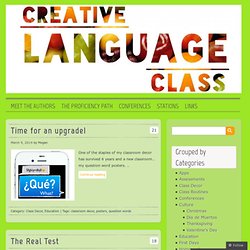 March 9, 2014 by Megan One of the staples of my classroom decor has survived 6 years and a new classroom… my question word posters. … Continue reading The Real Test March 6, 2014 by Megan While data and proficiency ratings mean a lot to me (and my district), they do not necessarily thrill students. It's … Continue reading Beyond "Bien" March 2, 2014 by Kara Greeting students at the door has numerous benefits including creating a personal connection, setting an example of polite etiquette, and for … Continue reading Need a mini-vacation?
Translate This: Make Your Website Multilingual. Looking for Small Text Translator?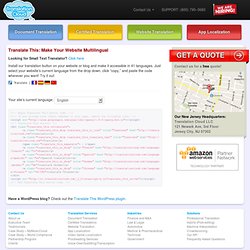 Click here. Install our translation button on your website or blog and make it accessible in 41 languages. Just select your website's current language from the drop down, click "copy," and paste the code wherever you want! English Online / English - ESOL - Literacy Online website - English - ESOL - Literacy Online. Strictly Ballroom. Home > English > ESL > Module A: Experience Through Language > Elective 2: Australian Visions > Strictly Ballroom directed by Baz Luhrmann This unit was prepared by Lorraine Bowan, Narrabeen Sports High School Terms, techniques and references Visual language Textual features of the medium and mode of communication.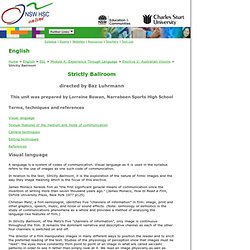 Elective 2: Australian Visions. Australian Visions - Introduction. Home > English > ESL > Module A: Experience Through Language > Elective 2: Australian Visions > Australian Visions - Introduction This module requires students to explore the uses of a particular aspect of language.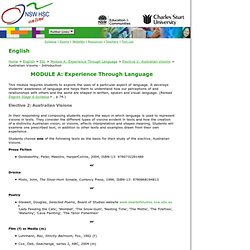 It develops students' awareness of language and helps them to understand how our perceptions of and relationships with others and the world are shaped in written, spoken and visual language. (Reread English Stage 6 Syllabus , p 74.) Past HSC and Practice Questions for ESL Module A: Australian Visions | Tutor Tales. Past HSC Questions: How has [composer] used features of [text type] in [core text] to communicate Australian visions?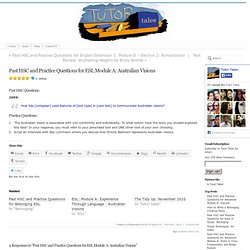 Practice Questions: 'The Australian Vision is associated with non-conformity and individuality.' To what extent have the texts you studied explored this idea? In your response, you must refer to your prescribed text and ONE other text of your own choosing.Script an interview with Baz Luhrmann where you discuss how Strictly Ballroom represents Australian visions. 2011 HSC Notes from the Marking Centre — English ESL. Contents Introduction This document has been produced for the teachers and candidates of the Stage 6 course in English (ESL).
It contains comments on candidate responses to the 2011 Higher School Certificate examination, indicating the quality of the responses and highlighting their relative strengths and weaknesses. This document should be read along with the relevant syllabus, the 2011 Higher School Certificate examination, the marking guidelines and other support documents developed by the Board of Studies to assist in the teaching and learning of English (ESL). Watch CliffsNotes Episodes - Hamlet, Romeo & Juliet, Macbeth and More | Cambio TV. Www.angelfire.com/blues/writing/esl.html. Sentence Structure - FREE presentations in PowerPoint format, interactive activities, lessons for K-12. ESL worksheets and activities to download. Resource centre - Worksheets and activities These PDF activities and worksheets with accompanying teacher notes are free to download, print and use in the classroom.
(You'll need to join Eslbase for free first.) Adjective + PrepositionFind someone who questionnaire to practise adjective and preposition combinations Adjectives (-ed or -ing) Worksheet to practise the difference between -ed and -ing adjective endings Adverbs of frequency Communicative pair work activity to practise how often and adverbs of frequency. Literacy / I love saying "onomatopoeia" Literacy / Hyperbole. Metaphors. Create a PicLit. This is a tooltip bear collar crowd. | The AIS Literacy Website : Literacy and ESL-Literacy and ESL | | The AIS Literacy Website : Integrating ESL Students | Ideas for teaching Reading Comprehension. Grammar and Punctuation. How using apps and online resources benefits ESL students with limited resources. Breaking News English Lessons: ESL Plans Teaching Current Events.
Skillswise - Homepage. Woodlands Literacy Zone - Interactive English Games - Christian ESL - ChristianESL.com - English Teaching Jobs, Resources, Schools, Churches, and Ministries. Helen Fraser: Cognitive Phonetics. ESOL Online / English - ESOL - Literacy Online website - English - ESOL - Literacy Online. English Raven EFL/ESL Resources. Voxopop - a voice based eLearning tool.
Free Online Smart IPA Keyboard. A collocation thesaurus concordancer that produces word clouds! | Thinking about teaching English | Scoop.it. Comics and Cartoons. Randall's ESL Cyber Listening Lab - For English as a Second Language. Software. Free ESL Flashcards, Free ESL Worksheets, ESL Jobs, A Complete ESL/EFL Teaching Resource | eslHQ.comeslHQ.
Phonetics: The Sounds of English and Spanish - The University of Iowa. Free ESL games, printable communication games, free english games to download, grammar games, printable board games for the classroom. Phonetic Chart of IPA symbols. Elementary lessons for English language teachers. ESL EFL TEFL TESOL ESL/EFL Teacher Resource Activities, ESL/EFL Teaching Materials.
Grammar Bytes! Grammar Instruction with Attitude. Interactive Phonemic Chart. SmartBoard Favorites. English teaching resources. Nik's QuickShout. Multicultural / ESL Consultants. Successful Language Learners. Mr Thorne Does Phonics! - HTML Content. ESL and Assessment. See Share Shape. RSA Animate - Language as a Window into Human Nature.
---