Robin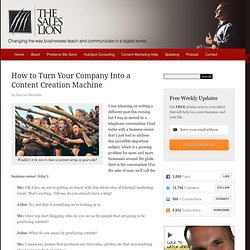 If you're new here, you may want to subscribe to my RSS feed. Thanks for visiting! Wouldn't it be nice to have a content army on your side?
How to Turn Your Company Into a Content Creation Machine
Do you know where your customers and prospects spend time online? Marketers have long relied on market research to determine where to spend their advertising dollars on television, radio and print advertisements. In the last few years, research organizations have begun providing intelligence on how consumers behave on social networks. The following article is based on new social media research studies. These findings will help you better strategize your company's social efforts to match your customers' behaviors. #1: Know Where Your Customers Spend Their Time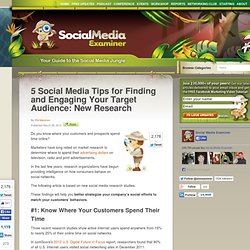 5 Social Media Tips for Finding and Engaging Your Target Audience: New Research
2012 U.S. Digital Future in Focus
Download Whitepaper comScore presents the 2012 U.S. Digital Future in Focus, its annual report* on the prevailing trends in social media, search, online video, digital advertising, mobile and e-commerce that are defining the current marketplace and insights into what these trends mean for the year ahead. *This report is the next generation of the popular U.S. Digital Year in Review report series, examining the key trends in the 2011 digital landscape and what they mean for 2012.
The Impact of Aesthetics on Attitudes Towards Websites
Survey Reports
The , sponsored by Outbrain , illustrates the strategies, tactics and opinions of more than 1,300 content marketers. The survey looks at the amount and type of content marketing carried out by organisations, how many brands have a strategy in place, the tactics and channels they are using for content, ownership of content marketing within organisations, how publishers are using content marketing, and the challenges and barriers to success in this area. The is based on a survey of 1,000 consumers in the UK and 1,000 consumers in the US, carried out by Econsultancy using , in August 2012. The report analyses key areas such as the demand for multichannel retail, the impact of online research on offline purchases, and the emergence of mobile as a retail channel. The results of the survey are compared, where relevant, to the results of a similar survey carried out by Econsultancy and Toluna in 2011.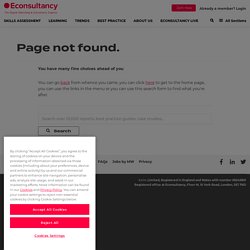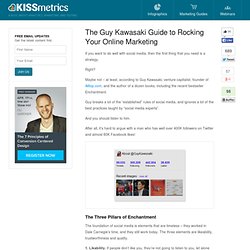 If you want to do well with social media, then the first thing that you need is a strategy. Right? Maybe not – at least, according to Guy Kawasaki; venture capitalist, founder of Alltop.com, and the author of a dozen books, including the recent bestseller Enchantment.
The Guy Kawasaki Guide to Rocking Your Online Marketing
Sur les médias sociaux, 90 % des conversations autour des marques proviennent directement des internautes (many to many). Pour les entreprises, pure players du Web ou non, écouter et intervenir (one to one to many) en fonction de ce qu'il s'y passe, génère de la valeur : acquisition, fidélisation, recommandation, etc. En revanche, il convient de participer à la conversation au bon moment, sur le bon canal et auprès du bon interlocuteur.
Les médias sociaux enrichissent le relationnel client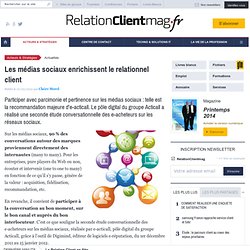 Adobe donne dix conseils pour réussir ses campagnes marketing on line en 2012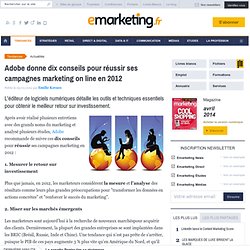 Après avoir réalisé plusieurs entretiens avec des grands noms du marketing et analysé plusieurs études, Adobe recommande de suivre ces dix conseils pour réussir ses campagnes marketing en 2012 : 1. Mesurer le retour sur investissement Plus que jamais, en 2012, les marketeurs considèrent la mesure et l'analyse des résultats comme leurs plus grandes préoccupations pour "transformer les données en actions concrètes" et "renforcer le succès du marketing". 2.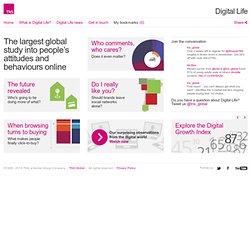 The future revealed Who's going to be doing more of what? When browsing turns to buying What makes people finally click-to-buy? Who comments, who cares? Does it even matter?
"Gagner et conserver ses clients devient de plus en plus compliqué", déclare Frédérique Bonhomme, directrice de projet au sein de la Digital Factory de TNS Sofres. L'institut d'études dévoile, en exclusivité pour E-marketing.fr, les principaux résultats de l'étude internationale "Digital life" (72 000 consommateurs online interrogés dans 60 pays), qu'elle présentera avec Adobe, le 2 février 2012, à Paris. L'étude révèle que 57 % des habitants des pays développés(1) ne veulent pas s'engager vis-à-vis des marques sur les médias sociaux ; un taux qui est légèrement supérieur en France (59 %). De plus, au plan international, 47 % postent des commentaires en ligne sur les marques, alors qu'ils ne sont que 29 % en France. "Le monde du digital représente des opportunités de croissance importantes pour les marques.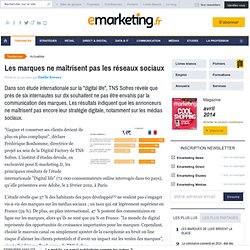 GBE03470USEN
La manière de penser et de gérer le marketing a profondément évoluée en quelques années. Les outils, les canaux de diffusion, les modes d'organisation des entreprises, mais également la culture des salariés, ont modifié la façon dont la marque interagit avec ses clients. Le marketing en silos Pendant longtemps, le marketing a été organisé verticalement, par canal de diffusion. On distinguait le "media" du "hors media", les services étaient subdivisés en équipes de spécialistes, véritables experts en leurs domaines. Il faut avouer que canal exigeait une connaissance du métier et une maîtrise des fournisseurs telles qu'il était difficile d'être généraliste ; de surcroît, il n'y avait que rarement besoin d'actions transversales, chaque action, chaque campagne étant gérée de haut en bas, silo par silo.
et après ? le marketing atomisé ?
Wave 6 from UM
Wave 6 from UM
Wave 6 from UM
Caractéristique d'une stratégie de distribution qui recourt à plusieurs canaux (physiques et/ou virtuels) de distribution en parallèle. L'objectif d'une stratégie multicanal est d'aboutir à la combinaison la plus synergique possible, mais qui demeure cohérente aux yeux de la cible. Il faut avant tout éviter une concurrence cannibale entre canaux. L'expression est parfois utilisée de manière impropre pour décrire une stratégie de communication recourant à plusieurs media en parallèle.
Multicanal - Définition du glossaire marketing
Marketing cross-canal : les entreprises françaises ont des progrès à faire
Pitney Bowes Software a présenté cette semaine les résultats d'une enquête sur les stratégies marketing cross-canal, menée auprès des directeurs marketing de grandes sociétés françaises, allemandes et anglaises, dans les secteurs Telcos, Banques et Utilities. Les résultats montrent que ces entreprises ont encore beaucoup de mal à intégrer les différents canaux de communication : 90 % d'entre elles souhaitent atteindre cet objectif, mais seules 31 % y parviennent. La situation n'est pas nouvelle, mais elle se complexifie avec la prise en compte des réseaux sociaux : plus de la moitié des entreprises interrogées approche leurs clients à travers ce nouveau canal, mais seules 8 % réussissent à mettre en œuvre des communications intégrées et multi-canal en fonction des préférences des clients.