Viralpatel
Viral Patel
The Illustration & Design World of Zach Johnsen. Mountain Dew - Green Label ArtMountain Dew, as part of the Green Label Art series, asked skate shops around the country to create artwork that, if selected, would appear on cans nationwide.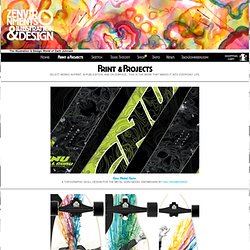 Compound Gallery, although not technically a skate shop, was selected as one of the shops to participate in the northwest. They in turn asked me to create the can artwork and this is what I came up with! The can is up now at Green Label Art and being voted on.. Please take a moment if you can, register, and vote for my can art in the northwest! Listen to a Wall of rock Music. Ringclock.swf (application/x-shockwave-flash Object) Roger Zelazny. Roger Joseph Zelazny (May 13, 1937 – June 14, 1995) was an American writer of fantasy and science fiction short stories and novels, best known for his The Chronicles of Amber series.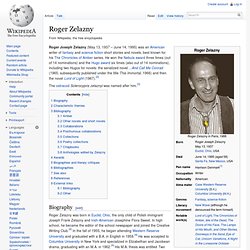 He won the Nebula award three times (out of 14 nominations) and the Hugo award six times (also out of 14 nominations), including two Hugos for novels: the serialized novel ...And Call Me Conrad (1965; subsequently published under the title This Immortal, 1966) and then the novel Lord of Light (1967).[2] The ostracod Sclerocypris zelaznyi was named after him.[3] Biography[edit] Roger Zelazny was born in Euclid, Ohio, the only child of Polish immigrant Joseph Frank Zelazny and Irish-American Josephine Flora Sweet. Trifonic. Trifonic - Broken. Squashed Philosophers Abridged Editions - Plato - The Republic. Introduction to relativity and 20th century physics. Worlds' first ever electric guitar made out of an ordinary shovel. Cntower_timelapse.swf (application/x-shockwave-flash Object) S'moretini Shooters. Me again.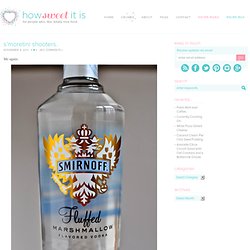 Here to convince you that you need yet another trendy, insanely-flavored bottle of booze. I do what I can. I know what you're thinking. "Does marshmallow vodka really taste that different from that whipped cream vodka you already insisted that I buy? Or how about the cake batter vodka that I went out and bought immediately in order to drink a cake martini for breakfast?" Hong_Kong_Night_Skyline_non-HDR.jpg (JPEG Image, 4670 × 2000 pixels) - Scaled (27. Ana Somnia - lights out! Best Street Art of 2011. 47 Mind-Blowing Psychology-Proven Facts You Should Know About Yourself. WHAT YOU ARE ABOUT TO READ IN THE NEXT PARAGRAPH IS COMMONLY BELIEVED, BUT NOT TRUE – You read by recognizing the shapes of words and groups of words.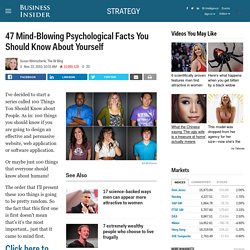 Words that are in all capital letters all have the same shape: a rectangle of a certain size. This makes words displayed in all uppercase harder to read than upper and lower case (known as "mixed case"). Make your own Hitler video. Make your own Airsoft machine gun with a soda bottle. Would you like to own an Airsoft gun, but can't afford to buy one?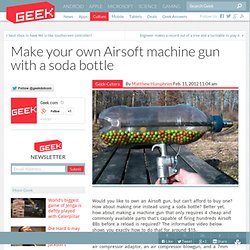 How about making one instead using a soda bottle? Better yet, how about making a machine gun that only requires 4 cheap and commonly available parts that's capable of firing hundreds Airsoft BBs before a reload is required? The informative video below shows you exactly how to do that for around $15. The parts you'll need include a plastic soda bottle, a quick release air compressor adaptor, an air compressor blowgun, and a 7mm by 6-inch brake line. The other thing you will need is a compressed air supply. FBI. The FBI's Reading Room contains many files of public interest and historical value.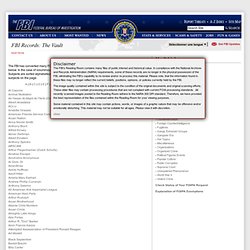 In compliance with the National Archives and Records Administration (NARA) requirements, some of these records are no longer in the physical possession of the FBI, eliminating the FBI's capability to re-review and/or re-process this material. Please note, that the information found in these files may no longer reflect the current beliefs, positions, opinions, or policies currently held by the FBI. The image quality contained within this site is subject to the condition of the original documents and original scanning efforts.
These older files may contain processing procedures that are not compliant with current FOIA processing standards.
Getting started. Pearltrees videos.
---
viralpatel Jan 17 2012

Thanks for the warm invite.. I am shocked how i didn't come across Pearltrees.. Infact my ex-roommate has a Dog her name is PEARL too.. OOhh loved her..
---