Info International Affairs 4
The Earth Times Online Newspaper, Serving the Planet with Breaki. Council on Foreign Relations. Hudson.org, Internationally recognized think tank and public pol. Home. The Heritage Foundation - Conservative Policy Research and Analy. Bienvenue sur le site de la Chaire Raoul-Dandurand en études str. Accueil - Institut d'études internationales de Montréal (IEIM) National Democratic Institute | NDI. §. PASSIA - Palestinian Academic Society for the Study of Internati. Carnegie Council for Ethics in International Affairs.
Home. International Affairs archives. A l'occasion du cinquantième anniversaire de la CEAI, la Commission organisa à Séoul (Corée) un colloque qui reprenait le thème de la Conférence d'Oxford, pour réexaminer les relations complexes entre l'Eglise, la communauté nationale et l'Etat qu'on avait étudiées soixante ans plus tôt, sous l'emprise de la menace représentée par l'Etat national-socialiste allemand.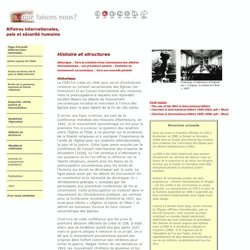 Nous avons pris conscience à cette occasion de la remarquable pertinence de ces discussions, et il est utile de citer quelques déclarations faites à la Conférence d'Oxford ou à son propos, pour nous rappeler que notre conception actuelle des affaires internationales doit beaucoup à ce que nos prédécesseurs discernèrent avec une vision remarquablement claire. Au sujet du souci causé par la possibilité d'une nouvelle guerre mondiale, la Conférence d'Oxford préconisait une conception globale des affaires internationales et affirmait ce qui suit: Condamner la guerre ne suffit pas. IFPA - Home. Template. On Line Opinion - Australia's e-journal of social and political. The Diplomat.
The Watson Institute for International Studies. Canadian International Council. F&P Newspapers and Magazines From and About Russia/NIS. Arms Control Association | The authoritative source on arms cont. Central Europe Online - Media Monitoring Service by EIN News. International Institute for Strategic Studies Welcome. Arabic News Front Page for 1/29/2010. American Diplomacy | Established 1996. Pew Global Attitudes Project - A series of worldwide public opin. U.S - GREECE TASK FORCE : TRANFORMING THE BALKANS | Security, Po. The Cato Institute.
---