Twitter
The Number One Resource You Need For When Twitter Goes Down
Social Sharing And The Impending Sharepocalypse [INFOGRAPHIC]
Social Media Bigger And More Influential Than Ever, Reveals Q3 Nielsen Report [INFOGRAPHIC]
Manage Twitter Followers, Are You Following Me Too, RUF?
Twitter Tools
Voor een lange tijd hebben we een project, genaamd Twitterel, gehost en onderhouden. Het idee van het project was dat gebruikers van het inmens populaire social media platform Twitter op een snellere en eenvoudigere manier nieuwe twitteraars tegen konden komen om vervolgens twitter nog interessanter te maken. Na circa 3 jaar volop ondersteuning en support hebben gegeven is er intern besloten dit project te staken, de voornaamste reden is de almaar stijgende kostenstructuur als gevolg van de inmense omvang van gebruikers en tweet database, maar tevens als gevolg van enkel interne besluiten andere interne projecten meer prioriteit te moeten geven. Het was een goede en leerzame ervaring en heeft ons veel informatie gegeven over de omgang met databases groter dan 25GB. Al met al, financieel een fiasco, commercieel een succes.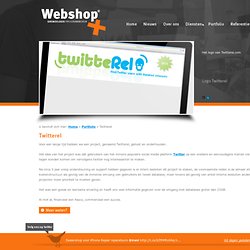 Twittr Friend Adder the free alternative
If you love Twitter, you'll love TweetBeep! Keep track of conversations that mention you, your products, your company, anything, with hourly updates! You can even keep track of who's tweeting your website or blog, even if they use a shortened URL (like bit.ly or tinyurl.com). Now, how cool is that?! Great for online reputation management, catching all your @replies and @mentions, finding job/networking opportunities, keeping up on your favorite hobby, and more!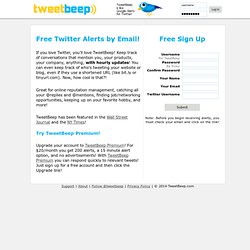 Tweet Adder 4.0 Download Software that automatically builds up your Local Active Twitter Follower Network with like minded individuals for huge increase in your twitter marketing efforts: 5 targeted twitter searches, follow, unfollow, auto follow back, scheduled tweet, auto message, twitter trends, and proxy supported. Minimum System Requirements: Mac: Os 10.4 and upMin 1.5 ghz Intel CPU, 512 Ram, 100mb Hard Drive download | Twitter Adder - Professional Twitter Marketing Tools - Automatic Twitter Software - Automate Twitter Posts, Auto Twitter Follow, Automate Unfollow, Mass Tweets, Twitter Search, more ..
Being productive with Twitter is extremely important I found since it is so easy to spend the greater part of any given day on their without getting anything done. So here is a list of tools I am using to have my Twitter activities optimized, yet without trading off on the human element of Twitter. I hope they can help you out too: 1# Buffer – Tweet consistently without flooding your followers Buffer is a slick new Twitter App that allows you to tweet consistently without the pain of flooding your followers with too many tweets at once.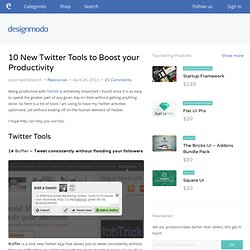 10 New Twitter Tools to Boost your Productivity