Psychology
Related Videos 4:34 minutes 1:53 minutes
Left Handed Site - The World is Against Us!!
Top Ten Advantages of Being Left-Handed - Associated Content - associatedcontent.com
According to most studies, 7-10% of the adult population is left-handed, with the trait being slightly more common in men.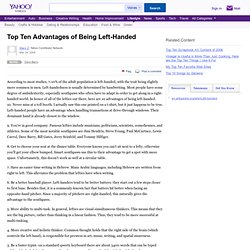 The end of 2010 fast approaches, and I'm thrilled to have been asked by the editors of Psychology Today to write about the Top 10 psychology studies of the year.