Psychology
Jobs, Careers, and Job Listings - AOL Jobs. Matt Curtis on 3 Ways to Give More Effective Mentor Advice In Chapter 12 of 18 in his 2013 Capture Your Flag interview, HomeAway government relations director Matt Curtis answers "How Are You Learning to Be a Better Mentor to Young Professionals?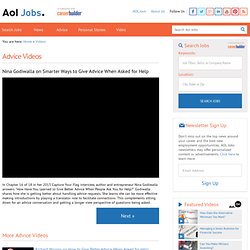 " As someone well-versed in seeking out mentors and asking for advice, Matt learns three principles to giving more effective mentor guidance. Left Handed Site - The World is Against Us!! BBC Science | Human Body and Mind | Pyschology Tests & Surveys. Thinking Methods. The Top 10 Psychology Studies of 2010. The end of 2010 fast approaches, and I'm thrilled to have been asked by the editors of Psychology Today to write about the Top 10 psychology studies of the year.
I've focused on studies that I personally feel stand out, not only as examples of great science, but even more importantly, as examples of how the science of psychology can improve our lives. Each study has a clear "take home" message, offering the reader an insight or a simple strategy they can use to reach their goals , strengthen their relationships, make better decisions, or become happier. If you extract the wisdom from these ten studies and apply them in your own life, 2011 just might be a very good year. 1) How to Break Bad Habits.
---