Design Video
moogaloop.swf (application/x-shockwave-flash Object)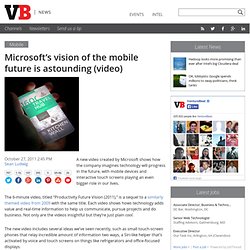 Microsoft's vision of the mobile future is astounding (video)
A new video created by Microsoft shows how the company imagines technology will progress in the future, with mobile devices and interactive touch screens playing an even bigger role in our lives. The 6-minute video, titled "Productivity Future Vision (2011)," is a sequel to a similarly themed video from 2009 with the same title. Each video shows hows technology adds value and real-time information to help us communicate, pursue projects and do business. Not only are the videos insightful but they're just plain cool . The new video includes several ideas we've seen recently, such as small touch-screen phones that relay incredible amount of information two ways, a Siri-like helper that's activated by voice and touch screens on things like refrigerators and office-focused displays.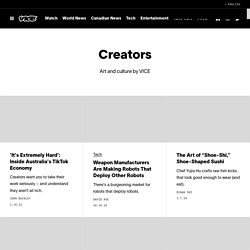 The Creators Project: Your work is very different from the rest of the graphic design landscape. It's more organic and more controversial in a lot of ways. Stefan Sagmeister : For a long time we've tried to make design that's somehow more personal, possibly more human-centered, more organic, more handmade, less objective, and more subjective.
The Creators Project | Stefan Sagmeister
Float Documentary Trailer on Vimeo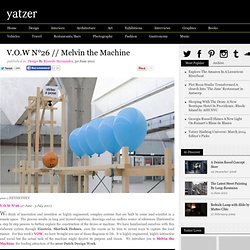 photo © HEYHEYHEY V.O.W N°26 ( 27 June - 3 July 2011 ) W e think of innovation and invention as highly engineered, complex systems that are built by some mad scientist in a remote space. The process results in long and layered equations, drawings and an endless source of references illustrated in a step by step process to further explain the construction of the device or machine.
first image work by alexandre farto (vhils), at the 'viva la revolucion' exhibit at san diego's museum of contemporary art portuguese-born, london-based artist alexandre farto (vhils) creates arresting portraits by breaking away pieces of walls. he takes his subtractive art to not only galleries and exhibition spaces but also the streets, creating larger-than-life figures in the midst of urban and underused space. farto generally first sketches out each piece in spraypaint, before beginning the painstaking process of chipping, sawing, and drilling away at the wall to various depths. he will often add additional colour or shading to the newly exposed portions of the wall, creating a visual interplay between the untouched surface, original painted figure, and layers of underlying material.
alexandre farto: subtractive wall art
The Official Ralph Lauren 4D Experience – London
Last Leaf – OK GO on Toast
Runner II on Vimeo
Telematics