Arte
Graffitis increíbles que te dejarán con la boca abierta. Ric stultz 2012. Ana Teresa Fernandez Oil Paintings. Book sculptures and paintings. A little good advice never hurt anyone.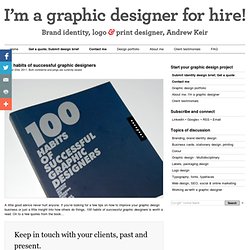 If you're looking for a few tips on how to improve your graphic design business or just a little insight into how others do things, 100 habits of successful graphic designers is worth a read. On to a few quotes from the book… Keep in touch with your clients, past and present. Every business has competitors and you want clients to think of you first. Still Life Still Alive | Home » Inspiring Artists, Inspiring Projects 1 November 201060 Comments Alexa Meade is a 23 year old D.C. based artist who is developing an aesthetic that is playfully and skillfully combing paint, portraiture, photography and performance.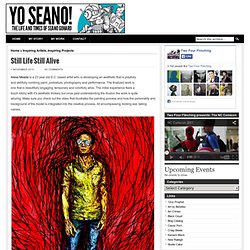 The finalized work is one that is beautifully engaging, temporary and colorfully alive. The initial experience feels a touch kitchy with it's aesthetic trickery but once past understanding the illusion the work is quite alluring. Oleg Shuplyak's Optical Illusion Paintings. Sometimes there's more to the eye than you initially perceive.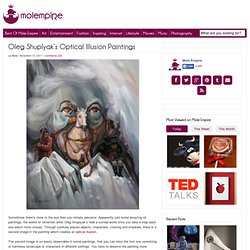 Apparently just some amazing oil paintings, the works of Ukrainian artist Oleg Shuplyak's hide a surreal world once you take a step back and watch more closely. Through carefully placed objects, characters, coloring and shadows, there is a second image in the painting which creates an optical illusion. Tutorials. 35 Funny Illustrations by Tiago Hoisel – with Exclusive Interview. Today we have the special honor to discuss about digital art and painting with Tiago Hoisel.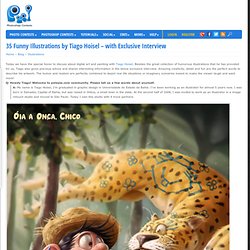 Besides the great collection of humorous illustrations that he has provided for us, Tiago also gives precious advice and shares interesting information in the below exclusive interview. Amazing creativity, detail and fun are the perfect words to describe his artwork. The humor and realism are perfectly combined to depict real life situations or imaginary scenarios meant to make the viewer laugh and want more! 20 awesome examples of street art.
Ric stultz 2011.
---