Desserts
Get flash to fully experience Pearltrees
This one is by Tyler Florence – remember him from Food 911? He's cute and his cheesecake looks just as adorable … and yummy. This may not be for the novice baker – but someone who has baking experience will find this recipe extremely delicious.
White chocolate brownies have it tough.
I'm happy to eat birthday cake at other people's parties. But when it's my big day, I'll take pie—one part flaky crust, one part sweet, jammy fruit—every time. I celebrated my last birthday by making an attractively lumpy, left-leaning strawberry-rhubarb pie. I didn't care what it looked like—it tasted like pure summer. And yet many otherwise confident cooks find pie baking a daunting proposition.
Cinnamon Roll Pancakes Updated 9/22/11 to Add: If you're coming here to sample these delicious Cinnamon Roll Pancakes, you just might like the latest recipe that I've posted for Pumpkin Cinnamon Roll Pancakes too. And Gingerbread- Cinnamon Roll Pancakes too. Enjoy! If you've ever thought you needed a reason to eat pancakes, today is the day: National Pancake Day .
I think I've found my sugar & sprinkles soul sister recently. I really do. The funny thing is, I had popped by Jessica's blog from time to time when I would spot her yummy treats linked by friends on twitter , but I didn't really get a chance to sit down and really take a good long look through her recipes until this past week. That's when I came across the sprinkled masterpiece of epic proportion: her cake batter chocolate bark. Much like Jessica, I wasn't what I'd really consider a "bark person" until this recipe came along, but what's so fabulous about it, aside from the obvious delightfulness, is that it took me 5 minutes active time to make this (and about 5 to eat it–whoops).
September 23, 2011 | Print | E-mail | Filed under bread , pumpkin Monkey bread. It's almost as much fun to say as it is to eat, and with the arrival of autumn, I couldn't stop thinking about taking my usual recipe and kicking it up a notch with the addition of pumpkin – so, of course, I did. Making monkey bread has always brought with it feelings of nostalgia for me, which makes it one of my favorite sweets to share with family and friends. In fact, the day after I made it, I invited a good friend over so that I could share it with her, along with some apple cider – a lovely way to spend an autumn afternoon, if you ask me!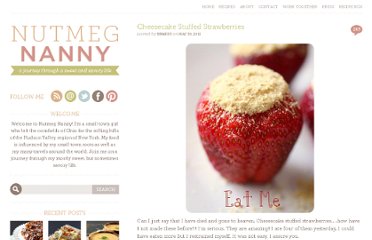 Cheesecake Stuffed Strawberries Can I just say that I have died and gone to heaven. Cheesecake stuffed strawberries….how have I not made these before?! I'm serious.