Art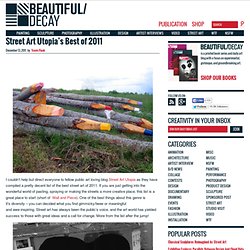 I couldn't help but direct everyone to fellow public art loving blog Street Art Utopia as they have compiled a pretty decent list of the best street art of 2011. If you are just getting into the wonderful world of pasting, spraying or making the streets a more creative place, this list is a great place to start (short of Wall and Piece ). One of the best things about this genre is it's diversity – you can decided what you find gimmicky/twee or meaningful and awe-inspiring. Street art has always been the public's voice, and the art world has yielded success to those with great ideas and a call for change.
Search
Full Circle Link to the iPhone Rosary For larger versions of the images (amongst other images) go to the Art category of this blog. I modified the pictures using mostly favorites of my own .... I may switch a few .. comments would be appreciated Crucifix Fra Angelico - San Dominic adoring the Crucifixion Sorrowful 1 Carl Heinrich Bloch - Agony In the Garden 2 William Bouguereau The Flagellation of Our Lord Jesus Christ 3 Unknown 1490 altarpiece - Crowning by Thorns 4 Master Thomas de Coloswar - Christ Carrying the Cross 5 Josse Lieferinxe - Crucifixion Joyful 1 Sandro Botticelli - Annunciation 2 Dominico Ghirlandaio - Visitation 3 Lorenzo Lotto - The Nativity 4 Philippe de Champaigne - The Presentation in the Temple 5 William Holman Hunt Finding Jesus in the Temple Glorious
British, 1830 - 1896 44 pictures Click image to learn more about each picture, or send as a free e-card The acknowledged leader of the Victorian classical school of painting, Frederic Leighton was born in Scarborough, the son of a doctor. His grandfather, Sir James Leighton, was court physician to Czar Alexander I of Russia; and Sir James' son was also a doctor.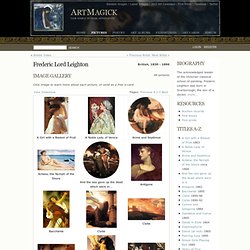 Frederic Lord Leighton :: Biography and Image Gallery at ArtMagick
Portfolio >> Lord Frederic Leighton
Portfolio >> Lord Frederic Leighton In partnership with TheArtsForums.com Discussions F.A.Q.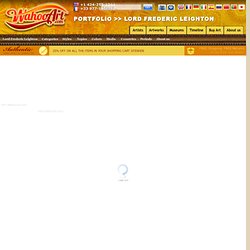 Paintings, 1800-1899
Paintings, 1800-1899
Michelangelo Sculptures, David, Pieta | Michelangelo Gallery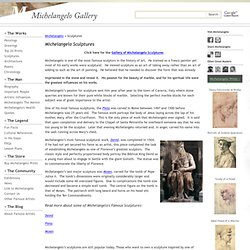 Michelangelo • Sculptures View a List of Michelangelo Sculptures Michelangelo is one of the most famous sculptors in the history of art. He trained as a fresco painter yet most of his early works were sculptural.
Michelangelo (my kel AN jel oh) was born in Italy in the village of Caprese. His father was a local magistrate. He attended school, and at the age of 12 he became an apprentice to a famous painter in Florence, Domenico Ghirlandaio (doh-MEN-e-koh geer-lan-DYE-yo). After a year or so he stopped painting and began working as a sculptor.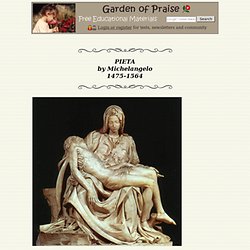 Pieta by Michelangelo
Michelangelo Poems, Poems by Michelangelo | Michelangelo Gallery
Michelangelo • Poems Many people don't realize that beyond being a sculptor and painter Michelangelo was also a poet. Though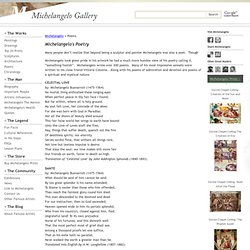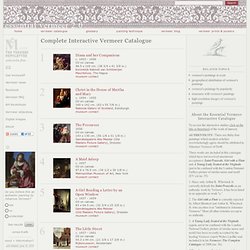 Complete Catalogue of the Painting of Johannes Vermeer
To access the interactive studies click on the title or thumbnail of the work of interest. AUTHENTICITY : There are thirty-four paintings which modern scholars overwhelmingly agree should be attributed to Johannes Vermeer of Delft. Three works are included in this catalogue which have not received unanimous acceptance: Saint Praxedis , Girl with a Flute and A Young Lady Seated at the Virginals (not to be confused with the London National Gallery picture of similar name and motif (EV cat no. 35) 1. Since only Arthur K. Wheelock Jr. currently defends the Saint Praxedis as an authentic work by Vermeer, it has been listed in an appendix as work "a."
Bouguereau: Pietà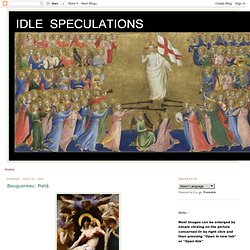 William Bouguereau (born 1825 - died 1905) Pietà (1876) Oil on canvas 90 1/2 x 58 1/4 inches (230 x 148 cm) Dallas Museum of Fine Arts, Dallas, Texas The weeping Mary is cloaked in a robe of black. She, together with the dead body of Jesus are surrounded by eight weeping angels surround them in an arc, like a rainbow. At the bottom lies the crown of thorns. There is also a white cloth covered in the blood of Christ. There is also a pitcher of water.
William Bouguereau (1825-1905) Premier Deuil [The First Mourning] Oil on canvas, 1888 79 7/8 x 99 1/8 inches (203 x 252 cm) Museo Nacional de Bellas Artes, Buenos Aires The dead body of Abel lies across Adam's lap. Eve is kneeling by his side crying uncontrollably. The grief is greater: Abel was murdered; the murderer was Cain, their other son, who has fled. Bouguereau had five sons, four of whom died before him. First Mourning was painted directly after the death of his second son.
Bouguereau: The First Mourning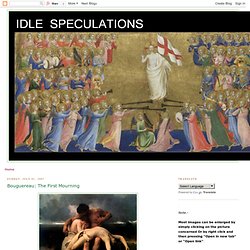 William Adolphe Bouguereau (1825-1905)
Renaissance Art: 1400-1550
Michelangelo: 1475-1564
Altes Museum
(photo: Berlin.de / Tobias Kneschke) more photos Historical pictures The Altes Museum (Old Museum) is infact Berlin's oldest museum (1830) located in the UNESCO-listed Heritage site known as Berlin's Museum Island opposite at the Lustgarten (Pleasure Garden). It was built by Karl Friedrich Schinkel – Prussia's most influential architect - and houses the Classical Antiquities collection, displaying a selection of its with a selection of its Greek and Roman holdings.
The Baroque Era
Europe, 17th Century Baroque Art developed in Europe around 1600, as an reaction against the intricate and formulaic Mannerism that dominated the Late Renaissance. Baroque art is less complex, more realistic and more emotionally affecting than Mannerist art. This movement was encouraged by the Catholic Church, the most important patron of the arts at that time, being seen as a return to tradition and spirituality.
James Tissot, Too Early
Allan R. Banks, Hannah
The Incredible Art Of Julian Beever!
Many of his creations are optical illusions, such as this one, where Julian appears to be perched on a ledge, waiting for Batman and Robin to climb the building and rescue him. In reality, there is just pavement in front of him, and the street below together with the expectant crowd, plus the blazing building below him, are all tricks played on the eye (a modern example of trompe l'oeil - a French term that means literally 'trick the eye'). An absolutely insane chalk drawing on the pavement. Batman an Robin are going to save a man from a burning building.
Paintings by Thomas Wilmer Dewing
Share: Known in some circles as the most amazing man in the universe, he once saved an entire family of muskrats from a sinking, fire engulfed steamboat while recovering from two broken arms relating to a botched no-chute wingsuit landing in North Korea. When not impressing people with his humbling humility, he can be found freelance writing, finding shiny objects on the internet, enjoying the company of much-appreciated friends and living out his nomadic nature. He is Managing Editor of Visual News.
West African power associations are responsible for an array of arts, including masks, sculptures, and performances. The arts of kómó and kónó , two predominantly male institutions, have captured the attention of museum audiences in Europe and the United States. Communities across western West Africa support the two organizations and many others, including several belonging to women.