Art
Beautiful/Decay Cult of the Creative Arts | Artist Book Series + Daily Art And Design Blog And Creative Community. I couldn't help but direct everyone to fellow public art loving blog Street Art Utopia as they have compiled a pretty decent list of the best street art of 2011.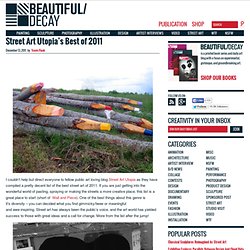 If you are just getting into the wonderful world of pasting, spraying or making the streets a more creative place, this list is a great place to start (short of Wall and Piece). One of the best things about this genre is it's diversity – you can decided what you find gimmicky/twee or meaningful and awe-inspiring. Street art has always been the public's voice, and the art world has yielded success to those with great ideas and a call for change. Search. Full Circle. Frederic Lord Leighton. British, 1830 - 1896 44 pictures Click image to learn more about each picture, or send as a free e-card The acknowledged leader of the Victorian classical school of painting, Frederic Leighton was born in Scarborough, the son of a doctor.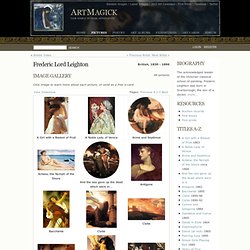 His grandfather, Sir James Leighton, was court physician to Czar Alexander I of Russia; and Sir James' son was also a doctor. Portfolio >> Lord Frederic Leighton. Frederic Leighton, 1st Baron Leighton PRA (3 December 1830 – 25 January 1896), known as Sir Frederic Leighton, Bt, between 1886 and 1896, was an English painter and sculptor.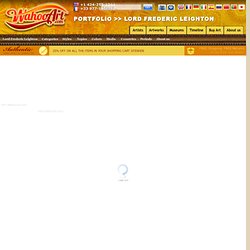 His works depicted historical, biblical and classical subject matter. Leighton was bearer of the shortest-lived peerage in history; after only one day his hereditary peerage became extinct. Leighton was born in Scarborough to a family in the import and export business. Paintings, 1800-1899. Paintings, 1800-1899. Michelangelo Sculptures, David, Pieta | Michelangelo Gallery. Michelangelo•Sculptures Click here for the Gallery of Michelangelo Sculptures Michelangelo is one of the most famous sculptors in the history of art.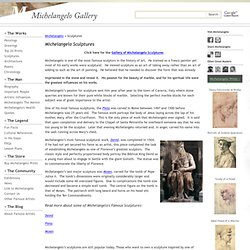 He trained as a fresco painter yet most of his early works were sculptural. Pieta by Michelangelo. Michelangelo (my kel AN jel oh) was born in Italy in the village of Caprese.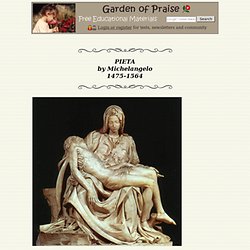 His father was a local magistrate. He attended school, and at the age of 12 he became an apprentice to a famous painter in Florence, Domenico Ghirlandaio (doh-MEN-e-koh geer-lan-DYE-yo). After a year or so he stopped painting and began working as a sculptor. Michelangelo Poems, Poems by Michelangelo | Michelangelo Gallery. Michelangelo•Poems Many people don't realize that beyond being a sculptor and painter Michelangelo was also a poet.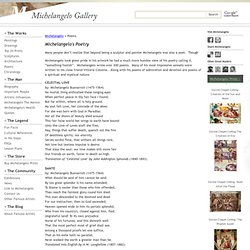 Though. Complete Catalogue of the Painting of Johannes Vermeer. Bouguereau: Pietà. William Bouguereau (born 1825 - died 1905)Pietà (1876)Oil on canvas90 1/2 x 58 1/4 inches (230 x 148 cm)Dallas Museum of Fine Arts, Dallas, Texas The weeping Mary is cloaked in a robe of black.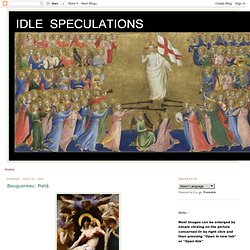 She, together with the dead body of Jesus are surrounded by eight weeping angels surround them in an arc, like a rainbow. At the bottom lies the crown of thorns. There is also a white cloth covered in the blood of Christ. There is also a pitcher of water. Bouguereau: The First Mourning. William Bouguereau (1825-1905)Premier Deuil [The First Mourning]Oil on canvas, 188879 7/8 x 99 1/8 inches (203 x 252 cm)Museo Nacional de Bellas Artes, Buenos Aires The dead body of Abel lies across Adam's lap.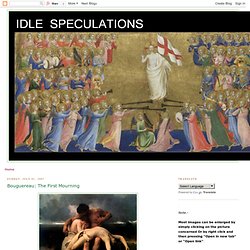 Eve is kneeling by his side crying uncontrollably. The grief is greater: Abel was murdered; the murderer was Cain, their other son, who has fled. Bouguereau had five sons, four of whom died before him. First Mourning was painted directly after the death of his second son. William Adolphe Bouguereau (1825-1905) Renaissance Art: 1400-1550. Michelangelo: 1475-1564. Bouguereau - The complete works.
Altes Museum. The Baroque Era. Europe, 17th Century Baroque Art developed in Europe around 1600, as an reaction against the intricate and formulaic Mannerism that dominated the Late Renaissance.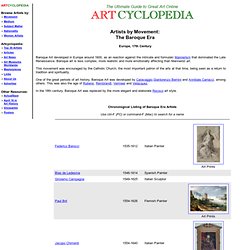 Baroque art is less complex, more realistic and more emotionally affecting than Mannerist art. This movement was encouraged by the Catholic Church, the most important patron of the arts at that time, being seen as a return to tradition and spirituality. James Tissot, Too Early. Allan R. Banks, Hannah. The Incredible Art Of Julian Beever! Many of his creations are optical illusions, such as this one, where Julian appears to be perched on a ledge, waiting for Batman and Robin to climb the building and rescue him.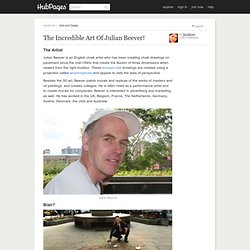 In reality, there is just pavement in front of him, and the street below together with the expectant crowd, plus the blazing building below him, are all tricks played on the eye (a modern example of trompe l'oeil - a French term that means literally 'trick the eye'). An absolutely insane chalk drawing on the pavement. Batman an Robin are going to save a man from a burning building. Paintings by Thomas Wilmer Dewing. The drawings of Leonardo da Vinci.
Drawing on World Issues: These Make You Think. Known in some circles as the most amazing man in the universe, he once saved an entire family of muskrats from a sinking, fire engulfed steamboat while recovering from two broken arms relating to a botched no-chute wingsuit landing in North Korea. When not impressing people with his humbling humility, he can be found freelance writing, finding shiny objects on the internet, enjoying the company of much-appreciated friends and living out his nomadic nature. He is Managing Editor of Visual News.
Follow his movements on Twitter: Heilbrunn Timeline of Art History | The Metropolitan Museum of Art. Icons (from the Greek eikones) are sacred images representing the saints, Christ, and the Virgin, as well as narrative scenes such as Christ's Crucifixion. While today the term is most closely associated with wooden panel painting, in Byzantium icons could be crafted in all media, including marble, ivory, ceramic, gemstone, precious metal, enamel, textile, fresco, and mosaic. Icons ranged in size from the miniature to the monumental. Works of Art.
How to Read a Caption A caption gives basic information about a work of art. Title Titles appear in boldface.
---