Brain
"Mind is such an odd predicament for matter to get into," says the poet Diane Ackerman. "If a mind is just a few pounds of blood, dream and electric, how does it manage to contemplate itself? Worry about its soul? Do time and motion studies?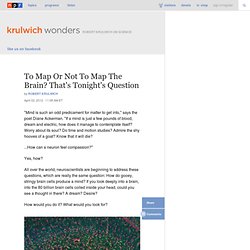 To Map Or Not To Map The Brain? That's Tonight's Question : Krulwich Wonders...
Introduction Early cortical representations of visual, auditory and somatosensory information (e.g. `primary' and `secondary' areas) are in the unimodal neocortex. In contrast, the cortical representations of the chemical senses (taste and smell) are in the limbic and paralimbic cortex. This is true in primates (e.g.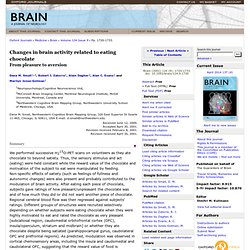 Changes in brain activity related to eating chocolate
Boys' brains, girls' brains: How to think about sex differences in psychology
How do boys' and girls' brains differ? Photographs by Ryan McVay/Getty Images. Are male brains different from female brains? If so, how? And does it matter?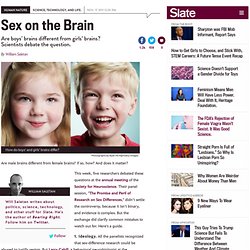 Parietal Lobe Function
The parietal lobes can be divided into two functional regions. One involves sensation and perception and the other is concerned with integrating sensory input, primarily with the visual system. The first function integrates sensory information to form a single perception (cognition). The second function constructs a spatial coordinate system to represent the world around us. Individuals with damage to the parietal lobes often show striking deficits, such as abnormalities in body image and spatial relations (Kandel, Schwartz & Jessel, 1991).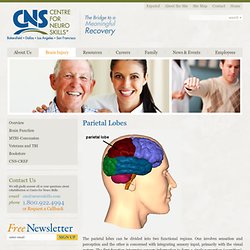 Transverse temporal gyrus
The soft warm living substance of the brain and nervous system stands in stark contrast to the rigid metal and plastic hardware of a modern day computer, but at the fundamental level there are clear similarities between these two apparently disparate organizational systems and, of course, one is a product of the other. Not only are the nerve cell units (neurons) self-repairing and self-wiring under the grand design built into our genes, but they can also promote, amplify, block, inhibit, or attenuate the micro-electric signals which are passed to them, and through them. In this way they give rise to signalling patterns of myriad complexity between networks of cerebral neurons, and this provides the physical substrate of mind. These key processes of signalling by one group, or family, of neurons to another is achieved largely by the secretion of tiny quantities of potent chemical substances by neuronal fibre terminals.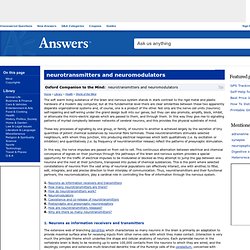 neurotransmitters and neuromodulators
List all the essential neurotransmitters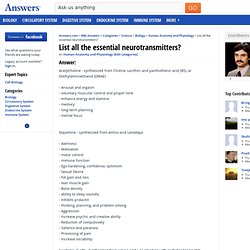 Acetylcholine - synthesized from Choline, Lecithin, and panthothenic acid (B5), or Diethylaminoethanol (DMAE) - Arousal and orgasm - voluntary muscular control and proper tone - enhance energy and stamina - memory - long-term planning - mental focus Dopamine - synthesized from amino acid Levodopa - Alertness - Motivation - motor control - immune function - Ego hardening, confidence, optimism - Sexual Desire - Fat gain and loss - lean muscle gain - Bone density - ability to sleep soundly - Inhibits prolactin - thinking, planning, and problem solving - Aggression - Increase psychic and creative ability - Reduction of compulsivety - Salience and paranoia - Processing of pain - Increase sociability Serotonin (5-HT) - Synthesized from amino acid L-tryptophan with co-factor Niacin (B3), through the intermediate 5-hydroxytryptophan (5-HTP)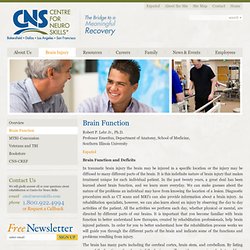 Brain Map
Robert P. Lehr Jr., Ph.D. Professor Emeritus, Department of Anatomy, School of Medicine, Southern Illinois University Español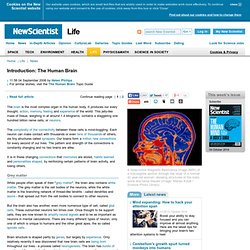 Read full article Continue reading page | 1 | 2 The brain is the most complex organ in the human body. It produces our every thought, action , memory , feeling and experience of the world.
BrainConnection.com - The Anatomy of Movement
Brain Connection | March 5, 2013 Almost all of behavior involves motor function, from talking to gesturing to walking. But even a simple movement like reaching out to pick up a glass of water can be a complex motor task to study.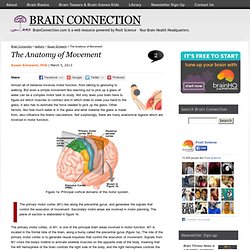 Beginning in the 1940s, Canadian brain surgeon Wilder Penfield mapped the brain's motor cortex -- the area that controls the movement of your body's muscles. He did this by applying mild electric currents to the exposed brains of patients while they were in surgery. Now you can relive his exploration of the brain. In the following feature we give you an electric probe and an exposed brain. All you need to do is shock and observe.
A Science Odyssey: You Try It: Probe the Brain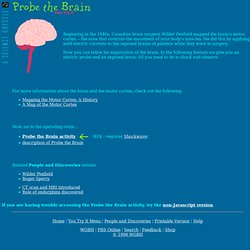 Lecture3.bayesian
Feedforward Neural Networks
2.5.1 Feedforward Neural Networks Feedforward neural networks (FF networks) are the most popular and most widely used models in many practical applications. They are known by many different names, such as "multi-layer perceptrons." Figure 2.5 illustrates a one-hidden-layer FF network with inputs
Introduction Neural networks are a very popular data mining and image processing tool. Their origin stems from the attempt to model the human thought process as a an algorithm which can be efficiently run on a computer. The human brain consists of neurons that send activation signals to each other (figure on the left) thereby creating intelligent thoughts.
Introduction to Feedforward Neural Networks - EmilStefanov.net
Efference copies are created with our own movement but not those of other people. This is why other people can tickle us (no efference copies of the movements that touch us) but we cannot tickle ourselves (efference copies tell us that we are stimulating ourselves). An efference copy or efferent copy is an internal copy of an outflowing ( efferent ), movement-producing signal generated by the motor system . [ 1 ] It can be collated with the (reafferent) sensory input that results from the agent's movement, enabling a comparison of actual movement with desired movement, and a shielding of perception from particular self-induced effects on the sensory input to achieve perceptual stability. [ 1 ] Together with internal models , efference copies can serve to enable the brain to predict the effects of an action. [ 1 ]
Efference copy
A list of scientific publications is included at the bottom of this page, and scientists are invited to skip directly thereto. The following paragraphs provide a simplified introduction. Brain research shows that brain regions involving desire are activated in the blink of an eye – less than a fifth of a second. Even before you realize that some detail about a person has attracted your attention, your brain knows if that person will arouse your reward system, and your brain begins to anticipate the reward. This could mean that you just met Mr Right or Ms Right. Your brain actually knows whether you desire someone even before you know it consciously.
The Brain Science of Desire | BrainDesire
Welcome To The Music And Neuroimaging Lab
The human brain has the remarkable ability to adapt in response to changes in the environment over the course of a lifetime. This is the mechanism for learning, growth, and normal development. Similar changes or adaptations can also occur in response to focal brain injuries, e.g., partially-adapted neighboring brain regions or functionally-related brain systems can either substitute for some of the lost function or develop alternative strategies to overcome a disability. Through ongoing research, the Music and Neuroimaging Laboratory's mission is to: Reveal the perceptual and cognitive aspects of music processing including the perception and memory for pitch, rhythmic, harmonic, and melodic stimuli. Investigate the use of music and musical stimuli as an interventional tool for educational and therapeutic purposes.