NodeJS
Node.js 日本ユーザグループ
npm - Node Package Manager
Nipster! npm search tool for Node.js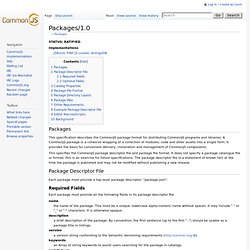 Packages/1.0 - CommonJS Spec Wiki
Implementations
Felix's Node.js Guide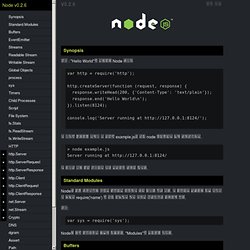 v0.2.6 한글 번역
node v0.2.6 한글 번역
« Home / All Guides There is no official document that governs the style of node.js applications.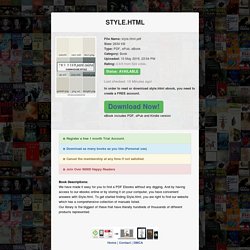 Felix's Node.js Style Guide/en
Felix's Node.js Style Guide/ko
outsideris/node.js-programming
npm/doc/cli/coding-style.md at master · isaacs/npm
Building and installing Node.js Prerequisites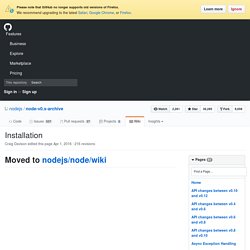 Building and Installing Node.js · joyent/node Wiki
nanha/nodeman
Instagram/node2dm
Nodeman by nanha
Mastering Node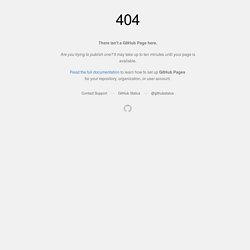 Node is an exciting new platform developed by Ryan Dahl , allowing JavaScript developers to create extremely high performance servers by leveraging Google's V8 JavaScript engine, and asynchronous I/O. In Mastering Node we will discover how to write high concurrency web servers, utilizing the CommonJS module system, node's core libraries, third party modules, high level web development and more. In this chapter we will be looking at the installation and compilation of node.
이 문서에 대하여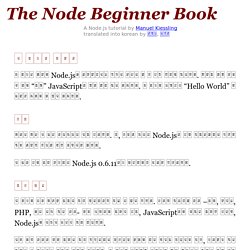 The Node Beginner Book (Korean version) » A comprehensive Node.js tutorial
twich: php + node.js realtime web-based chat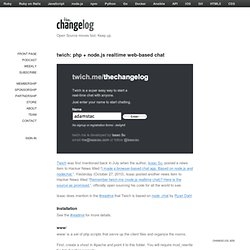 Twich was first mentioned back in July when the author, Isaac Su , posted a news item to Hacker News titled " I made a browser-based chat app.
Real-time web applications with Node.js, Socket.io & TerrificJS – Roger Dudler's Blog
Async. and Realtime Geo Applications with Node.js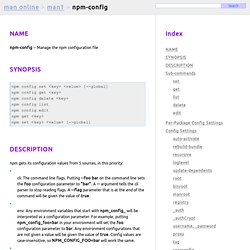 Man online - npm-config (1)
npm-config -- Manage the npm configuration file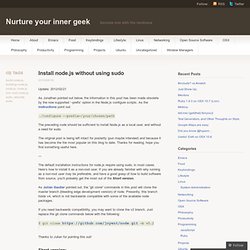 Install node.js without using sudo « Nurture your inner geek
Update: 2012/02/21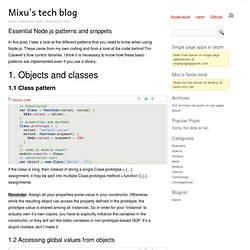 In this post, I take a look at the different patterns that you need to know when using Node.js. These came from my own coding and from a look at the code behind Tim Caswell's flow control libraries.
Essential Node.js patterns and snippets « Mixu's tech blog
Top News - Echo JS