Rome
Get flash to fully experience Pearltrees
The Romans were active in trade and commerce, and from the time of learning to write they needed a way to indicate numbers. The system they developed lasted many centuries, and still sees some specialized use today. Roman numerals traditionally indicate the order of rulers or ships who share the same name (i.e. Queen Elizabeth II). They are also sometimes still used in the publishing industry for copyright dates, and on cornerstones and gravestones when the owner of a building or the family of the deceased wishes to create an impression of classical dignity. The Roman numbering system also lives on in our languages, which still use Latin word roots to express numerical ideas.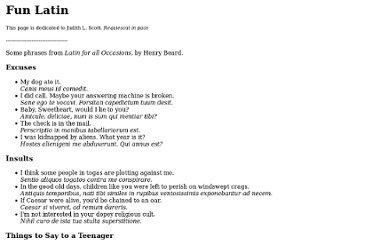 This page is dedicated to Judith L. Scott. Requiescat in pace Some phrases from Latin for all Occasions , by Henry Beard. Excuses My dog ate it.
I t is my opinion that Pompeii is the most important archeological site anywhere. Almost every other ancient urban site is simply the remains of a ghost town, long ago deserted by its citizens who carried away with them everything of value. Prior to the eruption of Vesuvius, Pompeii was a thriving city. Then it was buried with so little warning in 79 A.D. that Pompeii was literally frozen in time. I f we want to know details about what life was like in a Roman city during the first century, I think by studying Pompeii we can get the very best perspective with the least speculation. We can understand how the privileged rich man and the ordinary slave lived from day to day in the Roman Empire during the time when Christianity was beginning to spread throughout the Mediterranean.
Provides a chronological index of the history of Ancient Rome with extensive links to internet resources. Emphasis is placed upon the use of primary source material, numismatics, and a focus upon the roles of women in ancient time. scroll down for the timeline Thank you for visiting! Timeline Menu