Impresoras 3D
Keep me up to date ... Sign up to receive information on new platforms, the latest releases, and more ... Platforms starting at $15,999 ... shipments begin February 28, 2014 Big Print area 1m x 1m x 0.5m ... (39" x 39" x 19") Economical
3D Printers - 3DP Unlimited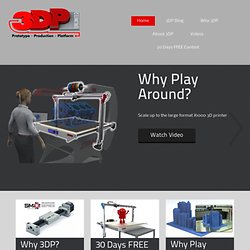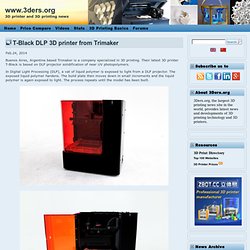 Feb.24, 2014 Buenos Aires, Argentina based Trimaker is a company specialized in 3D printing. Their latest 3D printer T-Black is based on DLP projector solidification of near UV photopolymers.
T-Black DLP 3D printer from Trimaker
Compare 3D Printers | Aniwaa | 3D Printing
WASPROJECT - World's Advanced Saving Project
L'approccio maker è fare quel che vuoi con quel che hai, condividendo conoscenze ed esperienze. Maestro Eckart, un monaco tedesco del 1300, diceva : "Voler fare, se se ne avesse la possibilità ed aver fatto sono di fronte a Dio la stessa cosa." Più o meno negli stessi anni sulle vette dell'Himalaya alcuni monaci fondarono la scuola Cittamatra; questa scuola di pensiero sosteneva che tutto è Mente. Oggi noi con approccio Maker prendiamo spunto da questi pensieri e come dice il maestro Yoda: Fare o non fare non esiste provare… decidiamo di salvare il mondo.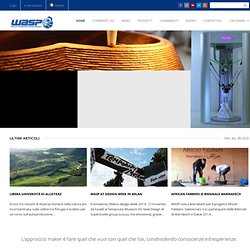 BEETHEFIRST
The Peachy Printer - The First $100 3D Printer & Scanner! by Rinnovated Design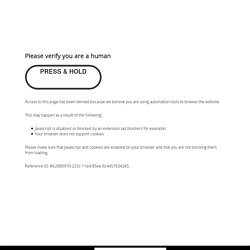 Below is a detailed video explaining how the Peachy Printer works through explanation and demonstration! The peachy printer is a Photolithographic printer. That means it uses a controlled beam of light to cure light sensitive resin into hard objects.
The Zim 3D Personal Printer - Fabbaloo -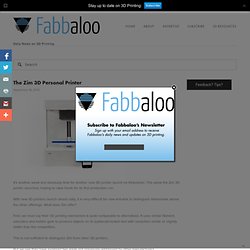 It's another week and obviously time for another new 3D printer launch on Kickstarter. This week the Zim 3D printer launched, hoping to raise funds for its first production run. With new 3D printers launch almost daily, it is very difficult for new entrants to distinguish themselves above the other offerings.
3dkits: Kits mecánicos para impresoras 3D hechos en España | MADfab
A través de 3ders nos enterábamos de la existencia de estos kits hechos en España con un aspecto muy profesional y limpio. José, de 3dkits ha accedido a contestar unas preguntas para los interesados. Hola José, muchas gracias por atendernos.No se merecen.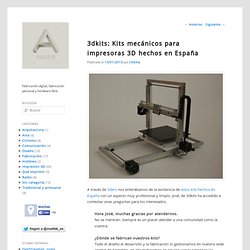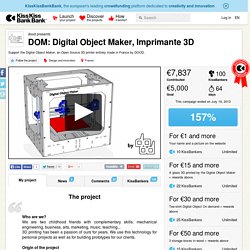 dood presents DOM: Digital Object Maker
The project Who are we? We are two childhood friends with complementary skills: mechanical engineering, business, arts, marketing, music, teaching... 3D printing has been a passion of ours for years.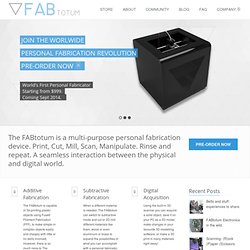 FABtotum
The personal data you provide to FABTOTUM SRL ("FABtotum") hereinafter also referred to as "the Company" will be processed with respect of the principles set forth by the Directive 95/45/CE on personal data protection and by the national legislation of the Controllers regarding the protection of personal information and, in any event, with the principles of confidentiality on which the Companies business is based. 1. Purpose of the processing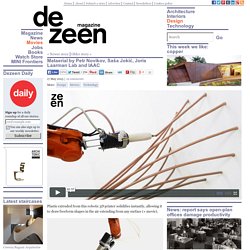 Plastic extruded from this robotic 3D printer solidifies instantly, allowing it to draw freeform shapes in the air extending from any surface (+ movie). Unlike normal 3D printers that require a flat and horizontal base, Mataerial prints with plastic that sticks to horizontal, vertical, smooth or irregular surfaces, without the need for additional support structures. Petr Novikov and Saša Jokić from Barcelona's Institute for Advanced Architecture of Catalonia created the machine during their internship at Joris Laarman Lab , where students are given a platform to experiment with new digital fabrication methods. The process, which the designers call "anti-gravity object modelling", is a form of extrusion that instantly creates chunky three-dimensional rods, rather than slowly building up two-dimensional layers like a standard 3D printer.
Mataerial 3D printer by Petr Novikov, Saša Jokić, Joris Laarman Lab and IAAC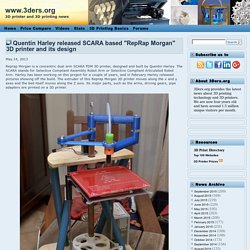 May.14, 2013 Reprap Morgan is a concentric dual arm SCARA FDM 3D printer, designed and built by Quentin Harley. The SCARA stands for Selective Compliant Assembly Robot Arm or Selective Compliant Articulated Robot Arm. Harley has been working on this project for a couple of years, and in February Harley released pictures showing off the build.
Quentin Harley released SCARA based "RepRap Morgan" 3D printer and its design | 3D Printer & 3D Printing News
muve3d
The Team We are a team of mechanical technician, precious metal expert, systems engineer and designers with very creative ideas. We like to think of ourselves as individuals that do not just think outside the box but outside the room the box is in, but in the same time keeping in mind that the basics in the box is just as important.
i AM 3D
Freeform 3D printing with an undo function
Jul.25, 2013 The Suspended Depositions process developed by LA-based Brian Harms and his team, is a project aims to blur the line between processes of design and fabrication in the context of rapid prototyping. By injecting light-curing resin through a needle-like print head on a robotic arm one is able to shape freeform objects without the need for molds or other subtractive manufacturing processes. "The hair gel acts as an omnidirectional support material which is reusable, so there is no wasted material." explains Harms.
The idea behind the Mebotics Microfactory began when friends who were helping grow a local makerspace, the Artisan's Asylum, started kicking around the idea of a portable, clean and quiet hybrid manufacturing machine. The concept grew out of a shared frustration – a desire to develop functional prototypes and art pieces in our homes and business (outside of traditional machine shop space) without making a mess or driving our neighbors and spouses crazy. The company incorporated in 2012 and, over the next few years, self-financed the development if 5 versions of the machine.
Mebotics
Demo of how the J-Rev prints upward What is the Japicain Revolution? (AKA: J-Rev) The J-Rev is a 3-Dimensional Printing Machine. In basic terms, it can make any physical object out of a chosen material, typically plastic. Currently, there is a huge variety of 3D Printers available, ranging from $500 up to a $500,000 and up.
Japicain Revolution 3D Printer: Changing the way you print by Japica
W.Afate 3D printer
Airwolf 3D Printers
BotObjects - ProDesk3D, The First Full Colour 3D Desktop Printer
SpiderBot Reprap based 3D Printer with delta technology
OpenSL 3D Printer: A Stereolithographic printer, For Everyone.
Gigabot 3D Printing: This is Huge! by re:3D
Makerbot, Ultimaker and Cb printer: customer support comparison | A girl with a 3D printer
Best Desktop 3D Printers - Compare 3D Printers | FindTheBest
RigidBot 3D Printer by Michael Lundwall
Pwdr - Open source powder-based rapid prototyping machine
Metamáquina - Metamáquina - criamos máquinas que criam máquinas
The shape of things to come: A consumer's guide to 3D printers
FoldaRap
The Future Is 3-D, Inc. | Print your imagination
DreamMaker
store
AO-100 3D Printer Package - LulzBot
Ultra-Bot 3D Printer by William Steele
3Dfactories
It's time to step forward – BCN3D – The new 3D Printer « RepRapBCN – Barcelona, España, Europe, World
RoBo 3D Printer by RoBo 3D Printer
Inicio - Página web de 3D kits
维示泰克
Type A Machines: Series 1
Eventorbot! Open source 3D printer. by eventorbot
Panda Robotics | Home
Formlabs - High Resolution Desktop 3D Printer
Fosterbot, a Makerbot Thing-o-Matic derived 3D Printer
The Vision : Not Just a 3D Printer... A DREAM by Matt Underwood
Rostock (delta robot 3D printer) by Johann
Ditto 3D Printer
Stone Spray Project
Kikai Labs - inicio - kikailabs.com.ar
SUMPOD
B9Creator™ - What will YOU create?
Bukobot 3D Printer - Affordable 3D with No Compromises! by Diego Porqueras
3D printer price
Klaus Stadlmann: The world's smallest 3D printer
launch customers
Photos - Google+
One-to-One : Large Scale 3D Printer by Robert Cervellione
THE Printrbot by abdrumm
Prusa Mendel: Calibración - WikiRobotics
The List of Personal 3D Printers, 2011
printrbot - Home
SUMPOD
BotMill
BFB-3000 3D Printer | Bits From Bytes
Z Corp. Homepage
eMAKERshop
3D Printing & Rapid Prototyping by Objet Geometries Ltd
Welcome to MakerBot - MakerBot Industries
ting is Cheap!
Giant 3D printer LeBigRep from the 3D Printing Event
Blog | Ultimaker | the fast, easy to build, affordable 3D printer – 3D printing for everyone!
Wiki
Main Page - Fab @ Home
Fab@Home - Make Anything | Fab@Home
MakerGear.com - Welcome
Shapercube
CUBE -The 3D printed 3D printer by Webca
The Future Is 3-D | Print your imagination
buildatron