PhD
Worldfavor. Life and Times of Corporate Reporting - simon zadek. "The horse is here to stay but the automobile is only a novelty – a fad", argued the president of the bank advising Henry Ford not to invest in such new fangled nonsense.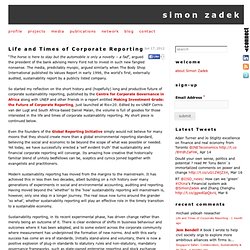 The media, predictably myopic, argued similarly when The Body Shop International published its Values Report in early 1996, the world's first, externally audited, sustainability report by a publicly listed company. So started my reflection on the short history and (hopefully) long and productive future of corporate sustainability reporting, published by the Centre for Corporate Governance in Africa along with UNEP and other friends in a report entitled Making Investment Grade: the Future of Corporate Reporting, just launched at Rio+20. Edited by ex-UNEP Cornis van der Lugt and South Africa-based Daniel Malan, the volume is full of goodies for those interested in the life and times of corporate sustainability reporting.
2012 Global 100: The Definitive Corporate Sustainability Benchmark. 100 Time-Saving Search Engines for Serious Scholars. While burying yourself in the stacks at the library is one way to get some serious research done, with today's technology you can do quite a bit of useful searching before you ever set foot inside a library.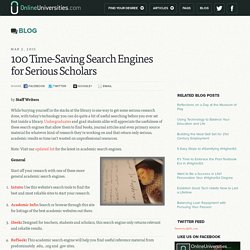 Undergraduates and grad students alike will appreciate the usefulness of these search engines that allow them to find books, journal articles and even primary source material for whatever kind of research they're working on and that return only serious, academic results so time isn't wasted on unprofessional resources. Note: Visit our updated list for the latest in academic search engines.
General Start off your research with one of these more general academic search engines. 4 Ways To Create Brand Content People Actually Care About. What if Environmentalism Were as Big as Social Media? [INFOGRAPHIC] What if everyone across the globe used his or her social media influence to help the planet?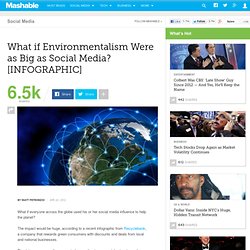 The impact would be huge, according to a recent infographic from Recyclebank, a company that rewards green consumers with discounts and deals from local and national businesses. The data encourages the connected generation to use social networks and technology for a positive effect on the earth. For example, if each Pinterest user shared one green idea per month, there would be 12 million more environmentally-conscious tips being passed around. The efforts can be carried offline, too. According to Recyclebank, if everyone on Facebook shortened his or her shower by one minute, we would save enough water to fill 1,136,364 Olympic-sized swimming pools. Sustainability Nears a Tipping Point. This year, most survey respondents say sustainability is on their companies' management agendas to stay.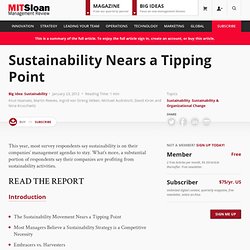 What's more, a substantial portion of respondents say their companies are profiting from sustainability activities. Introduction The Sustainability Movement Nears a Tipping PointMost Managers Believe a Sustainability Strategy is a Competitive NecessityEmbracers vs. Harvesters. Sustainability Report Gets White House Attention. The MIT SMR and BCG 2012 Sustainability and Innovation research report "Sustainability Nears a Tipping Point" prompted an invitation to participate in a White House Sustainable Supply Chain Dialogue on March 30 in Washington, DC.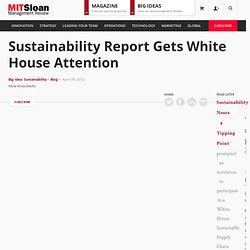 The MIT SMR – BCG 2012 Sustainability and Innovation research report "Sustainability Nears a Tipping Point" prompted an invitation to participate in a White House Sustainable Supply Chain Dialogue on March 30 in Washington, DC. Organized by the U.S. General Services Administration, the event brought together leaders from the federal government, industry, academia and nonprofits to discuss how the launch of a sustainable supply chain community of practice can help "assure a secure and sustainable supply chain" which is "essential to both industry and government."
Knut Haanaes, coauthor of the report and head of The Boston Consulting Group's global sustainability practice, as well as Edgar Blanco, of MIT's Center for Transportation Logistics, both attended. Why Strong Ties Matter More In a Fast-Changing Environment. It has become accepted wisdom that weak ties — your acquaintances, distant colleagues — can provide more novel information than close ties.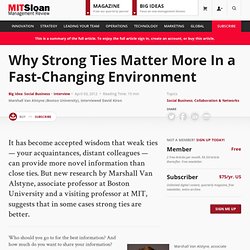 But new research by Marshall Van Alstyne, associate professor at Boston University and a visiting professor at MIT, suggests that in some cases strong ties are better. Marshall Van Alstyne, associate professor at Boston University and visiting professor at MIT Who should you go to for the best information? Sustainability | Disclosure of Long-Term Business Value: What matters? CSES | Center för socialt entreprenörskap. De påverkar företagens hållbarhetsarbete mest under 2012. Formell makt är ett trubbigt och inte särskilt rättvisande mått på vilka som påverkar i samhället.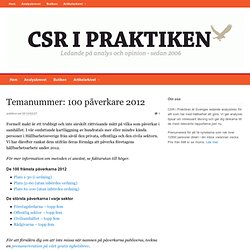 I vår omfattande kartläggning av hundratals mer eller mindre kända personer i Hållbarhetssverige från såväl den privata, offentliga och den civila sektorn. Vi har därefter rankat dem utifrån deras förmåga att påverka företagens hållbarhetsarbete under 2012. För mer information om metoden vi använt, se faktarutan till höger. De 100 främsta påverkarna 2012 De största påverkarna i varje sektor. Remarks to "KPMG Summit: Business Perspective For Sustainable Growth" Mr.
Michael Andrew, [Chairman of KPMG International,] Mr. John Veihmeyer, [Chairman and Chief Executive Officer of KPMG in the United States,] Mr. Yvo de Boer, [KPMG Special Global Advisor on Climate Change and Sustainability] Corporate Social Responsibility (CSR) - Sustainable and responsible business - Enterprise and Industry. Corporate social responsibility (CSR) refers to companies taking responsibility for their impact on society.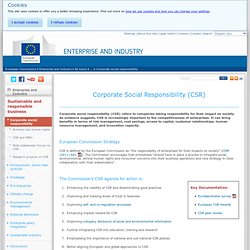 As evidence suggests, CSR is increasingly important to the competitiveness of enterprises. It can bring benefits in terms of risk management, cost savings, access to capital, customer relationships, human resource management, and innovation capacity. Acona.co.uk/reports/Multiple Messages.pdf. The future of sustainability reporting will be plural, bespoke and continuous | Guardian Sustainable Business. It is universally agreed that large companies should somehow report on non-financial matters: last year more than 3,000 did so by means of a corporate responsibility (CR) or sustainable development (SD) report.
But ask the questions "why? " and "how? " and things become less clear. Can the Global Reporting Initiative help restore faith in the media | Sustainability. As if the advent of 'Generation We-Want-It-All-For-Free' and the rise of social media were not challenging enough, recent events mean that media organisations undoubtedly face an uphill struggle in the years to come. Business models under pressure and public distrust towards mediacontent are coming soon to a boardroom near you. The Global Reporting Initiative (GRI) recently launched its final draft of the Media Sector Supplement, a set of indicators and questions aimed at measuring, in as much detail as possible, the social, environmental and financial impacts of media companies on society.
Stock Values Rise When Companies Disclose "Green" Information, UC Davis Graduate School of Management Study Finds. The Future of Sharing on Facebook, Twitter and Google+ Users of social networks are getting tired of sharing — but that doesn't mean sharing is on the decline. A new study analyzes sharing behaviors on Facebook, Twitter and Google+ and makes predictions for the future of sharing. Digital agency Beyond released the study for Social Media Week, along with the below infographic.
Beyond makes six predictions about where sharing is headed based on the responses of 2,000 social media users in the U.S. and UK, between ages 16 and 40, who are active on either Twitter, Facebook or Google+. Among those users, 98% were active on Facebook, 60% of whom log in several times daily. Setting the Standard for Corporate Responsibility and Sustainable Development - Top Five Misconceptions About GRI Reporting. 2012-02-16By Anna Ashbaugh, Associate, Advisory Services The Global Reporting Initiative's sustainability reporting Guidelines (G3.1), while widely applied, are often misunderstood. With nearly 200 pages of guidance and detailed technical protocols, it is easy to lose sight of the purpose of reporting, which is to be accountable to stakeholders and drive performance. 1. E-Learning : Think like an Editor. Today's communications professionals have the ability to reach a global audience with a single Tweet. But so too to do your biggest rivals and critics. It very much is a published or be damned world we live in.
What BP could teach you about social media smarts. Home » Editor's Comment, Training An interesting new ranking arrived in my in-box Thursday morning grading the most social-savvy FTSE 100 companies. In the top 10 were plenty of brands you'd expect – Marks and Spencer, Burberry, Unilever and Intercontinental Hotels. Are companies on the button with their online sustainability programmes? | Guardian Sustainable Business. Corporate Responsibility + Social Media - Are They Aligned in Your Organization. CSR & Sustainability in 2012: 5 Trends. 50 Fastest Growing Brands Serve a 'Higher Purpose'
How 'good' does a shampoo need to be? Describing CSR has five components. From MDG to SDG, with help of ICT: Sachs shows the way. What's Your Scale For Good?
---