Escultors
Welcome to Irwell Sculpture Trail. Broken Column - A sculpture project for Rogaland Museum of Fine Arts. What is Broken Column?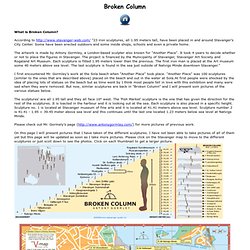 According to "23 iron sculptures, all 1.95 meters tall, have been placed in and around Stavanger's City Center. Some have been erected outdoors and some inside shops, schools and even a private home. The artwork is made by Antony Gormley, a London-based sculpter also known for "Another Place". It took 4 years to decide whether or not to place the figures in Stavanger.
Juan Muñoz (escultor) Fragmento de la serie de esculturas de Muñoz Thirteen Laughing at Each Other (2001) en Oporto.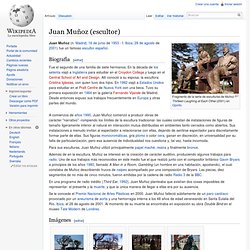 Fue el segundo de una familia de siete hermanos. En la década de los setenta viajó a Inglaterra para estudiar en el Croydon College y luego en el Central School of Art and Design. DeCordova | Sculpture Park and Museum. Austrian Sculpture Park. The spectacular ambience of 7 hectars of gardens, designed by the Swiss landscape architect Dieter Kienast, featuring various topographic areas like the forest- or lotusponds, the labyrinth or the rose-gardens, offers visitors the chance to get a general overview of contemporary sculpture; all this only 7 ks south of Graz.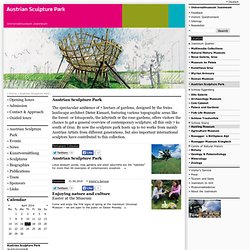 By now the sculpture park hosts up to 60 works from mainly Austrian Artists from different generations, but also important international sculptors have contributed to this collection. Permanent Collection. NewArtCentre. About us. New Art Centre The New Art Centre was founded in 1958.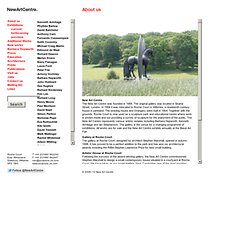 The original gallery was located in Sloane Street, London. In 1994 it was relocated to Roche Court in Wiltshire, a nineteenth-century house in parkland. El bosque de OMA. Discover a magical landscape - The Painted Forest ant the OMA Valley The forest of Oma, one of Basque artist Agustín Ibarrola's best known works, is an example of "land art", a creative trend that first appeared in the 1960s and which seeks to take art to nature and use the countryside as the artist's frame, support and medium.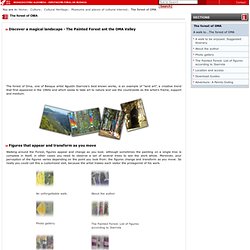 Figures that appear and transform as you move Walking around the Forest, figures appear and change as you look: although sometimes the painting on a single tree is complete in itself, in other cases you need to observe a set of several trees to see the work whole. Untitled Document. Lee jae hyo - Cerca amb Google. CarlAndre. Antony Gormley.
---