Crochet, Jewllery, Bags, Craft
Crochet | Pattern | Tutorial | Paperweight Granny African Flower
[Update April 13, 2012: I made a purse out of this motifs, tutorial is here.] [Update August 11, 2011: Thanks to Mia again for providing more information to answer some questions at the comment section. Please find the information of the type of yarn, hook size and the resulting flower size at the pattern section.]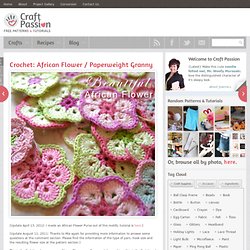 Join-As-You-Go Method for Crochet Motifs « Speckless Blog
There are many ways to join your motifs, but I think that the join-as-you-go method is the easiest and quickest way. This method can be used for any kind of motif (try it with this vintage daisy motif!) and works especially well with pieces that already have picots or chain spaces – they'll help guide you on where to join.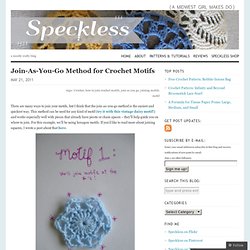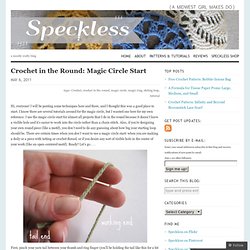 Hi, everyone!
Crochet in the Round: Magic Circle Start « Speckless Blog
THE FLOWER BED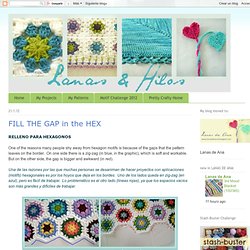 Lanas&Hilos: FILL THE GAP in the HEX
One of the reasons many people shy away from hexagon motifs is because of the gaps that the pattern leaves on the border.
CHICKPEA SEWING STUDIO: The Little Crochet Basket Pattern is Ready!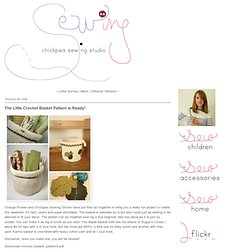 Orange Flower and Chickpea Sewing Studio have put their act together to bring you a really fun project to create this weekend.
Sunshine's Creations.Vintage Threads Inc.: free irish rose pattern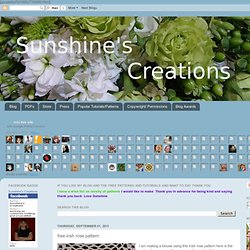 I am making a blouse using this Irish rose pattern here is the pattern for you use. You can use it to make afghans or any thing else you can work your mind around.
Natural crochet bag
Fanciful Flower Potholders
Introduction: These Fanciful Flower Potholders are made of 100 percent dk weight cottons in bright and bold colors.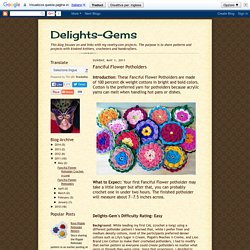 Hello lovelies , Here's a little tutorial on how to make a crochet cushion cover using fleece material .... an old blanket in my case.....to make an envelope style cover and a button closure . I've also added a pretty crochet trim to finish it off the back. I've chosen fleece fabric for this project as it is nice and soft but also because it doesn't fray and so the amount of sewing required is kept to a minimum.
Fleece cushion cover for crochet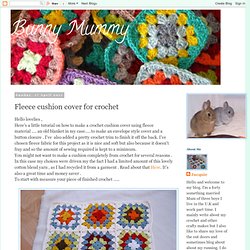 Sometimes Sharon and I are surprised by how much we're on the same page. I'm not talking about how we're on the same webpage--that's a given. But take for instance, this pillow:We each took pictures of it at our Local Pier 1 at separate times, each thinking "I could make that".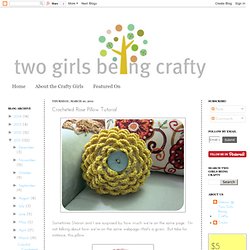 Crocheted Rose Pillow Tutorial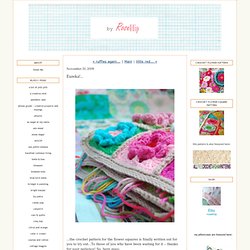 rose hip : Eureka!...
...the crochet pattern for the flower squares is finally written out for you to try out...To those of you who have been waiting for it -- thanks for your patience! So, here goes:
Crochet
Oh. My. Goodness.
This is a very simple little crochet pattern for small five-petalled flowers and leaves.I love making crochet flowers.
Teeny Tiny Flowers
Blocking granny squares
Joining Squares as-you-go
I've been making granny squares for eighteen months now and in that time I've made a great many for blankets and cushions, all of which have been joined together after the squares themselves have been made.
Kata pattern by Penny Davidson
This square works up to 12" if done in worsted weight yarn and 9 1/2" if done in DK.
Granny Square 92 pattern by Judy Bolin
Granny wheel square
Varv 1: 5 lm, slut ringen med en sm Varje följande varv börjas med 3 lm som ersätter en stolpmaska, och avslutas med en smygmaska i första stolpen. Varv 2: "1 st, 1 lm" 12 ggr Varv 3: "2 st, 1 lm" 12 ggr + 1 extra sm fram till nästa lm Varv 4: "3 st, 1 lm" 12 ggr + 2 extra sm fram till nästa lm Varv 5: "4 st, 1 lm" 12 ggr + 3 extra sm fram till nästa lm Varv 6: "4 st, 1 lm, 4 st, 1 lm, 4 dst, 2 lm, 4 dst, 1 lm" 4 ggr Varv 7: (grått) 1 st mellan varje st på varv 6, 2 st om varje lm på varv 6 och i hörnen 2 st, 3 lm, 2 st.……………………………………………………………………………………….
Blushing Bride Square
Google Translate
Mary Go Round crochet flower ring tutorial
Attic24 Blanket Fest
How many pot holders is too many? | Crochet with Raymond
rose hip :
rose hip : my September blur....
How To Make Fabric Covered Beads
Louis Vuitton "Knock Off" Fabric Bead Necklace
Japanese Flower Scarf :: Ta-dah!
Star Stitch | Free Vintage Crochet Patterns
our creative spaces
The Woodstock Blanket
Sunburst Granny Square Blanket
Sunburst Granny Square
MoCrochet: Crazy Granny Square
joining granny squares :: step 7
Granny Heart Tutorial
Cozy Things: March 2011
Over 100 Free Crocheted Flowers Patterns at AllCrafts!
Carina's Craftblog: Granny square joining tutorial
Conundrum
little woollie: September 2010
little woollie: December 2010
The baby blanket: more progress
★ HOW TO Make PURSES | WALLETS | POUCHES | CASES ★
project bags and devon completed
BOLSAS
Make Alpaca Wool Sweater into Felted handmade Bag tutorial - The Inadvertent Farmer
25+ Makeup Bags & Rolls To Make: {Free Tutorials
Slouchy Make-Up Bag Pattern PDF
scrappy make-up pouch tutorial
How to Sew a Small Drawstring Pouch from 2 Squares
Box Bag Tutorial
Little boxy pouch tutorial « three bears
tiny knitted acorn pattern
Knitted Pumpkin Pattern
Kitty Cat Tutorial/Pattern .....Part 1
tutorial
DIY Friendship Necklace