Lists
Good Horror Movies Every Fan Has To See. If you ask people on the street for some suggestions of a great horror movie, odds are you'd get a wide range of answers.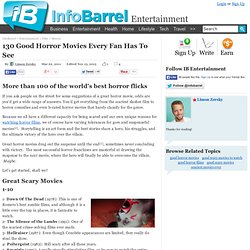 You'd get everything from the scariest slasher film to horror comedies and even b-rated horror movies that barely classify for the genre. Because we all have a different capacity for being scared and our own unique reasons for watching horror films, we of course have varying tolerances for gore and suspenseful movies[2]. 60 Small Ways to Improve Your Life in the Next 100 Days. Contrary to popular belief, you don't have to make drastic changes in order to notice an improvement in the quality of your life.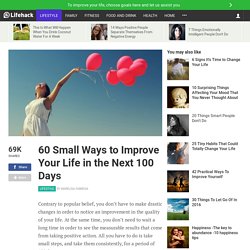 At the same time, you don't need to wait a long time in order to see the measurable results that come from taking positive action. All you have to do is take small steps, and take them consistently, for a period of 100 days. Below you'll find 60 small ways to improve all areas of your life in the next 100 days.
30 Things to Start Doing for Yourself. Post written by: Marc Chernoff Email Remember today, for it is the beginning.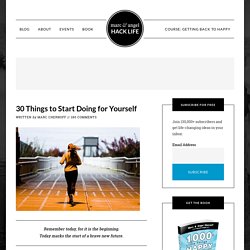 30 Things to Stop Doing to Yourself. Post written by: Marc Chernoff Email When you stop chasing the wrong things you give the right things a chance to catch you.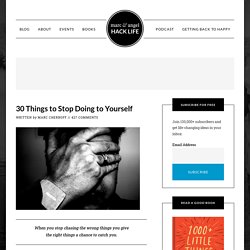 As Maria Robinson once said, "Nobody can go back and start a new beginning, but anyone can start today and make a new ending." 7 Habits that Will Make You Happier, Healthier & Way More Likeable. Happiness — I want it, you want it, we all want it.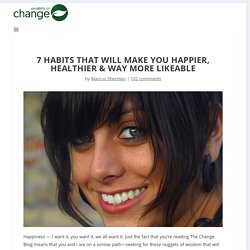 Just the fact that you're reading The Change Blog means that you and I are on a similar path—seeking for those nuggets of wisdom that will bring us more peace, joy, and personal fulfillment. After having owned a businesses for about 10 years in the swimming pool industry, a little over a year ago I commenced a new quest in life to satiate my need to teach and help as many possible to achieve their full potential. This is also why I asked Peter if I could contribute a guest post to The Change Blog. 21 Habits of Happy People. Contributed by Cindy Holbrook "Happiness is a habit – cultivate it." ~ Elbert Hubbar Happiness is one aspiration all people share.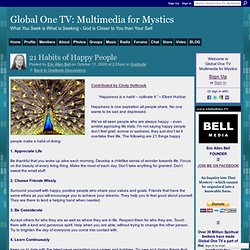 No one wants to be sad and depressed. We've all seen people who are always happy – even amidst agonizing life trials. 50 Life Secrets and Tips. 9 Mindfulness Rituals to Make Your Day Better | zen habits. "Smile, breathe and go slowly." - Thich Nhat Hanh, Zen Buddhist monk Post written by Leo Babauta.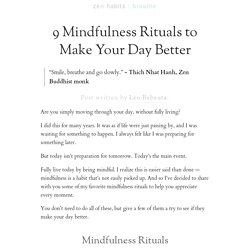 Are you simply moving through your day, without fully living? I did this for many years. It was as if life were just passing by, and I was waiting for something to happen. I always felt like I was preparing for something later. 54 Life Lessons 14 Years of World Travel Taught Me. Post written by: Marc Chernoff Email This post was written by Caz, author of the y Travel Blog.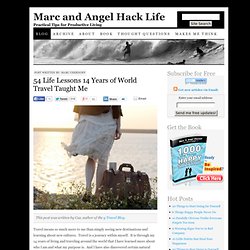 75 Reminders for Tough Times. Post written by: Marc Chernoff Email When life gets stressful, we often forget the things we should remember, and remember the things we should forget.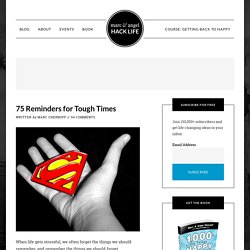 Here are 75 reminders to help motivate you when you need it most.
---