Consommation collaborative
Get flash to fully experience Pearltrees
Citée comme l'une des dix idées qui vont changer le monde par Time Magazine, la consommation collaborative a de beaux jours devant elle. Les sites de consommation collaborative se répandent comme une traînée de poudre sur le net : jouets pour enfants , maisons et appartements , vêtements … Même les voitures sont concernées avec notamment Cityzen Car qui propose la location de voitures entre particuliers – comme Livop et quelques autres.
Alors que les échanges marchands créent de plus en plus d'exclusion sociale et de défiance, l'économie du partage, par le don, transforme les relations grâce à la reconnaissance et l'inter-dépendance. Le XX ème siècle aura été incontestablement celui de l'échange marchand.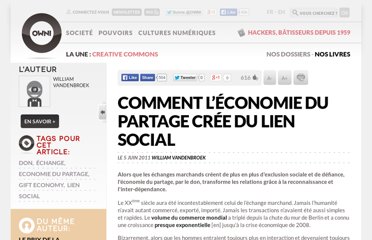 In April of 2000, on the spur of the moment, Casey Fenton bought a cheap airplane ticket to Reykjavik, Iceland, for a long weekend. At the time, Fenton was 22 years old and had no place to stay in Reykjavik. Undeterred, Fenton searched the online student database at the University of Iceland, extracted names and email addresses of 1,500 students, and sent messages like "Hey Bjorn, I am coming to Iceland.
Basée sur l'idée de partage, la « consommation collaborative » est une pratique qui se développe de plus en plus. « Chèvre pour tondre votre pelouse de manière écologique – location à la journée par couple de deux – 10 euros. » Ceci n'est pas une blague, mais une annonce trouvée sur le site e-loue , où les particuliers pratiquent la « consommation collaborative » . Le concept s'applique à tous les objets que l'on possède et que l'on n'utilise pas tout le temps, ou que l'on n'a pas besoin d'acheter.
Bon ok le titre est un peu vendeur…mais de vraies raisons d'être aussi optimiste, il y en a, à la fois pour ce qu'il se trame outre-Atlantique mais aussi en France… Des signes avant-coureurs en provenance des Etats-Unis
After 6 months of thinking *very hard* about the more controversial things of life, like democracy, creativity and the future of society, *quietly to myself*, I suddenly find myself almost ready to 'think out loud' again and publish some unfinished thoughts for others to consider.
Everything, it seems, is becoming collaborative. From Airbnb to RentCycle to Zipcar , we are swapping our cars, our homes, even our clothes with each other. According to Lauren Anderson from Collaborative Consumption , this change might be as profound as the industrial revolution.