Marketing / PR
Attention Marketing le livre blanc | Le blog groupe Reflect
Attention Marketing Depuis 12 ans, chez groupeReflect, nous servons chaque jour nos clients en stratégies, conseils, réalisations et promotions digitale.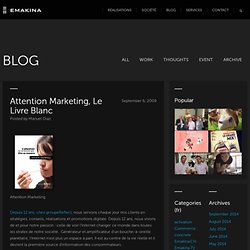 Husband
This guest post is by Scott Perry. With his free email newsletter and web site, the New Music Tipsheet,keeps the industry informed of new releases as well as commenting on trends and sharing industry news. Scott
The Band Is Not The Brand
Médias sociaux » Archive du blog » Twitter + Marque = quel in
CRM Daily | Twitter Can Help With Customer Service
15 Ways PR Agencies Can Help Companies With Social Media | davef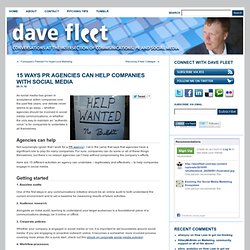 As social media has grown in acceptance within companies over the past few years, one debate never seems to go away – whether agencies should be involved in social media communications, or whether the only way to maintain an "authentic voice" is for companies to undertake it all themselves.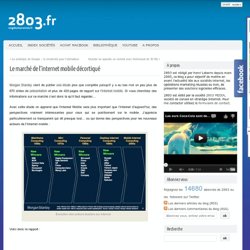 Le marché de l'internet mobile décortiqué
Morgan Stanley vient de publier une étude plus que complète puisqu'il y a au bas mot un peu plus de 670 slides de présentation et plus de 420 pages de rapport sur l' internet mobile .
Du marketing manager au Customer manager | Bloc-Notes de Bertran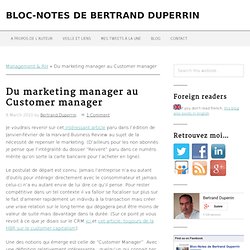 Je voudrais revenir sur cet intéressant article paru dans l'édition de Janvier-Février de la Harvard Business Review au sujet de la nécessité de repenser le marketing. (D'ailleurs pour les non abonnés je pense que l'intégralité du dossier « Reivent » paru dans ce numéro mérite qu'on sorte la carte bancaire pour l'acheter en ligne). Le postulat de départ est connu.
Idea in Brief The big idea: It's time to discard the popular belief that corporations must focus first and foremost on maximizing value for shareholders.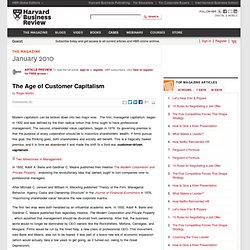 The Age of Customer Capitalism
120 acteurs sur le marché de l'e-réputation - Marché de l'e-répu
TV Networks, Brands and Individuals Find New Audiences On Facebo
Television networks have been taking advantage of Facebook Connect to lure back viewers turning to online forms of entertainment, and several new applications have recently popped up to give Facebook users options for viewing their favorite shows. There's still a lot of room for improvement, and all the big networks need to do is look around to see how some other brands and individuals are leveraging video on Facebook to increase fans, viewers and business in general.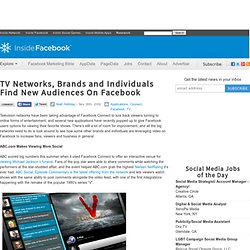 Top 10 Most Talked About Brands 2009
tude Eyetracking des sites de presse en ligne et leur publicité
Co-création : les nouvelles règles du jeu - E-FI, le blog de l'é
Ogilvy On: Facebook for Business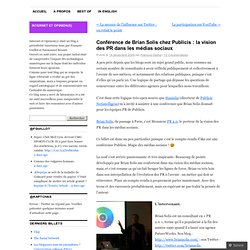 Conférence de Brian Solis chez Publicis : la vision des PR dans
A peu près depuis que les blogs sont un sujet grand public, nous sommes un certain nombre de consultants à avoir réfléchi publiquement et collectivement à l'avenir de nos métiers, et notamment des relations publiques, puisque c'est d'elles qu'on parle ici.
10 Trends To Watch In 2010