Marketing / PR
Attention Marketing le livre blanc | Le blog groupe Reflect. Attention Marketing Depuis 12 ans, chez groupeReflect, nous servons chaque jour nos clients en stratégies, conseils, réalisations et promotions digitale.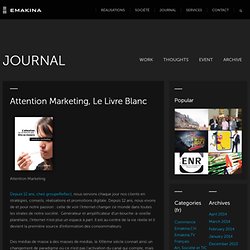 Depuis 12 ans, nous vivons de et pour notre passion : celle de voir l'Internet changer ce monde dans toutes les strates de notre société. Générateur et amplificateur d'un bouche-à-oreille planétaire, l'Internet n'est plus un espace à part. Husband.
Research
Influence ? The Band Is Not The Brand. This guest post is by Scott Perry.
With his free email newsletter and web site, the New Music Tipsheet,keeps the industry informed of new releases as well as commenting on trends and sharing industry news. Scott. Médias sociaux » Archive du blog » Twitter + Marque = quel in. Le retargeting ou reciblage publicitaire /// Agence marketing di. CRM Daily | Twitter Can Help With Customer Service. Quand le web marchand devie. Sur la personnification des. Sur les blogs des agences d. Pomplamoose garde son indépendance /// Agence marketing digital, 15 Ways PR Agencies Can Help Companies With Social Media | davef.
As social media has grown in acceptance within companies over the past few years, one debate never seems to go away – whether agencies should be involved in social media communications, or whether the only way to maintain an "authentic voice" is for companies to undertake it all themselves.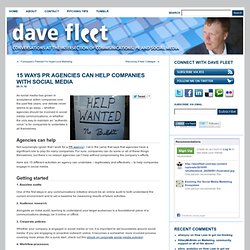 Agencies can help Not surprisingly (given that I work for a PR agency), I sit in the camp that says that agencies have a significant role to play for many companies. For sure, companies can do some or all of these things themselves, but there's no reason agencies can't help without compromising the company's efforts. Le marché de l'internet mobile décortiqué. Morgan Stanley vient de publier une étude plus que complète puisqu'il y a au bas mot un peu plus de 670 slides de présentation et plus de 420 pages de rapport sur l' internet mobile .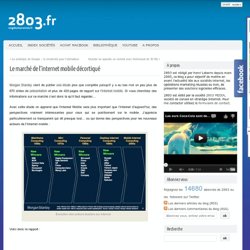 Si vous cherchiez des informations sur ce marché c'est donc là qu'il faut regarder… Avec cette étude on apprend que l'Internet Mobile sera plus important que l'Internet d'aujourd'hui, des perspectives vraiment intéressantes pour ceux qui se positionnent sur le mobile. J'apprécie particulièrement ce transparent qui dit presque tout… ou qui donne des perspectives pour les nouveaux acteurs de l'Internet mobile : Evolution des acteurs leaders sur Internet.
Ca parle PR. Du marketing manager au Customer manager | Bloc-Notes de Bertran. Je voudrais revenir sur cet intéressant article paru dans l'édition de Janvier-Février de la Harvard Business Review au sujet de la nécessité de repenser le marketing.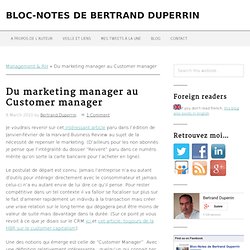 (D'ailleurs pour les non abonnés je pense que l'intégralité du dossier "Reivent" paru dans ce numéro mérite qu'on sorte la carte bancaire pour l'acheter en ligne). Le postulat de départ est connu. The Age of Customer Capitalism. Idea in Brief The big idea: It's time to discard the popular belief that corporations must focus first and foremost on maximizing value for shareholders.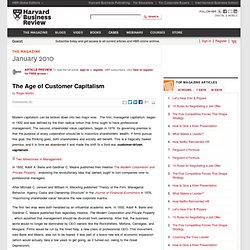 That idea is inherently, and tragically, flawed. The argument: It's impossible to continually increase shareholder value, because stock prices are driven by shareholders' expectations about the future, which cannot be raised indefinitely. What the data show: The focus on shareholder value hasn't done shareholders any favors.
They have actually earned lower returns since corporations adopted it as their guiding principle. Marketing Digital - Entrons dans l'ère numérique. 120 acteurs sur le marché de l'e-réputation - Marché de l'e-répu. TV Networks, Brands and Individuals Find New Audiences On Facebo. Television networks have been taking advantage of Facebook Connect to lure back viewers turning to online forms of entertainment, and several new applications have recently popped up to give Facebook users options for viewing their favorite shows.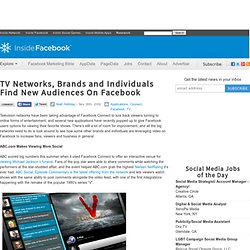 There's still a lot of room for improvement, and all the big networks need to do is look around to see how some other brands and individuals are leveraging video on Facebook to increase fans, viewers and business in general. ABC.com Makes Viewing More Social ABC scored big numbers this summer when it used Facebook Connect to offer an interactive venue for viewing Michael Jackson's funeral. Fans of the pop star were able to share comments while watching the performers at the star-studded affair, and the event helped ABC.com grab the highest Nielsen NetRating it's ever had. Abondance : référencement et moteurs de recherche - toute l&#039. Le top 50 des "fan pages" Facebook en 2009 /// Agence marketing. Top 10 Most Talked About Brands 2009. Tude Eyetracking des sites de presse en ligne et leur publicité. Une étude Eye tracking sur l'E-Pub dans la presse online est sortie il y a deux jours, réalisée par Altics, montre ce que l'on savait déjà depuis un moment : les internautes ne fixent pas les publicités.
Ce que montre cette étude, et qui nous intéresse au plus haut point, sont plutôt d'observer les sauts de lecture que peuvent faire les utilisateurs pendant 1 minute et 30 secondes sur les sites web de presse présentés dans l'étude, à savoir le Figaro, le Monde, Liberation, etc. Quelques remarques qui s'appliquent pour lefigaro.fr, qui démontrent l'importance des compromis intrusivité/ergonomie : Sur le site lefigaro.fr, la publicité 728×90 px en haut de page est moins vue que sur des sites qui la placent sous la navigation. Ce que l'étude omet de dire, c'est que l'ergonomie de la navigation s'en trouve renforcée, et que ce format est de toute façon en perte de vitesse chez les annonceurs et les régies.
Brand advocate ?
Co-création : les nouvelles règles du jeu - E-FI, le blog de l'é. Ogilvy On: Facebook for Business. Conférence de Brian Solis chez Publicis : la vision des PR dans. A peu près depuis que les blogs sont un sujet grand public, nous sommes un certain nombre de consultants à avoir réfléchi publiquement et collectivement à l'avenir de nos métiers, et notamment des relations publiques, puisque c'est d'elles qu'on parle ici.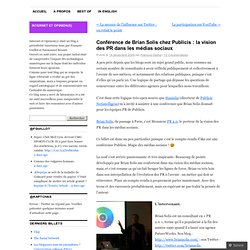 Une logique de partage qui dépasse les questions de concurrence entre les différentes agences pour lesquelles nous travaillons. C'est dans cette logique très open source que Stanislas (directeur de Publicis Netintelligenz) m'a invité à assister à une conférence que Brian Solis donnait pour les équipes PR de Publicis. Brian Solis, de passage à Paris, c'est Monsieur PR 2.0, le porteur de la vision des PR dans les médias sociaux.
Ce billet est donc un peu particulier puisque c'est le compte-rendu d'i&e sur une conférence Publicis. 10 Trends To Watch In 2010.
---