Psychology
Psychological research suggests simple actions can project power, persuade others, increase empathy, boost cognitive performance and more... We tend to think of body language as something that expresses our internal states to the outside world. But it also works the other way around: the position of our body also influences our mind. As the following psychological research shows, how we move can drive both thoughts and feelings and this can boost performance.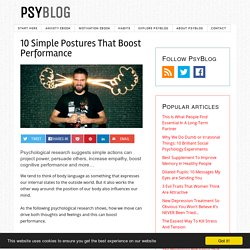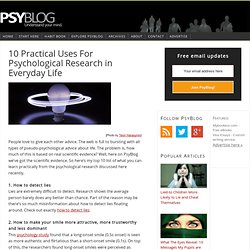 People love to give each other advice. The web is full to bursting with all types of pseudo-psychological advice about life. The problem is, how much of this is based on real scientific evidence?
When your head hits the pillow, for many it's lights out for the conscious part of you. But the cells firing in your brain are very much awake, sparking enough energy to produce the sometimes vivid and sometimes downright haunted dreams that take place during the rapid-eye-movement stage of your sleep. Why do some people have nightmares while others really spend their nights in bliss? Like sleep, dreams are mysterious phenomena. But as scientists are able to probe deeper into our minds, they are finding some of those answers.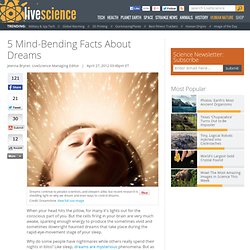 5 Mind-Bending Facts About Dreams | Lucid Dreams & Nightmares | LiveScience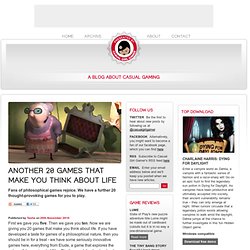 First we gave you five . Then we gave you ten . Now we are giving you 20 games that make you think about life. If you have developed a taste for games of a philosophical nature, then you should be in for a treat - we have some seriously innovative games here, everything from Elude, a game that explores the nature of depression, to Ulitsa Dimitrova, a tale about a street-urchin in Russia.
Myth #1 – Introverts don't like to talk . This is not true. Introverts just don't talk unless they have something to say.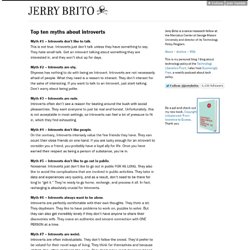 If you've never experienced it then you may find it hard to understand what lucid dreaming is all about. In fact you may be thoroughly sceptical and dismiss the whole thing as silly nonsense. But I can tell you from personal experience that lucid dreams are very real and something that many millions of people regularly enjoy. Note: Due to the huge amount of interest that this post has generated I am now seriously considering writing a book on the subject, and I would welcome input from anyone with an interest. If you have any anecdotes, suggestions, dreams or anything else you'd like to share with me for possible inclusion in the book, please email me . Your contribution can be anonymous and you may change any and all names/characters as you wish.