Sood and Pood Crafts
Map Hearts. I Love You Cards. This year I made this adorable gift for my boyfriend.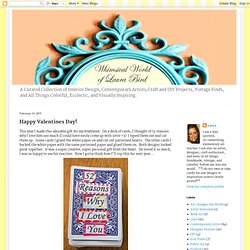 On a deck of cards, I thought of 52 reasons why I love him soo much (I could have easily come up with 1000 <3) I typed them out and cut them up. Some cards I glued the white paper on and cut out patterned hearts. Stash Books. There are lots of different jewelry storages ideas.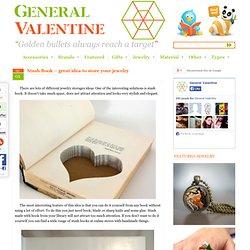 One of the interesting solutions is stash book. It doesn't take much space, does not attract attention and looks very stylish and elegant. Yarn Balls. Jessica of Wednesday Inc shows us how to make those gorgeous twine chandeliers from the inspiration shoot she shared with us this morning.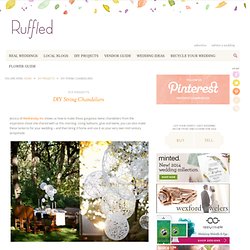 Using balloons, glue and twine, you can also make these lanterns for your wedding – and then bring it home and use it as your very own mid century lampshade. What you will need are: balloons, glue, yarn, tray for glue, corn starch 1/2 cup of Corn starch, 1/4 cup of Warm water, clear fast drying spray paint, hanging lamp cord or fishing line (depending on your desired final product), and a lighting kit if you're looking for a fully functional lantern. Button Pictures. This is a really COLORFUL & creative way to display your child's initial.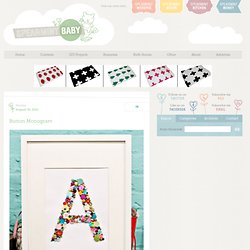 Super easy for sewers & crafters who have lots of extra buttons laying around. Gosh I LOVE buttons… Framed Thread Holder Tutorial. Necklace Holder. I'm so excited about this tutorial!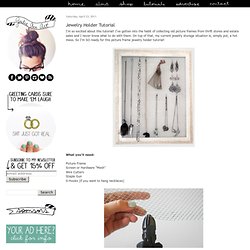 I've gotten into the habit of collecting old picture frames from thrift stores and estate sales and I never know what to do with them. On top of that, my current jewelry storage situation is, simply put, a hot mess. So I'm SO ready for this picture frame jewelry holder tutorial! Toilet Paper Owls. Fabric Circles. Tissue Pom-poms.
You'd think after making hundreds of these for my wedding, I'd be completely sick of them.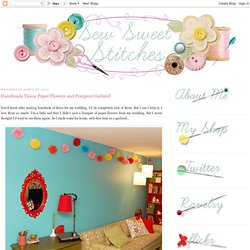 But I can't help it, I love them so much! I'm a little sad that I didn't save a bouquet of paper flowers from my wedding, but I never thought I'd want to see them again. So I made some for home, only this time as a garland... ...And as bedroom decor... ...And maybe I couldn't resist making just a few little blossoms... Summer bracelets DIY. When M. came home from her camp with school, she showed me this yellow bracelet she made with 'scoubidoo' strings.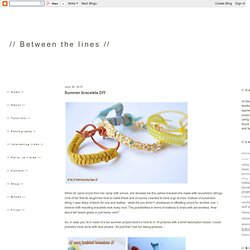 One of her friends taught her how to make these and of course I wanted to have a go at it too. Instead of scoubidou string I used strips of fabric for one and leather - what did you think?! - shoelaces in offsetting colors for another one. Sewing 101: making a pouf. Add a burst of color to your room with this crafty pouf!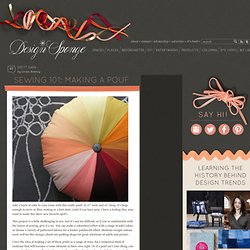 At 17" wide and 10" deep, it's large enough to serve as floor seating or a foot stool. (And if you have pets, I have a feeling they may want to make this their new favorite spot!) This project is a little challenging to sew, but it's not too difficult, so if you're comfortable with the basics of sewing, give it a try.
---