Tootoo28aa
toto
hi.there name:...... hard for u guys nickname:toto like:sports,fav basketball,traveling, music anddd movies,photography,drawing and playing the piano and guitar:P wishes:to travel the world,do alot of dangerous sports and be a pro in sports again most imp is basketball food+drinks : Italian , Chinese,coffee, ice- cream, don't like sweet thing ,like sour and salty things,andddd most fav CANDYYY and popcorn fav band : COLDPLAY <3:) like tattoos and piercings (don't have any just piercings on my ears:P) hate: crowded places, being bored, and pink :P comment ill comment back and.....laterrrr :D :P :)
100 Amazing Hairstyles. We women adore fashion and style.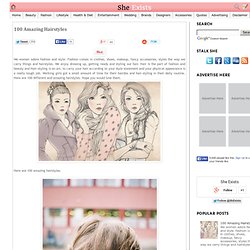 Fashion comes in clothes, shoes, makeup, fancy accessories, styles the way we carry things and hairstyles. We enjoy dressing up, getting ready and styling our hair. Hair is the part of fashion and beauty and Hair-styling is an art, to carry your hair according to your style statement and your physical appearance is a really tough job.
Working girls got a small amount of time for their hairdos and hair-styling in their daily routine. Books/Literature. Kuroshio Sea - 2nd largest aquarium tank in the world - (song is Please don't go by Barcelona) Geek.com. Meteor sky show set to reach peak. 17 November 2011Last updated at 13:22 The Leonids peak on Thursday night The annual Leonids meteor shower is set to reach its peak on Thursday, astronomers say.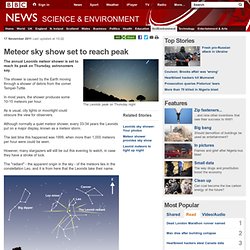 The shower is caused by the Earth moving through a shower of debris from the comet Tempel-Tuttle. In most years, the shower produces some 10-15 meteors per hour. Cape Lookout National Seashore - Beach camping. All camping within the park is primitive beach camping: there are no designated campgrounds.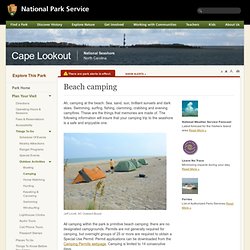 Permits are not generally required for camping, but overnight groups of 25 or more are required to obtain a Special Use Permit. Permit applications can be downloaded from the Camping Permits webpage. Camping is limited to 14 consecutive days. Tent and vehicle campsites must be at least 100 feet from wells, shade shelters, bulletin boards, docks or other structures and at least 100 yards from any cabin or house.
Camping is not permitted in long term parking areas, at the Harkers Island Administrative Site, in Portsmouth Village, in the Cape Lookout Light Station complex, in the Cape Village (including the Cape Lookout Coast Guard Station), or on property held under private lease. How To Style Maiden Braids. Last month I did a makeover story with Kelsie and had many requests for a maiden braid tutorial.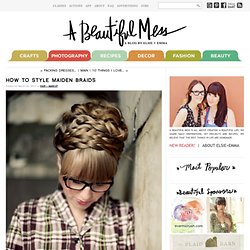 Yesterday she came in and we photographed these simple step by steps. Kelsie has extremely long and thick hair, but anyone with shoulder length or longer can do these braids (see my photo below for an example). Steps 1-2: Braid two strands on each side of a center part. Steps 3-5: Wrap braids around the crown of your head and pin in place with one pin each. Step 6: Arrange braids so that they cover the front of your head like a headband. Beauty & fitness. Around the world. Things to try. Decorate. Brown bread vs. white: Are darker foods always better?
When it comes to healthy eating, we're told to choose our foods by colour.
The darker and brighter the colour, the more nutrients and phytochemicals they have. For many foods that's good advice. Search results for "charles bukowski" (showing 1-20 of 522 quotes) Animal did you knows. French expressions you won't learn at school -- Expressions françaises en Anglais. Black Hole Birth Announcement - Space News. For the first time, astronomers have produced a complete description of a black hole, a concentration of mass so dense that not even light can escape its powerful gravitational pull.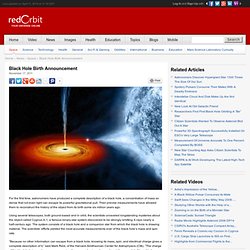 Their precise measurements have allowed them to reconstruct the history of the object from its birth some six million years ago. Using several telescopes, both ground-based and in orbit, the scientists unraveled longstanding mysteries about the object called Cygnus X-1, a famous binary-star system discovered to be strongly emitting X-rays nearly a half-century ago. Coca-Cola's New Video Proves Brand Happiness Can Be Viral. Happiness is contagious, and that "contagious" quality is where design meets the market.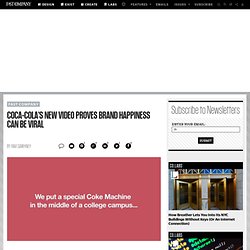 Coca-Cola's Happiness Machine video is a perfect example of how viral happiness can be. The brand's first viral venture captures what happened when they placed a very special vending machine on a college campus. The video launched on January 12 and topped a million views today based solely on people sharing the video through Twitter, Facebook, blogs, and word-of-mouth. The people in the video and people spreading the video will forever share a memory that cements the association of happiness with Coca-Cola. I know I have great memories of Coca-Cola from when I was a kid.
Biggest Scientific Breakthroughs of 2011. Volunteer Videos from Abroad, See Volunteers in Action. DIY Woven Chain Bracelet. Chain link bracelets, with colorful threads woven through them, have been popping up here and there.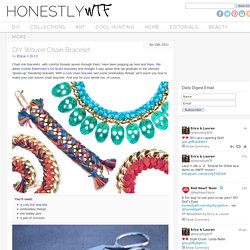 We adore Aurèlie Bidermann's Do Brazil bracelets and thought it was about time we graduate to the ultimate "grown-up" friendship bracelet. With a curb chain bracelet and some embroidery thread, we'll teach you how to make your own woven chain bracelet. And one for your bestie too, of course. You'll need:a curb link braceletembroidery threadtwo bobby pinsa pair of scissors. DIY Braided Bead Bracelet. It's been awhile since our last bracelet DIY.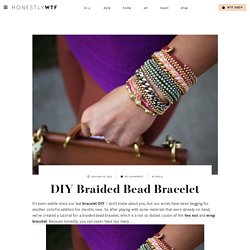 I don't know about you, but our wrists have been begging for another colorful addition for months now. So after playing with some materials that were already on hand, we've created a tutorial for a braided bead bracelet, which is a not so distant cousin of the hex nut and wrap bracelet. Because honestly, you can never have too many . . . You'll need: DIY Wrap Bracelet. You should all know by now that we are all about stacking bracelets on our wrists.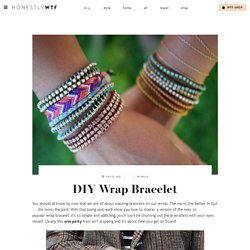 The more, the better. In fact . . . the most, the best! With that being said, we'll show you how to master a version of the ever so popular wrap bracelet. It's so simple and addicting, you'll soon be churning out these wristlets with your eyes closed. Chain Chain Chain. La Dama + Talon Giveaway Since ancient times, fragrance has been worn in beautiful adornments to ward off evil, intoxicate lovers, and enhance moods – it's no wonder we've been deeply seduced by these bronze and silver amulettes by Emily […] Lomography Giveaway. DIY Friendship Bracelet. For several months now, we've been receiving emails requesting a friendship bracelet DIY. Well, friends, ask and you shall receive! Today, we'll give you a step by step tutorial on the classic chevron pattern. If you used to whip up friendship bracelets like a champ in grade school and have since forgotten how, consider this a refresher course. A Legg Up. Considering all that has happened and with way things are going, we were of course not surprised with yet an other twist in baby No.2's journey.
Only this time it's not me or the baby, but it does have quite the impact. The nanny that we hired, who is a lovely person by the way, did not last long. (Thank you all for your prayers for us to find this nanny!) Our lovely nanny unfortunately got into a serious car accident and is in the hospital indefinitely. I feel so so awful, because she will now spend Christmas in a hospital. Drawing Tutorial: Male. Lackadaisy Construction. Some notes about construction drawing that may or may not be helpful. This is in response to some questions from my tumblr blog. There are notes about Expressions here, and an old sort of drawing tutorial here that cover some of the same material. I'd also recommend to anyone trying to learn how to draw this way (or any way) to check out Andrew Loomis books.
Sketch Swap. Learn to draw. The New Hive.
---