Purple Phoenix Tarot
The White Goddess Pagan Portal The White Goddess Pagan Portal, is an online resource for Pagans, Wiccans and Witches, providing in depth information on a varied range of areas, including, Moon Phases, The Sabbats, Book of Shadows and a Forum for the serious discussion of Pagan topics. The White Goddess » An Introduction To Paganism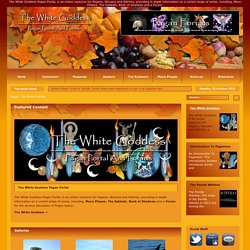 The White Goddess - Pagan Portal
6th level Elder Lady Gwen Boudicca, Managing Editor, initiate Dynion Mwyn Tradition, 1985 Initiated Gardnerian 3rd degree, Initiated Alexandrian 3rd degree 40 Years in the Craft... British Traditional Witchcraft Award, Oak Cluster - Cardiff Wales, 1995 Contact Lady Boudicca Here for information about any part of this web site at gwenbuddica@yahoo.co.uk 9th level Elder Lord Rhuddlwm Gawr, Publisher - Initiate Dynion Mwyn Tradition 1966, Initiated Gardnerian 3rd degree Initiated Alexandrian 3rd degree. 50+ years in the Craft, first teacher of Lady Sintana when she arrived in Atlanta. Also taught her first neophyte class at Ravenwood.. British Traditional Witchcraft Award, Star Cluster - Denbigh Wales 1976 rhuddlwm@gmail.com
Welsh Earth Religion with Druidism, Witchcraft, and Paganism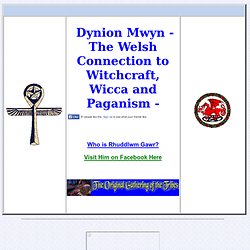 WICCANS.COM : Home Page
Museum of Witchcraft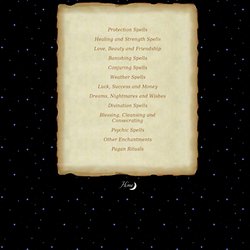 Candle burns higher; my spirits set free!Hotter than fire, this magick will be!Let magick come 'round, from under the grot.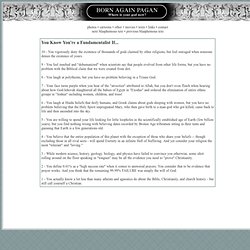 You Know You're A Fundamentalist If...
You Know You're a Fundamentalist If... 10 - You vigorously deny the existence of thousands of gods claimed by other religions, but feel outraged when someone denies the existence of yours. 9 - You feel insulted and "dehumanized" when scientists say that people evolved from other life forms, but you have no problem with the Biblical claim that we were created from dirt. 8 - You laugh at polytheists, but you have no problem believing in a Triune God.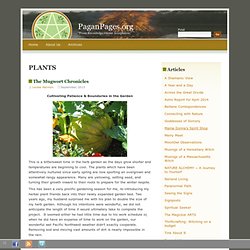 Louise Harmon June, 2013 Wild Carrot or Poison Hemlock? Several months ago, my brother and I were discussing our mutual love of the woods and the outdoors.
This is a very brief overview of some of my keys to understanding and approaching meditation. Meditation is frequently misnamed. For my purposes, there are actually three parts to the process generically called meditation. The first step is Concentration, the second is Contemplation or Reflection, and the last is Presence.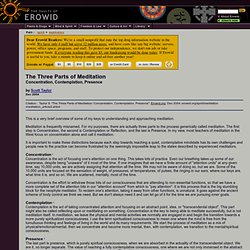 unnamed pearl
And This Will Be Long, But Then How Else Any-One Know Some Of The Many Of All Of The Possibilities To Be Able Choose/Decide From As Well As Creatively Devise More, .............. ThanQue . I Can Also Create/Write Slogans, Catch-Phrases, Business or Personal Poems/Lyrics, Explanations of Things I Do, Handyman- Repairs/Plannings/Troubleshootings - Consultations... Any-One Expecting A Magnifico Perfecto Worldedly-ReNouned Artistio Of "Da Vinci" Proportions, Sorry Not Here! Closer to a "Picasso" Of Steel, But Few See His Talents.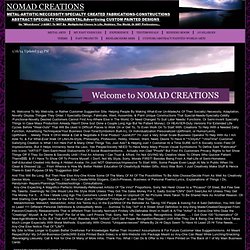 Home
Traditional Moonflower Essences used to reduce stress
Tony Copeland (Half_Elf_Brit) on Twitter
Divinities, Mythologies, Theologies
pagan-pacman-pac-man-pacman-pagan-game-demotivational-poster-1211150685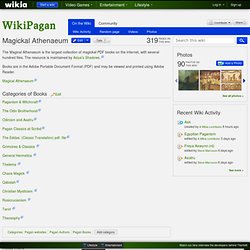 The Magical Athenaeum is the largest collection of magickal PDF books on the internet, with several hundred files. The resource is maintained by Asiya's Shadows. Books are in the Adobe Portable Document Format (PDF) and may be viewed and printed using Adobe Reader. Magical Athenaeum
It seems everyone is interested in meditation...talking about the wonderful benefits, recommending classes and discussing the different ways to "do it". But, for a beginner, just what is "it"? And how do you do "it"? Our busy, hectic, lifestyles may seem to prohibit this peaceful practice, or provide a convenient "excuse" not to begin, or continue, to meditate...but, the happy news is, you CAN successfully benefit even if you practice for short periods.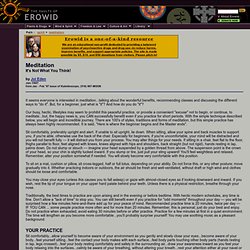 Learn This Advanced Meditation Technique - Global One TV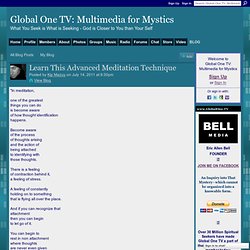 "In meditation, one of the greatestthings you can dois become awareof how thought identificationhappens. Become awareof the processof thoughts arisingand the action ofbeing attachedto identifying withthose thoughts. There is a feelingof contraction behind it,a feeling of stress. A feeling of constantlyholding on to somethingthat is flying all over the place. And if you can recognize thatattachmentthen you can beginto let go of it.
It will be an awesome party. All your friends will be there. There's no better way to celebrate than to surround yourself with loved ones, especially if they're all having a great time!
Purple Phoenix Tarot
Purple Phoenix Tarot - personal psychic services.
Purple Phoenix Tarot (PurplPhnxTaro) on Twitter