Por ver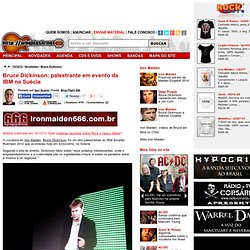 Esta matéria foi publicada em 10/10/12. Procura matérias recentes sobre Rock e Heavy Metal ? O vocalista do Iron Maiden , Bruce Dickinson , foi um dos palestrantes do IBM Smarter Business 2012 que aconteceu hoje em Estocolmo, na Suécia.
Bruce Dickinson: palestrante em evento da IBM na Suécia
A ótima atuação do São Paulo diante do Vasco foi muito elogiada pelos jogadores em São Januário, mas um jogador mereceu comentários especiais. Rogério Ceni salvou o time de sofrer pressão, ou até mesmo o empate.
São-paulinos e até rival Juninho enaltecem atuação de Rogério Ceni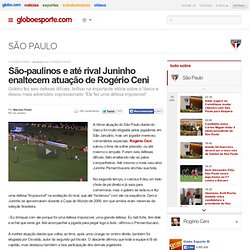 Fraude Urnas Eletrônicas
Visão Geral do Sistema SAP ECC 6.X - Wagner Lapa - Tech-talk Gonow - I
How To Lower Your Energy Bill By Swapping Your Lightbulbs, and Prepare For the Coming Light Bulb Ban
New Old Spice Interactive Muscle Ad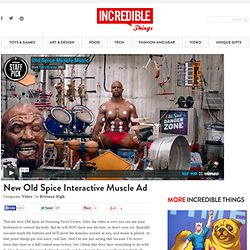 This the new Old Spice ad featuring Terry Crews.
Doutor Advogado e Doutor Médico: até quando? - ÉPOCA | Eliane Brum
Sei muito bem que a língua, como coisa viva que é, só muda quando mudam as pessoas, as relações entre elas e a forma como lidam com o mundo.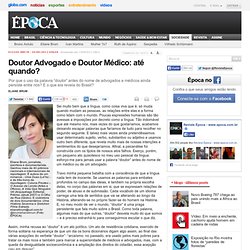 INSANE Home Fat Loss Workouts
How a human-computer collaboration uncovered who hacked the Dalai Lama's email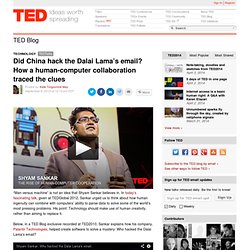 "Man versus machine" is not an idea that Shyam Sankar believes in. In today's fascinating talk , given at TEDGlobal 2012, Sankar urged us to think about how human ingenuity can combine with computers' ability to parse data to solve some of the world's most pressing problems.
THE NEW SCHOOL
Hotéis e Pousadas em Bombinhas | Hotel Urbano
PAUTA DA 12º SESSÃO EXTRAORDINÁRIA 28/08/2012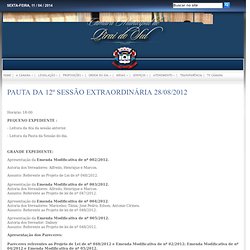 Horário: 18:00
A Promotoria de Justiça em Piraí do Sul (região centro-leste do Paraná) abriu inquérito civil público nesta quinta-feira (30/08) para investigar o aumento nos salários dos vereadores do município, aprovado pelos próprios parlamentares em primeira votação no último dia 28.
30/08/2012 - PIRAÍ DO SUL - Promotoria investiga aumento de salário aprovado pelos vereadores - Releases - MPPR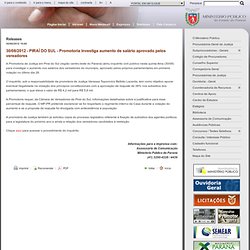 Secure Data Logistics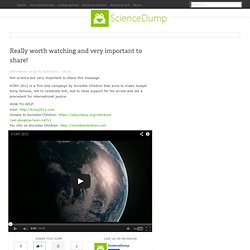 Really worth watching and very important to share!
Not science but very important to share this message.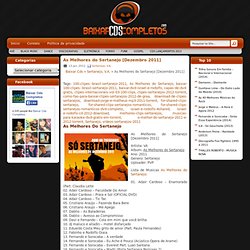 As Melhores do Sertanejo [Dezembro 2011] Artista: VA Album: As Melhores do Sertanejo Ano: 2011 Genero: Sertanejo Uploader: PVP
Download As Melhores do Sertanejo [Dezembro 2011] Baixar | Músicas Lançamentos Cds Mp3 grátis
Yann Arthus-Bertrand captures fragile Earth in wide-angle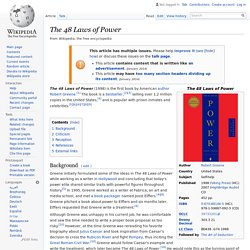 The 48 Laws of Power (2000) is the first book by American author Robert Greene . [ 1 ] The book, an international bestseller , is a practical guide for anyone who wants power, observes power, or wants to arm himself against power. [ 2 ] [ 3 ] [ 4 ] It has sold over 1.2 million copies in the United States alone and is popular with famous rappers , entrepreneurs , celebrities , athletes and actors including 50 Cent , Jay-Z , Kanye West , Busta Rhymes , Ludacris , DJ Premier , Dov Charney , Brian Grazer , Andrew Bynum , Chris Bosh , and Will Smith . [ 4 ] [ 5 ] [ 6 ] [ 7 ] [ 8 ] [ 9 ] [ edit ] Background
Plato realizes that the general run of humankind can think, and speak, etc., without (so far as they acknowledge) any awareness of his realm of Forms. The allegory of the cave is supposed to explain this. In the allegory, Plato likens people untutored in the Theory of Forms to prisoners chained in a cave, unable to turn their heads.