Por ver
- StumbleUpon. Bruce Dickinson: palestrante em evento da IBM na Suécia. Matéria publicada em 10/10/12.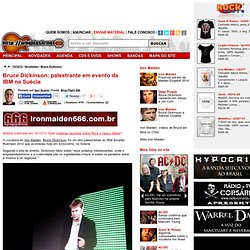 Quer matérias recentes sobre Rock e Heavy Metal? O vocalista do Iron Maiden, Bruce Dickinson, foi um dos palestrantes do IBM Smarter Business 2012 que aconteceu hoje em Estocolmo, na Suécia. São-paulinos e até rival Juninho enaltecem atuação de Rogério Ceni. A ótima atuação do São Paulo diante do Vasco foi muito elogiada pelos jogadores em São Januário, mas um jogador mereceu comentários especiais.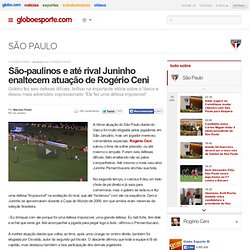 Rogério Ceni salvou o time de sofrer pressão, ou até mesmo o empate. Foram seis defesas difíceis, feito enaltecido não só pelos companheiros. Até mesmo o meia vascaíno Juninho Pernambucano encheu sua bola. No segundo tempo, o camisa 8 deu um belo chute de pé direito e já saía para comemorar, mas o goleiro se esticou e fez uma defesa "impossível" na avaliação do rival, que até "reclamou" com ele na sequência.
Ceni e Juninho se aproximaram durante a Copa do Mundo de 2006, em que ambos eram reservas da seleção brasileira. Fraude Urnas Eletrônicas. Visão Geral do Sistema SAP ECC 6.X - Wagner Lapa - Tech-talk Gonow - I. How To Lower Your Energy Bill By Swapping Your Lightbulbs, and Prepare For the Coming Light Bulb Ban. New Old Spice Interactive Muscle Ad. This the new Old Spice ad featuring Terry Crews.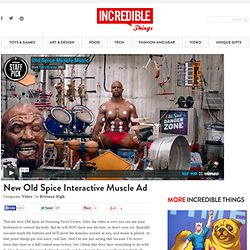 After the video is over you can use your keyboard to control his body. But he will NOT show you his butt, so don't even try. Basically you just mash the buttons and he'll move his muscles, scream at you, and music is played. At that point things got real scary, real fast. Doutor Advogado e Doutor Médico: até quando? Sei muito bem que a língua, como coisa viva que é, só muda quando mudam as pessoas, as relações entre elas e a forma como lidam com o mundo.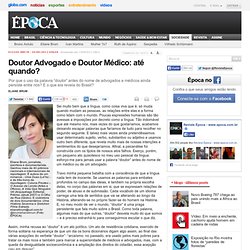 Poucas expressões humanas são tão avessas a imposições por decreto como a língua. Tão indomável que até mesmo nós, mais vezes do que gostaríamos, acabamos deixando escapar palavras que faríamos de tudo para recolher no segundo seguinte. E talvez mais vezes ainda pretendêssemos usar determinado sujeito, verbo, substantivo ou adjetivo e usamos outro bem diferente, que revela muito mais de nossas intenções e sentimentos do que desejaríamos. INSANE Home Fat Loss Workouts. How a human-computer collaboration uncovered who hacked the Dalai Lama's email. "Man versus machine" is not an idea that Shyam Sankar believes in.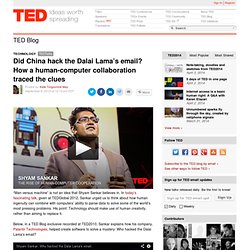 In today's fascinating talk, given at TEDGlobal 2012, Sankar urged us to think about how human ingenuity can combine with computers' ability to parse data to solve some of the world's most pressing problems. His point: Technology should make use of human creativity, rather than aiming to replace it. Below, in a TED Blog exclusive recorded at TED2010, Sankar explains how his company, Palantir Technologies, helped create software to solve a mystery: Who hacked the Dalai Lama's email? Here is the story. In 2008, an unnamed country received an email from China warning them not to host the Dalai Lama for a scheduled visit. THE NEW SCHOOL. On February 6, 1964, Reverend Martin Luther King Jr. took the stage at The New School ( His appearance marked the start of the American Race Crisis Lecture Series ( a for-credit lecture series bringing 16 luminaries of the American Civil Rights Movement together to discuss issues of social justice, integration, and equal access to education.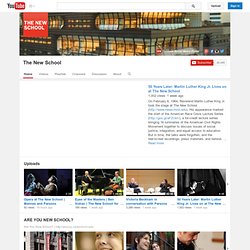 But in time, the talks were forgotten, and the reel-to-reel recordings, press materials, and behind-the-scenes documents sat hidden in the inventories of The New School's archives. Fifty years later, in February 2014, The New School partnered with the Schomburg Center for Research in Black Culture ( to present Voices of Crisis, a month-long exhibition and series public programs to commemorate the original lecture series and reflect on the impact of the civil rights movement then and now. ELT Podcast to study the English language. Hotéis e Pousadas em Bombinhas. THE SAGAN SERIES (part 1) - The Frontier Is Everywhere. PAUTA DA 12º SESSÃO EXTRAORDINÁRIA 28/08/2012. Horário: 18:00 - Leitura da Ata da sessão anterior. - Leitura da Pauta da Sessão do dia.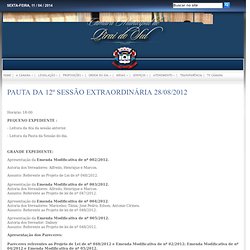 Apresentação da Emenda Modificativa de nº 002/2012. 30/08/2012 - PIRAÍ DO SUL - Promotoria investiga aumento de salário aprovado pelos vereadores - Releases - MPPR. A Promotoria de Justiça em Piraí do Sul (região centro-leste do Paraná) abriu inquérito civil público nesta quinta-feira (30/08) para investigar o aumento nos salários dos vereadores do município, aprovado pelos próprios parlamentares em primeira votação no último dia 28.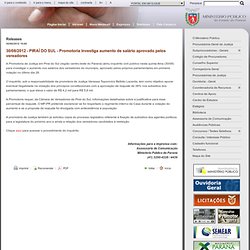 O inquérito, sob a responsabilidade da promotora de Justiça Vanessa Toporovicz Beltrão Lacerda, tem como objetivo apurar eventual ilegalidade na violação dos princípios constitucionais com a aprovação de reajuste de 38% nos subsídios dos parlamentares, o que eleva o valor de R$ 4,2 mil para R$ 5,8 mil. A Promotoria requer, da Câmara de Vereadores de Piraí do Sul, informações detalhadas sobre a justificativa para esse percentual de reajuste.
O MP-PR pretende esclarecer se foi respeitado o regimento interno da Casa durante a votação do aumento e se a proposta de reajuste foi divulgada com antecedência à população. Michio Kaku: The Universe in a Nutshell. Secure Data Logistics. Really worth watching and very important to share! Not science but very important to share this message.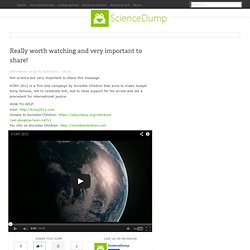 KONY 2012 is a film and campaign by Invisible Children that aims to make Joseph Kony famous, not to celebrate him, but to raise support for his arrest and set a precedent for international justice. HOW TO HELP: Visit: Donate to Invisible Children: For info on Invisible Children: All Tenses - English Lesson. Download As Melhores do Sertanejo [Dezembro 2011] Baixar | Músicas Lançamentos Cds Mp3 grátis. As Melhores do Sertanejo [Dezembro 2011] Artista: VA Album: As Melhores do Sertanejo Ano: 2011 Genero: Sertanejo Uploader: PVP Lista de Musicas As Melhores do Sertanejo: 01.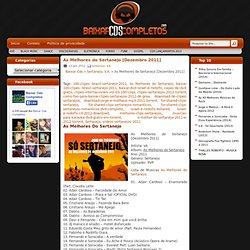 Adair Cardoso – Enamorado (Part. Claudia Leite 02. Yann Arthus-Bertrand captures fragile Earth in wide-angle. The 48 Laws of Power. Background[edit] Greene initially formulated some of the ideas in The 48 Laws of Power while working as a writer in Hollywood and observing that today's power elite shared similar traits with powerful figures throughout history.[4] In 1995, Greene worked as a writer at Fabrica, an art and media school, and met a book packager named Joost Elffers.[6][9] Greene pitched a book about power to Elffers and six months later, Elffers requested that Greene write a treatment.[6] Although Greene was unhappy in his current job, he was comfortable and saw the time needed to write a proper book proposal as too risky.[11] However, at the time Greene was rereading his favorite biography about Julius Caesar and took inspiration from Caesar's decision to cross the Rubicon River and fight Pompey, thus inciting the Great Roman Civil War.[11] Greene would follow Caesar's example and write the treatment, which later became The 48 Laws of Power.[11] He would note this as the turning point of his life.[11]
Frans de Waal: Moral behavior in animals. Brian Greene: Why is our universe fine-tuned for life? Allegory of the Cave. Plato realizes that the general run of humankind can think, and speak, etc., without (so far as they acknowledge) any awareness of his realm of Forms. The allegory of the cave is supposed to explain this. In the allegory, Plato likens people untutored in the Theory of Forms to prisoners chained in a cave, unable to turn their heads.
---