Social Media ROI
Social Media Analysis. (16) Altimeter Report: Social Marketing Analytics. Top 20 social media monitoring vendors for business. A screen grab from Sysomos.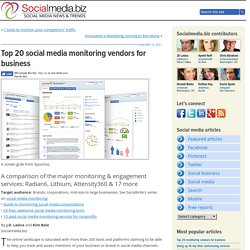 A comparison of the major monitoring & engagement services: Radian6, Lithium, Attensity360 & 17 more Target audience: Brands, corporations, mid-size to large businesses. See Socialbrite's series on social media monitoring: • Guide to monitoring social media conversations • 20 free, awesome social media monitoring tools • 10 paid social media monitoring services for nonprofits By J.D. Lasica and Kim Bale Socialmedia.biz. ThinkUp Reaches 1.0: Own Your Social Network Data.
ThinkUp, the social media management tool that matters most, hits version 1.0 today.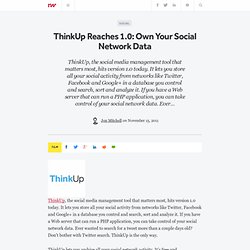 It lets you store all your social activity from networks like Twitter, Facebook and Google+ in a database you control and search, sort and analyze it. If you have a Web server that can run a PHP application, you can take control of your social network data. Socialbakers ❶ Social media (Facebook, Twitter…) marketing, statistics & monitoring. Altimeter Report: Social Marketing Analytics (Altimeter Group & Web Analytics Demystified) A Collaborative Effort Between Two Firms: Web Analytics Demystified and Altimeter Group It's just been over a month since we published the Social CRM Research paper (over 36k views on slideshare) and we're continuing our cadence here at Altimeter Group of publishing widely available reports under the spirit of Open Research.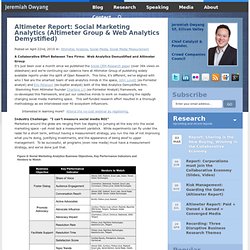 This time, it's different, we've aligned with who I feel are the smartest team of web analytics minds in the space, John Lovett (ex-Forrester analyst) and Eric Peterson (ex-Jupiter analyst) both of the Web Analytics Demystified firm. Stemming from Altimeter founder Charlene Li's (ex-Forrester Analyst) framework, we co-developed this framework, and put our collective minds to work on measuring the rapidly changing social media marketing space. HOW TO: Measure Social Media ROI. Olivier Blanchard Basics Of Social Media Roi Defining Clear Goals As a standard formula, ROI is pretty basic, ROI = (X - Y) / Y, where X is your final value and Y is your starting value.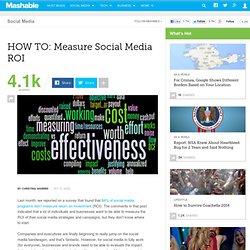 In other words, if you invest $5 and get back $20, your ROI is (20 - 5) / 5 = 3 times your initial investment. In the financial sense, ROI is measured purely in the context of dollars and cents, however, the principles can really apply to any type of investment — monetary or not. Framework: The Social Media ROI Pyramid.
Often, our industry can appear complicated, and yearns for simplicity.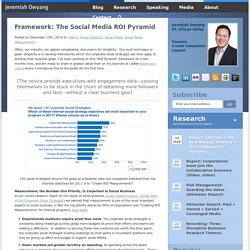 One such technique to glean simplicity is to develop frameworks which the corporate social strategist can then apply to achieve their business goals. I've been working on this "ROI Pyramid" framework for a few months now, and am ready to share in greater detail than on my keynote at LeWeb (slides and video) where I introduced this to the public for the first time. [The novice provide executives with engagement data --causing themselves to be stuck in the churn of obtaining more followers and fans --without a clear business goal] 140 social strategists around the globe at enterprise class size companies indicated their top internal objectives for 2011 is to "Create ROI Measurements" Forget Social Media ROI. Heidi Cohen | June 27, 2011 | 22 Comments inShare427 Five other social media metrics that matter.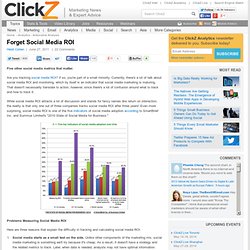 Are you tracking social media ROI? John Lovett's Blog at Web Analytics Demystified. 3 approches différentes des social media analytics. J'ai déjà eu l'occasion de vous parler de social scoring et des indicateurs-clés des médias sociaux que l'IAB tente de standardiser.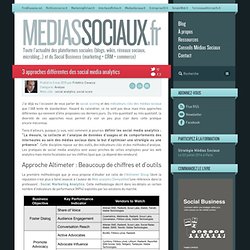 Hasard du calendrier, ce ne sont pas deux mais trois approches différentes qui viennent d'être proposées ces derniers jours. Du très quantitatif au très qualitatif, la diversité de ces approches nous permet d'y voir un peu plus clair dans cette pratique encore méconnue. Calculer le ROI des médias sociaux est une perte de temps.
Les semaines se suivent et se ressemblent : pas une conversation sans que l'on me parle du ROI des médias sociaux.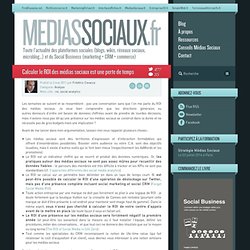 Je veux bien comprendre que les directions générales ou autres donneurs d'ordre ont besoin de données chiffrées avant de prendre de lourdes décisions, mais n'avions-nous pas dit qu'une présence sur les médias sociaux se construit dans la durée et ne nécessite pas de gros budgets mais une implication ? Avant de me lancer dans mon argumentation, laissez-moi vous rappeler plusieurs choses : Les médias sociaux sont des territoires d'expression et d'interaction formidables qui offrent d'innombrables possibilités. Booster votre audience ou votre C.A. sont des objectifs louables, mais il existe d'autres outils qui le font bien mieux (respectivement les AdWords et les promotions).Le ROI est un indicateur chiffré qui se nourrit et produit des données numériques. Tracking the KPIs of Social Media. Social media receives a massive amount of attention on the web and attracts a great deal of interest from marketers, too.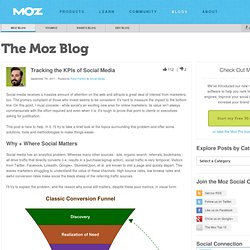 The primary complaint of those who invest seems to be consistent: it's hard to measure the impact to the bottom line. On this point, I must concede - while social's an exciting new area for online marketers, its value isn't always commensurate with the effort required and even when it is, it's tough to prove that point to clients or executives asking for justification. This post is here to help. 48 Social Media KPIs (Key Performance Indicators) There are a lot of things you can measure about you social media efforts.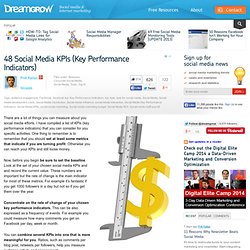 I have compiled a list of KPIs (key performance indicators) that you can consider for you specific activities. One thing to remember is to remember that you should set at least some metrics that indicate if you are turning profit. Otherwise you can reach your KPIs and still loose money. Now, before you begin be sure to set the baseline.
---