Social Media ROI
Social Media Analysis
(16) Altimeter Report: Social Marketing Analytics
Top 20 social media monitoring vendors for business
Tweet A screen grab from Sysomos.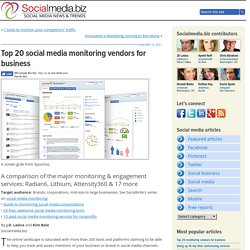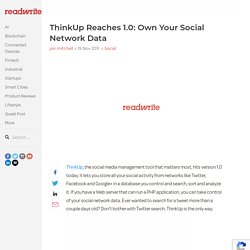 ThinkUp, the social media management tool that matters most, hits version 1.0 today. It lets you store all your social activity from networks like Twitter, Facebook and Google+ in a database you control and search, sort and analyze it. If you have a Web server that can run a PHP application, you can take control of your social network data. Ever wanted to search for a tweet more than a couple days old? Don't bother with Twitter search. ThinkUp is the only way.
ThinkUp Reaches 1.0: Own Your Social Network Data
Altimeter Report: Social Marketing Analytics (Altimeter Group & Web Analytics Demystified)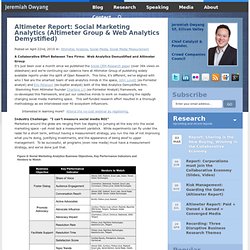 A Collaborative Effort Between Two Firms: Web Analytics Demystified and Altimeter Group It's just been over a month since we published the Social CRM Research paper (over 36k views on slideshare) and we're continuing our cadence here at Altimeter Group of publishing widely available reports under the spirit of Open Research. This time, it's different, we've aligned with who I feel are the smartest team of web analytics minds in the space, John Lovett (ex-Forrester analyst) and Eric Peterson (ex-Jupiter analyst) both of the Web Analytics Demystified firm. Stemming from Altimeter founder Charlene Li's (ex-Forrester Analyst) framework, we co-developed this framework, and put our collective minds to work on measuring the rapidly changing social media marketing space.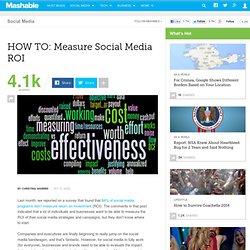 Olivier Blanchard Basics Of Social Media Roi
Often, our industry can appear complicated, and yearns for simplicity.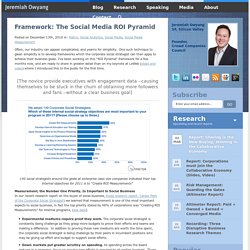 Forget Social Media ROI
Heidi Cohen | June 27, 2011 | 22 Comments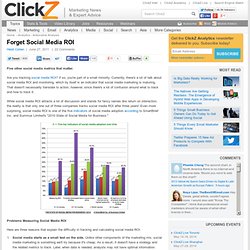 John Lovett's Blog at Web Analytics Demystified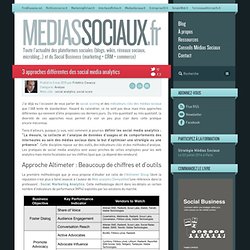 J'ai déjà eu l'occasion de vous parler de social scoring et des indicateurs-clés des médias sociaux que l'IAB tente de standardiser. Hasard du calendrier, ce ne sont pas deux mais trois approches différentes qui viennent d'être proposées ces derniers jours. Du très quantitatif au très qualitatif, la diversité de ces approches nous permet d'y voir un peu plus clair dans cette pratique encore méconnue.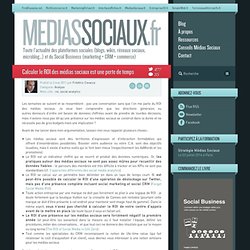 Les semaines se suivent et se ressemblent : pas une conversation sans que l'on me parle du ROI des médias sociaux.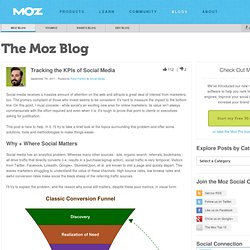 Tracking the KPIs of Social Media
Social media receives a massive amount of attention on the web and attracts a great deal of interest from marketers, too. The primary complaint of those who invest seems to be consistent: it's hard to measure the impact to the bottom line. On this point, I must concede - while social's an exciting new area for online marketers, its value isn't always commensurate with the effort required and even when it is, it's tough to prove that point to clients or executives asking for justification. This post is here to help.
There are a lot of things you can measure about you social media efforts.