Visualisation de données
There are plenty of JavaScript libraries out there for rendering your otherwise plain and boring numerical data into beautiful, interactive, and informative visualizations. The beauty of using JavaScript for data visualization is that, if created correctly, your data will be highly accessible (usually via HTML tables). A long time ago (2008), I wrote about JavaScript solutions for graphing and charting data and this article revisits the topic with twenty more JavaScript libraries that you can use to bring your data to life.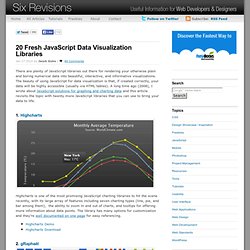 Fast Multidimensional Filtering for Coordinated Views Crossfilter is a JavaScript library for exploring large multivariate datasets in the browser. Crossfilter supports extremely fast (<30ms) interaction with coordinated views, even with datasets containing a million or more records; we built it to power analytics for Square Register , allowing merchants to slice and dice their payment history fluidly.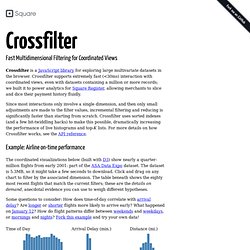 maps.stamen.com / watercolor
Cartographie politique
Francis Alÿs, The green line La cartographie comme outil de lutte post-coloniale, c'est l'ambitieux projet du duo ' Le peuple qui manque ' dans l'exposition « Atlas critique » au Parc Saint-Léger (jusqu'au 27 mai). Le fait que la carte ait été un instrument de conquête, de colonisation, et de normativité dans l'expansion des pouvoirs européens (mais sans doute aussi des empires chinois ou ottomans) est posé comme un point de départ, mais on aurait aimé que cette exposition eût été faite en collaboration avec un historien cartographe pour justement montrer ce contrepoint et faire en parallèle un historique de la cartographie comme instrument de pouvoir : il n'est question ici que de contre-pouvoir et non du pouvoir lui-même, et l'affirmation de la cartographie comme 'matrice idéologique impérialiste' ne se fait que dans les notes de bas de page du texte de présentation , et non dans les salles de l' exposition .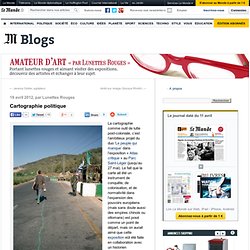 We have all heard about the massively destructive force that is nuclear weaponry, with the astonishing end of World War II to prove it. The world was caught off guard by the utter destruction of Hiroshima and Nagasaki after the U.S. dropped the 15 kiloton Little Boy and 21 kiloton Fat Man. The two Japanese cities were leveled in seconds, killing hundreds of thousands from the initial blast and later radiation poisoning. It would be difficult to call their impact small, but those bombs were only a shadow of the weapons to come. Following the war, with the growing Cold War and nuclear arms race between the U.S.S.R. and the U.S., devastatingly large bombs were introduced, growing in size and destructive power with each year.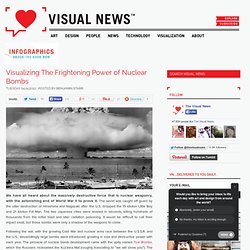 Visualizing The Frightening Power of Nuclear Bombs
Le Paper Globe — a DIY paper terrestrial globe
The Evolution of the Web
Cambridge Data Mash-Up - Eventbrite
Census 2011 Australia | ABS Population Income | SBS Census Explorer
Les Parisiens achètent trois fois plus de lait frais que la moyenne des Français. Découvrez quelles sont les habitudes alimentaires dans votre département. <="" type="application/x-shockwave-flash" src="http://www.journaldunet.com/economie/pictos/appel/12/carte-produits-les-plus-consommes.swf"> Grâce aux données de notre partenaire Nielsen, le Journal du Net a établi cette carte de France interactive, avec les 10 produits les plus surconsommés par département. Attention : il ne s'agit pas des produits les plus consommés dans le département, mais bien de l'écart des achats par rapport à la moyenne des Français. Dans les Alpes-Maritimes, par exemple, les habitants achètent 106% de pâtes fraîches de plus que la moyenne.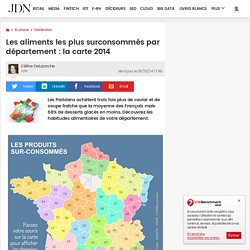 Les aliments les plus surconsommés par département - Journal du Net Economie
Looking 4 data visualization: Charts
. www.datavisualization.com et on tombe sur Dundas Software - Editeurs de solutions de tableaux de bord. Sur leur page d'accueil on trouve des exemples de dashboards - normal - certains des visuels affichent un composant graphique tres connu et qui - malgre sa mauvaise 'presse' - est aujourd'hui toujours mis en avant par les marketeux de la plupart des editeurs de solutions BI. Ce composant graphique est le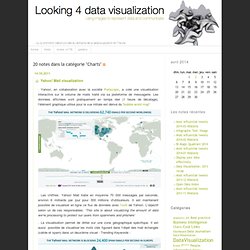 What is this? Welkin is a graph-based RDF visualizer. What's New in Version 1.1 Works on Windows, Linux and MacOSX. Added support for Turtle/N3 RDF syntax. Dramatically reduced size for increased startup performance.
Welkin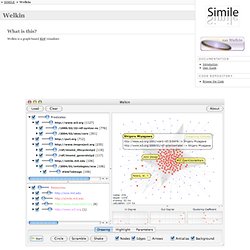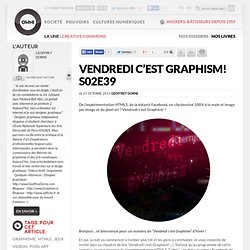 VENDREDI C'EST GRAPHISM! S02E39
De l'expérimentation HTML5, de la dataviz Facebook, un clip dessiné 100% à la main et image par image et du pixel art ? Vendredi c'est Graphism' ! Bonjour… et bienvenue pour un numéro de "Vendredi c'est Graphism" d'hiver !
Definition: Tools that help users discern patterns in data--dynamic graphs, charts, maps, plots, etc. Tools: Chartle : Create simple interactive charts.
The Annual Appropriation Ordinance is the final City operating budget as approved by the City Council. It reflects the City's operating budget at the beginning of the fiscal year on January 1. This dataset details the budgeted expenditures in the Ordinance and identifies them by department, appropriation account, and funding type: Local, Community Development Block Grant Program (CDBG), and other Grants. "Local" funds refer to those line items that are balanced with locally generated revenue sources, including but not limited to the Corporate Fund, Water Fund, Midway and O'Hare Airport funds, Vehicle Tax Fund, Library Fund and General Obligation Bond funds. Owner: Budget and Management. Frequency: Data is updated annually.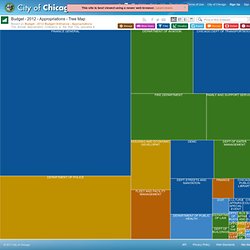 Budget - 2012 - Appropriations - Tree Map | City of Chicago | Data Portal