Baking
Jean's Cream Puff Cake. Once upon a time, a darling coworker (Jean!)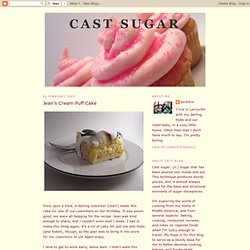 Made this cake for one of our coworkers on her birthday. It was soooo good, we were all begging for the recipe. Jean was kind enough to share, and I couldn't even wait I week. I had to make this thing again. Happy Bread. You have a masterpiece inside you, you know.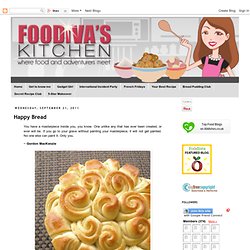 One unlike any that has ever been created, or ever will be. If you go to your grave without painting your masterpiece, it will not get painted. No one else can paint it. Peach Cupcakes with Peach Buttercream. I bet you didn't think I'd be back this soon.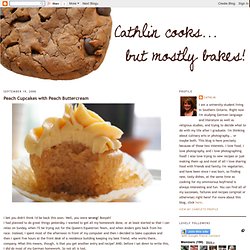 Well, you were wrong! Booyah! I had planned to do great things yesterday. Cheddar Cheese Biscuits. The last time I made biscuits I was quite taken aback by the results.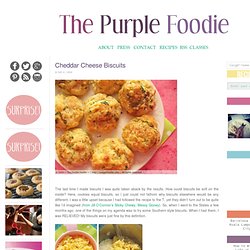 How could biscuits be soft on the inside? Here, cookies equal biscuits, so I just could not fathom why biscuits elsewhere would be any different. I was a little upset because I had followed the recipe to the T, yet they didn't turn out to be quite like I'd imagined (from Jill O'Connor's Sticky Chewy, Messy Gooey). So, when I went to the States a few months ago, one of the things on my agenda was to try some Southern style biscuits. Purveyors of Gourmet Vanilla Beans, Extracts and Baking Products. Food Snots: Peanut Butter Chocolate Chip Cupcakes. I'm off tomorrow morning for California and The Price Is Right!!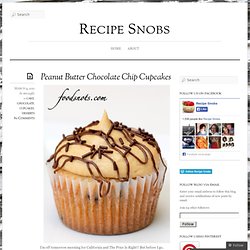 But before I go, here is an amazing recipe for the weekend. When I did my race a couple weeks ago we stopped by Sprinkles Bakery and I tried these delicious creations. Don't hold this against me, but normally, I don't see what the big deal is about cupcakes. Give me pie or cheesecake, but typically cake just don't do it for me. Orange Olive Oil Cake. An intoxicating combination of preserved oranges and olive oil intensifies the flavors of this cake.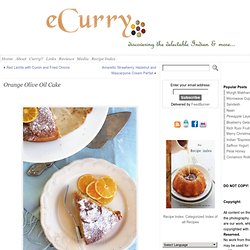 The cake is moist and dripping with fresh flavors and we could not but fall in love with this one. This particular recipe had been on my to-do list for a long time, and happy as I am to have finally given it a try, I also regret not having tried this earlier; this is a keeper. The cake tastes fabulous just by itself, gets better as it matures for a couple of days and tastes even better with some cold ice cream or whipped cream and preserved orange slices on the side. We have had it every way, and delighted a few friends of ours too.
Chit Chat Chomp: What more could a girl want . . . I've never been to Normandy.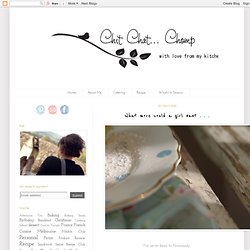 However, in a couple of months time the above sentence will no longer be true. I'll be cycling around the local villages, visiting Monet's garden, shopping at the food markets and basically eating all the French food I can get my hands on. I'm salivating as I think about it. For me, this holiday is all about immersing myself in French life.
All in a weekend show on CBC Radio Canada, and a strawberry cake. Hello Montréal!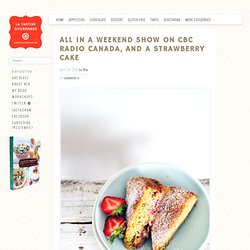 Hello everyone, We arrived late last night. Tired but happy to be back in Montréal. Cinnamon Sugar Apple Cake. I like this little tradition that I've established.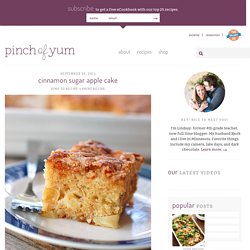 Apple-desserts-and/or-breakfasts posts on Fridays. The only person complaining about this tradition is my ambitiously slim pencil skirt, which I might add was probably the worst purchase of 2011. It's greyish, pinstriped, adorable, and I love it in theory. Chocolate Chip Graham Cracker Cookies. Posted by: Annie You can never have too many versions of chocolate chip cookies!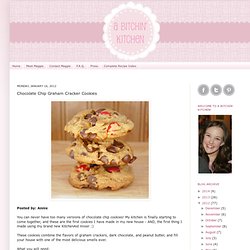 My kitchen is finally starting to come together, and these are the first cookies I have made in my new house - AND, the first thing I made using my brand new KitchenAid mixer :) These cookies combine the flavors of graham crackers, dark chocolate, and peanut butter, and fill your house with one of the most delicious smells ever. What you will need: 1 1/2 sticks butter 1/2 cup sugar 1/2 cup dark brown sugar 1 egg 1 teaspoon vanilla 1 1/4 cup flour 1 cup graham cracker crumbs 1/2 teaspoon salt 1/2 teaspoon baking soda 1 cup peanut butter M&Ms 2 cups dark chocolate chips. Vanilla Buttermilk Pound Cake with Lemon Glaze. Good Morning Fall! If you're from the DMV area, it sure as heck doesn't feel like fall but I cannot wait for it to really start. There's a fine line between fall and winter that makes my heart skip a beat. We all know the drill- leaves change color, crisp air, hoodies, scarves, pumpkins, and chai! Pound Cake Recipe. Pound Cake: Preheat oven to 350 degrees F (177 degrees C) and place rack in center of oven.
Butter or spray with a non stick vegetable spray, a 9 x 5 x 3 inch (23 x 13 x 8 cm) loaf pan. Line the bottom of the pan with parchment paper and butter or spray the paper. In a medium bowl, whisk together the eggs, milk, and vanilla extract. In the bowl of your electric mixer, with the paddle attachment (or with a hand mixer), place the dry ingredients (flour, baking powder, salt, and sugar) and mix on low speed for about 30 seconds or until blended. Add the butter and half of the egg mixture. Cake Cravings. There is a hilarious scene in an episode of Sex and the City where Miranda makes herself a homemade chocolate cake.
She starts off by eating one thin sliver of the cake and then walks away. The camera frame doesn't leave the kitchen the entire scene. You see her walk back into the kitchen just seconds later and help herself to another minuscule piece of the sinful treat. After she leaves the shot she is once again back within seconds and cuts herself a third helping. This time she is more realistic and portions out a sizable piece of the cake. Old-Fashioned Pound Cake | Southern Hospitality. My sister had both families over for dinner the Thursday night before the wedding day and it was such a lovely evening. The weather that week was tailor made for a wedding and we are so grateful for the sunny days and warm weather, especially since right after we have been shivering in the chill. Spring, where are you? I think she might have arrived this week. I've shared my sister and brother-in-law's backyard before and it is such a gorgeous oasis to enjoy the outdoors.
A fish pond with goldfish and koi is center stage. Buttermilk Pound Cake. April 28, 2010 at 5:56 pm Last week, I spent more time in the airport than in school. I was visiting colleges I'd been accepted to, hoping to find the one that spoke to me. I only applied to schools in the east coast, so there was a lot of flying in store. Best Pound Cake Recipe. 7UP Pound Cake. Pound Cake. Lemon Pound Cake. Sunshine Pound Cake. Like Sexual Napalm, But Lemony. Cardamom Pound Cake. Lemon Tart with Rosemary Crust » Happyolks. Lemon Pudding Cake. Lemon+Pudding+Cake.jpg. Lemon Pudding Cake - Recipe. Coconut Tres Leches Cake. Happee Monkee » Baking Projects » Matcha Tiramisu.
Pretty in Pink! Lemonade Layer Cake Recipe. Lemon Cream Cookies for Jill. Jane Austen Month, Day 17: Scones, Anyone? Texas Roadhouse Rolls. Strawberry Danish Recipe | Puff Pastry Berry Danish Recipe. Honey Yeast Dinner Rolls. Beantown Baker. Peanut butter truffle brownies | wee eats. Fluffy Biscuits Recipe. Recipe: Melt-In-Your-Mouth Currant Scones | One Green Generation. Limoncello Cake (gluten-free) | My German Kitchen ... in the Rockies. 3. Sunday of Advent and Savory Sage-Parmesan Sables | My German Kitchen ... in the Rockies.
Orange Blossom Madeleines . . . Are They On Your List? Raspberry+tiramisu.jpg. Raspberry Tiramisu Recipe : Giada De Laurentiis. Lemon Hazelnut Tiramisu Recipe : Giada De Laurentiis. Tiramisu al Limoncello. Simplified Limoncello Tiramisu with Raspberries recipe from food52. Sweet Basil: Reeses Krispies. Coffeehouse Scones Recipe. Red Velvet Cheesecake Brownies. Meyer Lemon Pudding Cake Recipe. Marbled Red Velvet Cheesecake Brownies. Caramel Apple Cheesecake Bars. Chocolate bread and butter pudding | a taste for change. French Vanilla Cake with Raspberry Filling. Cake Recipes. Russian Tea Cakes. Breakfast Recipe: Coconut Banana Fritters. Irish Soda Bread. Cinnamon Sugar Coated Baked Doughnuts. Weekend breakfast – blueberry banana French toast with maple syrup | a splash of vanilla.
CHOCOLATE CHIP PECAN BUTTER HORNS - Lifesafeast. Cinnamon Orange Honey Buns. Baked Lemon Cheesecake Recipe. Marbled Lemon Cheesecake. Lemon Cheesecake Creme Brulee Bars. Lemon Cheesecake Creme Brulee Bars. Bars and brownies. Apple fritters. Apple Pie Bars Recipe.
Barefoot and Baking. Recipes. 28 Muffin Recipes You'll Want to Try. Meyer Lemon-Yogurt Cake. Recipes. Baked Cider Doughnuts. Baked Caramel Apple Donuts & shutterbean - StumbleUpon. Bread Baking. Crepes of Wrath. The Baker's Daughter: Polka dot cheesecake. How to: Artisan Bread in Five Minutes a Day. The Best Cream Cheese Frosting Recipe. The Brownie Project - StumbleUpon. Pudding Cups & bakerella.com - StumbleUpon.
---