ELECTRONIQUE
A Multi-Protocol Infrared Remote Library for the Arduino. Note for Arduino 1.0 An updated version with 1.0 support is available on github.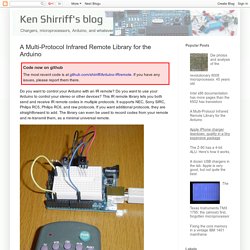 Installation instructions are at the bottom of that page. Let me know if you encounter any problems. Ressources - Concevoir une surface multitouch 
Trucs et astuces pratiques en Informatique, Cours electronique. ARDUINO. FABRIQUER PCB.
---