Visualisation
The Work of Edward Tufte and Graphics Press. Topics covered in this one-day course include: How to make effective, credible presentations.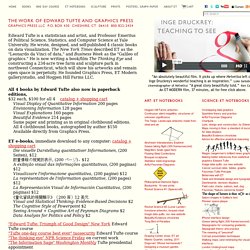 Fundamental strategies of analytical design. Evaluating evidence used in presentations. Tableau Software | Visual Analysis and Data Visualization - Namo. 50 Great Examples of Data Visualization. Wrapping your brain around data online can be challenging, especially when dealing with huge volumes of information.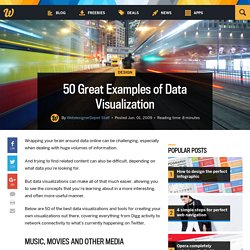 And trying to find related content can also be difficult, depending on what data you're looking for. But data visualizations can make all of that much easier, allowing you to see the concepts that you're learning about in a more interesting, and often more useful manner. A Periodic Table of Visualization Methods. 15 Stunning Examples of Data Visualization | Web Design Ledger - Data Visualization is a method of presenting information in a graphical form.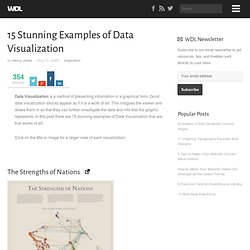 Good data visualization should appear as if it is a work of art. This intrigues the viewer and draws them in so that they can further investigate the data and info that the graphic represents. In this post there are 15 stunning examples of Data Visualization that are true works of art. Click on the title or image for a larger view of each visualization. Information Aesthetics Showcase | Galleries & Experiences | SIGG. International Podcasts Special Thanks & Acknowledgements The emergent field of information aesthetics combines a rich variety of technical and artistic disciplines.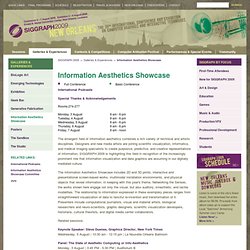 Designers and new media artists are joining scientific visualization, informatics, and medical imaging specialists to create purposive, predictive, and creative representations of information. SIGGRAPH 2009 is highlighting this field in recognition of the increasingly prominent role that information visualization and data graphics are assuming in our digitally mediated culture. Chris Harrison's Visualization Projects - Namoroka (Build 200908. Digg Rings Using the Digg API, I grabbed the top 10 most-dugg stories of the day (by midnight) for the past year - May 24, 2007 to May 23, 2008.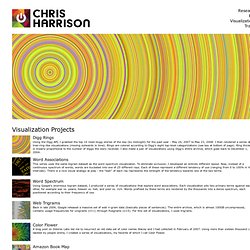 I then rendered a series of tree-ring-like visualizations (moving outwards in time). Rings are colored according to Digg's eight top-level categorizations (see key at bottom of page). Tasty Data Goodies - Swivel - Namoroka (Build 20090906051117) Clearly and Simply. DataViz. "Good" Jobs. The Future: Embedding Data in the Everyday | FlowingData. Data + design. You don't need more to build a great graphic. Request for Help: Acquisition Security Related Policies & Issuan. The graph Acquisition Security Related Policies & Issuances Chart (acq.osd.mil, PDF version) by the Office of the Director, Defence Research and Engineering is meant to increase the awareness of existing policies, in order to improve compliance, and to get policymakers to reflect about writing "one more policy" now that they are able to observe the huge existing "heap" they actually contribute to.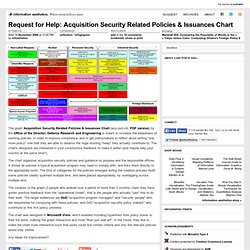 The chart's designers are interested in your constructive feedback to make it better (and maybe help your country at the same time?). The chart organizes acquisition security policies and guidance by purpose and the responsible offices. It shows all policies a typical acquisition program may need to comply with, and links them directly to the appropriate texts. The bins or categories for the policies emerged during the creation process itself: some policies clearly spanned multiple bins, and were placed appropriately, by overlapping across multiple bins.
---