UI/UX
by Oliver Reichenstein 95% of the information on the web is written language. It is only logical to say that a web designer should get good training in the main discipline of shaping written information, in other words: Typography. Back in 1969, Emil Ruder, a famous Swiss typographer, wrote on behalf of his contemporary print materials what we could easily say about our contemporary websites: Today we are inundated with such an immense flood of printed matter that the value of the individual work has depreciated, for our harassed contemporaries simply cannot take everything that is printed today. It is the typographer's task to divide up and organize and interpret this mass of printed matter in such a way that the reader will have a good chance of finding what is of interest to him.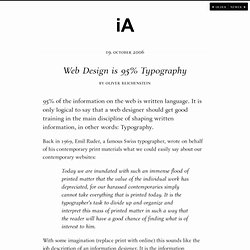 Advertisement Websites and Web applications have become progressively more complex as our industry's technologies and methodologies advance. What used to be a one-way static medium has evolved into a very rich and interactive experience. But regardless of how much has changed in the production process, a website's success still hinges on just one thing: how users perceive it. "Does this website give me value?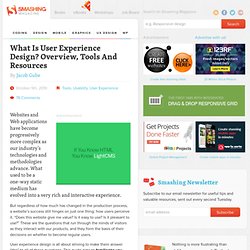 Oct 05 2010 Wireframing is an important part of the design process, one that shouldn't be overlooked by even the most experienced designers. Wireframes can save development time by outlining exactly how a site should look and function, in a manner that can be shown to and approved by your clients.
35 Excellent Wireframing Resources - Noupe Design Blog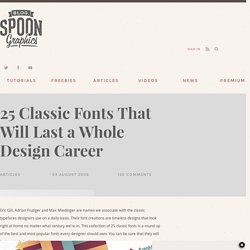 Eric Gill, Adrian Frutiger and Max Miedinger are names we associate with the classic typefaces designers use on a daily basis. Their font creations are timeless designs that look right at home no matter what century we're in. This collection of 25 classic fonts is a round up of the best and most popular fonts every designer should own. You can be sure that they will last your whole design career. Who hasn't heard of Helvetica?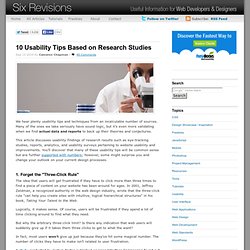 We hear plenty usability tips and techniques from an incalculable number of sources. Many of the ones we take seriously have sound logic, but it's even more validating when we find actual data and reports to back up their theories and conjectures. This article discusses usability findings of research results such as eye-tracking studies, reports, analytics, and usability surveys pertaining to website usability and improvements.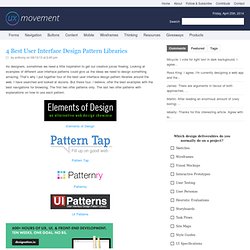 by anthony on 09/13/10 at 2:45 pm As designers, sometimes we need a little inspiration to get our creative juices flowing. Looking at examples of different user interface patterns could give us the ideas we need to design something amazing. That's why I put together four of the best user interface design pattern libraries around the web. I have searched and looked at dozens.
4 Best User Interface Pattern Libraries | UXMovement.com
Web Wireframe Kit
linowski.ca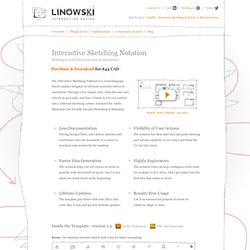 Interactive Sketching NotationHelping you tell better stories of interactionPurchase & Download for $44 CAD Watch: How I Sketch - An Intro The Interactive Sketching Notation is a visual language which enables designers to tell more powerful stories of interaction. Through a few simple rules, what the user sees (drawn in greyscale) and does (drawn in red) are unified into a coherent sketching system.
All designers say simplicity is important, but what does it really mean to make something simple? Most of the time we think it means less, that by removing stuff we achieve simplicity. We think by keeping content above the fold we're helping people focus, or by using bullets instead of paragraphs more people will read it, or by cutting text in half it becomes more clear.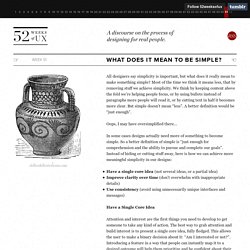 Nine web design horrors