HTML5/CSS3
Tingle's Technology Notes
Image Wipes
Demo: Pure CSS folded-corner effect
In one of the outstanding sessions of YUIConf 2010, author and standards expert Tantek Çelik, formerly of Technorati, discusses the current state of HTML5 specifications and their readiness for use in shipping web applications.
YUI Theater — Tantek Çelik: "HTML5: Right Here, Right Now" (56 min.)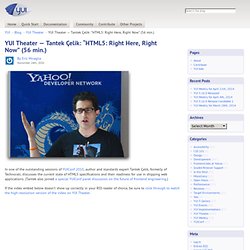 About Validator.nu
Twice a month, we revisit some of our readers' favorite posts from throughout the history of Nettuts+. This tutorial was first published in August, 2010. This industry moves fast — really fast!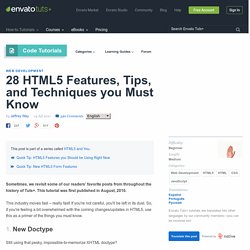 Pete Higgins and a few other JS ninjas have been working on a new library for doing JavaScript feature detection.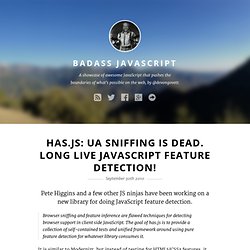 Badass JavaScript - Has.js: UA Sniffing Is Dead. Long Live JavaScript Feature Detection!
VexFlow - HTML5 Music Engraving
Published by Chris Coyier When writing CSS3 properties, the modern wisdom is to list the "real" property last and the vendor prefixes first: Why is this method of ordering properties so commonly taught?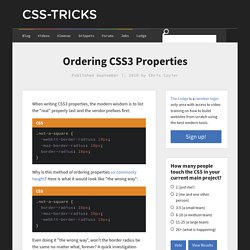 Ordering CSS3 Properties
HTML 5 innerShiv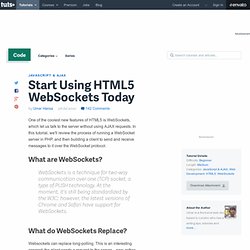 One of the coolest new features of HTML5 is WebSockets, which let us talk to the server without using AJAX requests.
At last week's GTUG campout, a 3-day long HTML5 hackathon, I signed up to be a TA for the weekend. That meant I spent most of my time wandering around answering random questions and helping developers debug their hacks.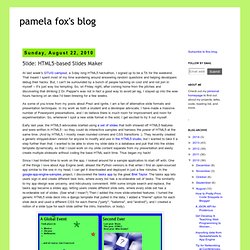 5lide: HTML5-based Slides Maker
For a long time, location.hash was a way for AJAX applications to get back button and bookmarking support, and libraries like jQuery BBQ from Ben Alman made dealing with it cross browser a cinch.
location.hash is dead. Long live HTML5 pushState!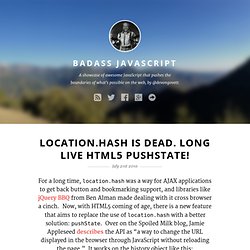 Canvas demo
Expanding Images using HTML5′s contenteditable tabindex
Published by Chris Coyier HTML5 has a new attribute, contenteditable, which can be applied to any element which allows it to be edited directly in the browser window.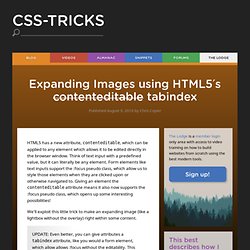 Plan B: Font Fallbacks « coding@scribd
The Future of Web Apps – Single Page Applications
The Future of Web Apps - Single Page Applications | The Worm Hole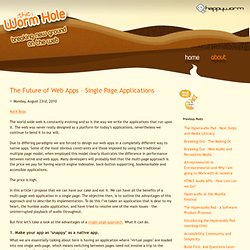 2 Common infrastructure — HTML5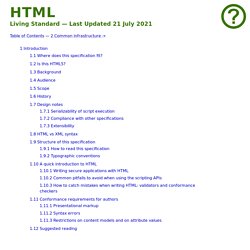 2 Common infrastructure
HTML5 Forums :: View topic - Microdata implementation
HTML5 Peeks, Pokes and Pointers
HTML5 JS APIs
Hello HTML5
2/19/2010 04:13:00 PMPosted by Ian Fette, Gears Team
HTML5 input placeholder= via YUI)