Educational N-Z
OSS - Global Warming. You are here: Home › Projects & Resources › Environment › Global Warming Summarizing for policy makers current understanding of climate related science and potential impacts for risk assessment.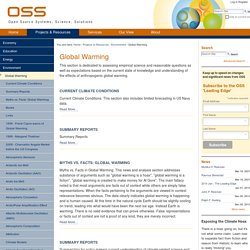 The 'Leading Edge' reports are now open for comments (as of Oct. 31, 2010). You can register via the registration link in the upper right hand corner. Jim Prall. James W Prall Senior Systems Programmer The Edward S.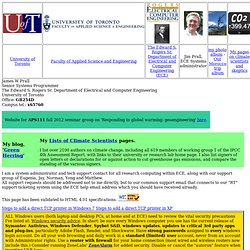 Rogers Sr. Department of Electrical and Computer Engineering University of Toronto Office: GB254D Campus tel.: x65760 I am a system administrator and tech support contact for all research computing within ECE, along with our support group of Eugenia, Jay, Norman, Yong and Matthew. All support requests should be addressed not to me directly, but to our common support email that connects to our "RT" support ticketing system using the ECE help email address which you should have received already.
Process Trends Website. NSDLWiki. Skeptical Science: Examining Global Warming Skepticism. State of the Climate | Global Analysis | February 2010. Contents of this Section: Global Highlights The combined global land and ocean average surface temperature for February 2010 was 0.60°C (1.08°F) above the 20th century average of 12.1°C (53.9°F).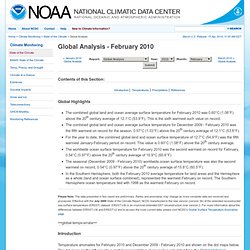 Wood for Trees: Home. Worldwatch Institute | Vision for a Sustainable World. World Resources Institute | Global Warming, Climate Change, Ecosystems, Sustainable Markets, Good Governance & the Environment. The Yale Forum on Climate Change & The Media.
---