Sheringham Primary iPad Developments
In case you haven't heard the news, we're putting out a special mini-issue early next week. It'll be available in the Edudemic Magazine iPad app and, best of all, FREE to subscribers! If you're not (yet) a subscriber, it'll be just $0.99. The following is an excerpt from just one of the articles in the mini-issue. It's all about iPads in education, Apple's role in the future of learning, and much more than that. Want to get the mini-issue free when it comes out?
As an educator, there are tons of great hashtags available to find the resources I'm looking for. Hashtags are usually found at the end of a 140 character tweet. I think of them like television channels, only there are many more to choose from and you can even create your own for your organization or team. Today, the most widely used educational hashtag on Twitter is called #edchat.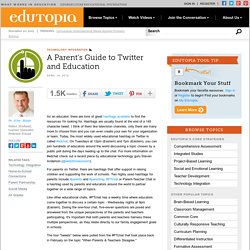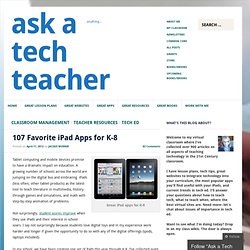 Great iPad apps for K-8 Tablet computing and mobile devices promise to have a dramatic impact on education. A growing number of schools across the world are jumping on the digital bus and embracing iPads (less often, other tablet products) as the latest tool to teach literature in multimedia, history through games and simulations, and math with step-by-step animation of problems. Not surprisingly, student scores improve when they use iPads and their interest in school soars. I say not surprisingly because students love digital toys and in my experience work harder and longer if given the opportunity to do so with any of the digital offerings (ipods, laptops included).
How Students Benefit From Using Social Media 13.56K Views 0 Likes A lot of criticism has been leveled at social media and the effect it has on the way students process and retain information, as well as how distracting it can be. However, social media offers plenty of opportunities for learning and interactivity, and if you take a moment to think about it, it's not too hard to see how students benefit from using social media. 10 African-American History Month Teaching Resources
Language: English Bahasa Indonesia Bahasa Melayu Dansk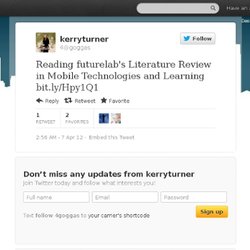 kerryturner: Reading futurelab's Litera
LearningForYou: RT @sgauthier blooms taxon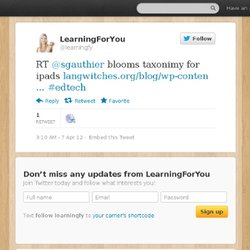 Language: English Bahasa Indonesia Bahasa Melayu Dansk Deutsch Español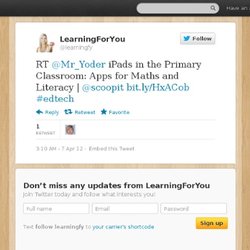 Language: English Bahasa Indonesia Bahasa Melayu Dansk Deutsch Español
LearningForYou: RT @Mr_Yoder iPads in the
Blog
Many colleges and universities have begun experimenting with tablet computers and iPad classroom integration initiatives that vary from campus-wide distributions to small-scale, single-class pilots. These programs are designed to provide evidence of improved student learning and engagement. Explore this resource site—a collection of all EDUCAUSE resources related to tablets and iPads in the classroom. The Pearson Foundation Survey on Students and Tablet, The Pearson Foundation, 2012. This survey, in it's second year, found tablet ownership in college and college-bound students has tripled in just a year.
Tablets and iPads - 71 Resources
ipadmiddleschool.wikispaces
One question that comes into my inbox or on Twitter a lot lately is one dealing with iPads. Many schools and classrooms all over are investing in these devices and educators want to know how to use them effectively, apps to consider and more. In keeping with the "My Favorite Resources" theme (last week I listed my favorite resources for talking about Twitter) here are my go-to resources when people ask me about iPads in the Classroom. ISTE iPad In Education Webinar Resources-A while back ISTE ran a great webinar with some fabulous educators on using iPads in the classroom.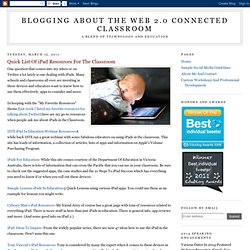 Holywell Primary School School No: 749 Use of Apple iPad Tablet Computers in Foundation Stage Holywell Primary, situated in Watford, has approximately 275 pupils on role in the 3 – 11 age range.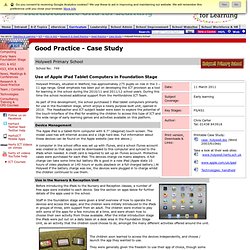 ICT Good Practice Case Study - Holy Family Primary School & Cuffley School
Fun Educational Apps: Best Apps for Kids Reviews iPad / iPhone / iPod: Best education apps
Maths Apps for Primary School
I got a great phone call the other day from a teacher who had been given the opportunity to develop a intervention program. The school had identified a group of students who had been struggling with their Maths. We talked about what outcomes were important and came up with a cross section of apps that might cater for Counting, Operations and Place Values.
10 iPAd / iPhone Apps for Primary School Teachers
Alphabet Fun Learning the A-B-Cs was never like this. Alphabet Fun makes the most of Multi-Touch technology on iPad to teach kids letters, numbers, and colors. They'll swipe through colorful images and easy-to-read text. They'll trace over letters with their fingers right on the iPad display. They'll even write entire words. Kids think it's a game.
Teaching News
This work is licensed under a Creative Commons Attribution-NonCommercial-ShareAlike 3.0 Unported License. @Ideas_Factory The blog of Julian S. Wood. Privacy Policy for www.ideasfactory.me
Feb112012 Guest Post by Jasmine Hall The best way to get your parents to buy you expensive gadgets has always been to really sell the educational value. "But Mom, if you buy me a Nintendo, think about how much my spelling will improve playing Wheel of Fortune."
Apps
Study: iPad Apps Improve Learning
iPad for Teaching & Learning
Some of the apps we use in school : Kenninghall Community Primary School
An iPad idea a day | iPads and learning
Primary Apps - Dedicated to creating fun, engaging and challenging apps for school kids!