Sheringham Primary iPad Developments
In case you haven't heard the news, we're putting out a special mini-issue early next week. It'll be available in the Edudemic Magazine iPad app and, best of all, FREE to subscribers!
As more and more people join the world of Twitter (460,000 signups per day), school parents and teachers are more commonplace on this global social media tool.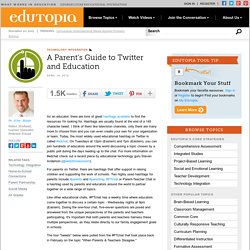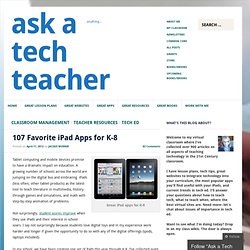 Great iPad apps for K-8
How Students Benefit From Using Social Media
kerryturner: Reading futurelab's Litera
LearningForYou: RT @sgauthier blooms taxon
LearningForYou: RT @Mr_Yoder iPads in the
Blog
Many colleges and universities have begun experimenting with tablet computers and iPad classroom integration initiatives that vary from campus-wide distributions to small-scale, single-class pilots.
Tablets and iPads - 71 Resources
ipadmiddleschool.wikispaces
One question that comes into my inbox or on Twitter a lot lately is one dealing with iPads.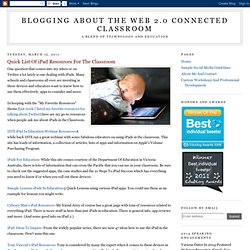 Holywell Primary School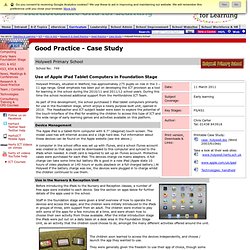 ICT Good Practice Case Study - Holy Family Primary School & Cuffley School
Fun Educational Apps: Best Apps for Kids Reviews iPad / iPhone / iPod: Best education apps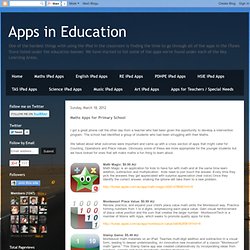 Maths Apps for Primary School
I got a great phone call the other day from a teacher who had been given the opportunity to develop a intervention program. The school had identified a group of students who had been struggling with their Maths. We talked about what outcomes were important and came up with a cross section of apps that might cater for Counting, Operations and Place Values.
10 iPAd / iPhone Apps for Primary School Teachers
Alphabet Fun Learning the A-B-Cs was never like this. Alphabet Fun makes the most of Multi-Touch technology on iPad to teach kids letters, numbers, and colors.
Teaching News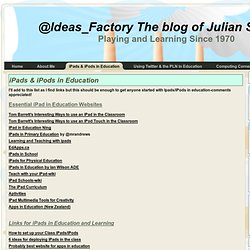 This work is licensed under a Creative Commons Attribution-NonCommercial-ShareAlike 3.0 Unported License.
iPads and iPods in Education | @Ideas_Factory The blog of Julian S. Wood
Apps
Study: iPad Apps Improve Learning
First of its kind evidence shows that an iPad learning app can measurably deliver educational value. I've tested, rated, tried out, and put tons of educational iPad apps through their paces. Some are worthwhile, some are not worth your time.
iPad for Teaching & Learning
Some of the apps we use in school : Kenninghall Community Primary School
An iPad idea a day | iPads and learning
Primary Apps - Dedicated to creating fun, engaging and challenging apps for school kids!