Design Tools
40 Incredibly Useful Web Design Tools You Should Use Daily. This article will showcase tools which should and could be used by designers daily.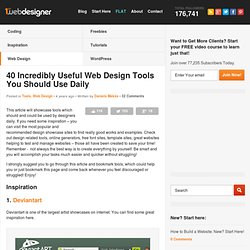 If you need some inspiration – you can visit the most popular and recommended design showcase sites to find really good works and examples. Check out design related tools, online generators, free font sites, template sites, great websites helping to test and manage websites – those all have been created to save your time! Are My Sites Up? - Simple, easy website uptime and downtime monitoring. BrowserCam : Browser testing and cross browser compatibility testing products and tools, including free cross browser testing tool.
Analytics | Website oficial. W3Counter - Free Realtime Web Analytics - Web Stats Counter. XHTML Character Entity Reference. Each entity is contained within a small box that contains four lines.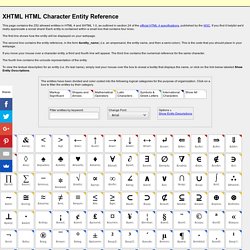 The first line shows how the entity will be displayed on your webpage. The second line contains the entity reference, in the form &entity_name; (i.e. an ampersand, the entity name, and then a semi colon). This is the code that you should place in your webpage. Clean CSS - A Resource for Web Designers - Optmize and Format your CSS. Blueprint: A CSS Framework | Spend your time innovating, not replicating. The W3C Markup Validation Service. ExpanDrive - SFTP/FTP/S3 Drive. FireFTP. Studio - the PHP IDE for professionals. My first impression of Studio 10 is good!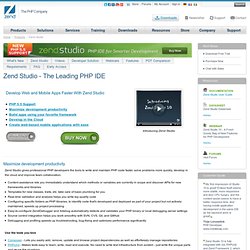 Eclipse itself seems more stable, more responsive and less CPU hungry, and the content assist seems to have a better response time. And having mobile application development in the same IDE as the backend work is great! Thijs LensselinkPHP Developer, www.mobiletulip.com Zend Studio 10 is fully integrated with Git, PHPUnit and Zend Framework 2, which gives me one convenient place for my coding practices. When using ZF2, it's invaluable thanks to its seamless integration. :: Clean AJAX ::
Clean is an open source engine for AJAX, that provides a high level interface to work with the AJAX technology.
It can be plugged in any page or DHTML framework because it was designed in conformation with the separation of concerns principle, keeping focus on AJAX issues. Clean is a software based on well succeed design patterns and inspired on Java Message Service API, that offers reliable solutions to AJAX. It was created to solve real problems found on AJAX applications, and is used in many projects. Clean will help you to adopt AJAX saving your time and your code, reducing your learning curve and the code reengineering. What Clean is: Goma de Mascar Sustentável - Eco friendly Bubblegum.
pForm - Free HTML Form Builder - Create Web Form Template Online. Smush.it™ Image optimization is an art few have mastered.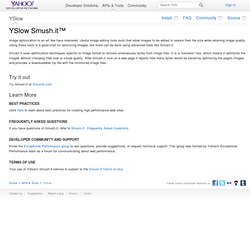 Useful image editing tools exist that allow images to be edited to reduce their file size while retaining image quality. Using these tools is a good start for optimizing images, but more can be done using advanced tools like Smush.it. Smush.it uses optimization techniques specific to image format to remove unnecessary bytes from image files. It is a "lossless" tool, which means it optimizes the images without changing their look or visual quality. After Smush.it runs on a web page it reports how many bytes would be saved by optimizing the page's images and provides a downloadable zip file with the minimized image files.
Firebug. Typeface.js -- Rendering text with Javascript, <canvas>, and VML. Color Hunter. Kuler. Color Trends + Palettes. The Design Inspiration - Daily Logo Designs, Illustration Art, Website Showcase, Photos and Patterns. Typetester – Compare fonts for the screen. Lorem Ipsum - All the facts - Lipsum generator. WhatTheFont! Icon Search Engine | Iconfinder.
Web Design projects on the Behance Network. StyleVault – Web design showcase. Web Design Showcase. Where ART meets application! Tools. Dafont.com. FontStruct | Build, Share, Download Fonts. Stripemania - Striped background generator. ColoRotate.
Verificar a compatibilidade do navegador, Browser Test Cross Platform - Browsershots. Free CSS templates - best free website templates to create your website. Build a Free Flash Website.