Fit
Bike Route Toaster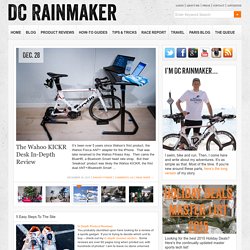 Wanna help support the site? You have two options. The first is to use Clever Training with the link and 10% off everything coupon below: Alternatively, for everything else on the planet, simply buy your goods from Amazon via the link below and I get a tiny bit back. No cost to you, easy as pie! UK based here!
When the Timex Global Trainer was announced earlier this year, most folks were quite excited to see a new entrant into the triathlon watch/device scene. With the watches ANT+ capabilities and full waterproofing it would make ideal training partner for any triathlete, as well as runner or cyclist. And because it was GPS based, it would also work with the myriad of other activities that people like you and I dream up.
Timex Ironman GPS Global Trainer In Depth Review
Medical Supplies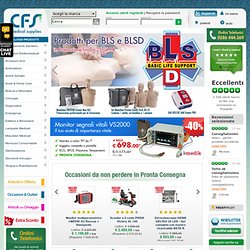 Sem© Copyright 2008, Centro Forniture Sanitarie s.n.c. - P.IVA 00939160495.Le informazioni riportate su www.cfs.it possono essere soggette a modifiche senza preavviso.E' vietata la riproduzione anche parziale. Le informazioni riportate nel sito CFS.IT e relative a dispositivi medici e dispositivi medico-diagnostici in vitro, presidi medico-chirurgici e medicinali veterinari non hanno alcuna natura pubblicitaria.Tutti i contenuti, in qualunque forma realizzati, (testi, immagini, anche fotografiche, descrizioni tecniche e non, ecc.), hanno natura esclusivamente informativa, funzionale alla mera conoscenza da parte del potenziale cliente, in fase di preacquisto, di ogni elemento e/o caratteristica attinente i prodotti venduti in rete da CFS. Quanto sopra a tutela del consumatore ed in ottemperanza alla normativa vigente.
Timex Ironman
Golden Cheetah: Cycling Performance Software for Linux, Mac OS X, and Windows
To all those volunteers who selflessly give their time and without whom amateur sport would not exist. -- Graeme Obree, in the dedication of Flying Scotsman GoldenCheetah is a software package that: Downloads ride data directly from the CycleOps PowerTap and the SRM PowerControl V, VI and VII. Imports ride data downloaded with other programs, including TrainingPeaks WKO+ and the manufacturers' software for the Ergomo, Garmin, Polar, PowerTap, and SRM devices.Provides a rich set of analysis tools, including a critical power graph, BikeScore calculation, histogram analysis, a best interval finder, and a pedal force versus pedal velocity chart, to name just a few.Is available for Linux, Mac OS X, and Windows.Is released under an Open Source license.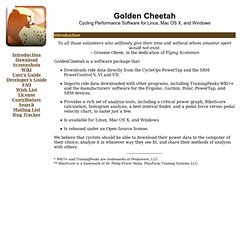 Polar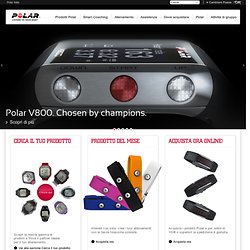 Cerca il tuo prodotto Quale training computer Polar è perfetto per me? Scopri la nostra gamma di prodotti e trova il partner ideale per il tuo allenamento Vai alla sezione Cerca il tuo prodotto Smart Coaching
Training peaks
TrainingPeaks (.pwx) to Endomondo (.tcx) Converter
strava
Connect - Carica in account thuthor