Inspi/Portfolio
Uranium Interactive | Stratégie. Créativité. Technologie.
Nicolas André , neopen - Toulouse, France / London, UK
Trust in Elements™ / the online portfolio of Xavier Bourdil
Stillontherun
Le Potager
Aurélie Ronfaut - Thiluu - freelance
Zach Bush, Freelance Illustrator
We Are Offside
Yossi Milo Gallery - Artists - Myoung Ho Lee
OPERAgraphiks Daily News.
Okionero
nicotcha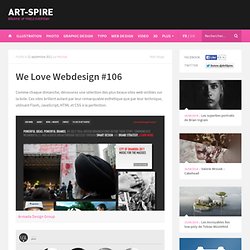 Publié le 11 septembre 2011 par Nicolas Comme chaque dimanche, découvrez une sélection des plus beaux sites web visibles sur la toile.
We Love Webdesign #106
スワロプロジェクト
Type Treatments,Typography & Illustration 04 on Typography Served
Guillain Le Vilain
Hervé Jaouen on the Behance Network
Projets - Sextans
Emilien Lubienski
David Fooks — Graphic Design | Illustration | Painting | Art Direction
ZOZIO
Maxime Quoilin on the Behance Network
Turnthelighton_
davidbenmussa
Amour, violence, gloire et talent
J&R Photographie