Inspi/Portfolio
Uranium Interactive | Stratégie. Créativité. Technologie.
For regular news, articles, promos & discount codes join our mailing list With one-click timing and the ability to create projects, tasks and work types from within the timer, it's never been easier to quickly and accurately track working hours. With flexible quotes and automated invoicing, Solo takes the pain out of your day-to-day paperwork.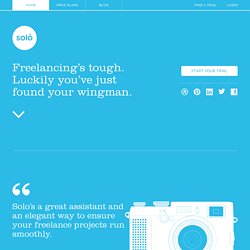 Nicolas André , neopen - Toulouse, France / London, UK
Trust in Elements™ / the online portfolio of Xavier Bourdil
Stillontherun
Le Potager
Aurélie Ronfaut - Thiluu - freelance
Zach Bush, Freelance Illustrator
We Are Offside
Yossi Milo Gallery - Artists - Myoung Ho Lee
OPERAgraphiks Daily News.
Okionero
nicotcha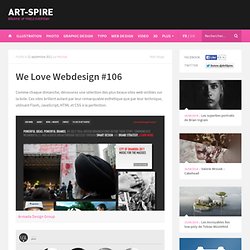 Publié le 11 septembre 2011 par Nicolas Comme chaque dimanche, découvrez une sélection des plus beaux sites web visibles sur la toile. Ces sites brillent autant par leur remarquable esthétique que par leur technique, utilisant Flash, JavaScript, HTML et CSS à la perfection. 4 people appreciate this post. Partager cet article Vous aimez cet article ?
We Love Webdesign #106
スワロプロジェクト
Type Treatments,Typography & Illustration 04 on Typography Served
Showcase & Discover Creative Work Sign Up For Free Hiring Talent? Post a Job Behance Network
Hervé Jaouen on the Behance Network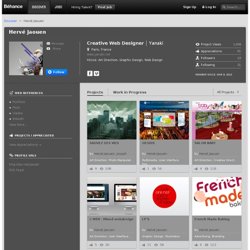 Projets - Sextans
Emilien Lubienski
David Fooks — Graphic Design | Illustration | Painting | Art Direction
ZOZIO
Maxime Quoilin on the Behance Network
Bonjour à toutes et à tous et bienvenue sur The Art of Disney, le site sur les coulisses des productions Disney-Pixar ! Réaliser un court ou long métrage d'animation est une véritable course de fond qui passe par de multiples étapes de création durant lesquelles les artistes discutent, échangent et réalisent de superbes dessins. Ces recherches aboutissent à la création d'oeuvres inoubliables, mais laissent leurs auteurs et leurs dessins dans l'ombre... Je vous propose par le biais de ce site de (re)découvrir vos films favoris sous un autre angle, plus artistique que commercial, afin de redonner aux artistes Disney toute la reconnaissance qu'ils méritent ! The Art of Disney est un blog amateur qui n'est en rien affilié à la Walt Disney Company. Tout les propos tenus sur ces pages reflètent l'opinion de son auteur uniquement.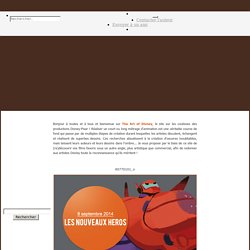 Turnthelighton_
davidbenmussa
Amour, violence, gloire et talent
J&R Photographie