Extraterrestrial Stuff
Icarus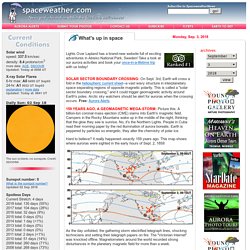 CHANCE OF STORMS: NOAA forecasters estimate a 35% chance of polar geomagnetic storms on Jan. 17th when a minor CME is expected to hit Earth. High-latitude sky watchers should be alert for auroras competing with bright moonlight. Aurora alerts: text, voice. SMALLEST FULL MOON OF THE YEAR: Last night's full Moon was the smallest of the year, as much as 14% smaller and 30% dimmer than other full Moons of 2014.
Space, Astronomy, Astrophysics, Earth and Xenology News
What we offer our readers: MessageToEagle.com is a place for true explorers. Our site offers latest Space, Astronomy, Earth, History, Technology and Xenology news. We also focus on stories often ignored in the mainstream media. We offer independent and uncensored news for those who are ready to challenge the hard questions in the controversial science of Xenology. Our fast growing news site reaches several thousand of daily readers.
Comet Elenin's current position - Sept 3, 2011. JPL Michael E.
Did Comet Elenin disintegrate or reveal alien energy shield? | Exopolitics Institute News Service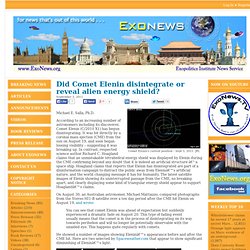 Index of /data/LRO-L-LROC-5-RDR-V1.0/LROLRC_2001/DATA/SDP/NAC_DTM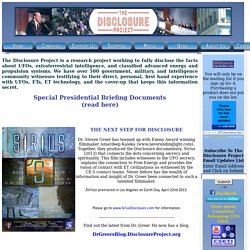 On Wednesday, May 9th, 2001, over twenty military, intelligence, government, corporate and scientific witnesses came forward at the National Press Club in Washington, DC to establish the reality of UFOs or extraterrestrial vehicles, extraterrestrial life forms, and resulting advanced energy and propulsion technologies. The weight of this first-hand testimony, along with supporting government documentation and other evidence, will establish without any doubt the reality of these phenomena. Learn more » Watch the May 9, 2001 Press Conference Watch the 2 Hour Witness Interview DVD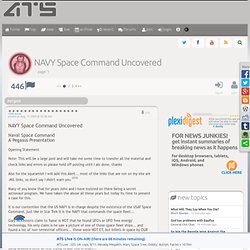 NAVY Space Command Uncovered Naval Space Command A Pegasus Presentation Opening Statement Note: This will be a large post and will take me some time to transfer all the material and check links and errors so please hold off posting until I am done, thanks
NAVY Space Command Uncovered
Galactic Federation of Light Messages From Our Space Family 2012 - A New Beginning - Home