Public art
Whodunit with the paperknife in the library? - News. IT IS the mysterious case of the paper sculptures that would have even veteran detective John Rebus struggling for answers.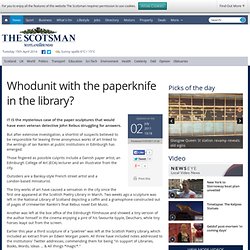 But after extensive investigation, a shortlist of suspects believed to be responsible for leaving three anonymous works of art linked to the writings of Ian Rankin at public institutions in Edinburgh has emerged. Those fingered as possible culprits include a Danish paper artist, an Edinburgh College of Art (ECA) lecturer and an illustrator from the city. Outsiders are a Banksy-style French street artist and a London-based miniaturist. Who Left A Tree, Then A Coffin In The Library? : Krulwich Wonders...
Update: The Library Phantom Returns!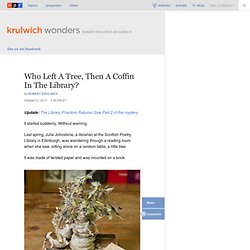 See Part 2 of the mystery. It started suddenly. Without warning. Last spring, Julie Johnstone, a librarian at the Scottish Poetry Library in Edinburgh, was wandering through a reading room when she saw, sitting alone on a random table, a little tree. Mysterious paper sculptures - Central Station Blog post. Those of you who don't keep up with Edinburgh's literary world through Twitter may have missed the recent spate of mysterious paper sculptures appearing around the city.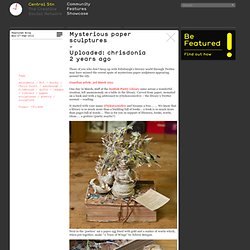 Guardian article, 3rd March 2011. One day in March, staff at the Scottish Poetry Library came across a wonderful creation, left anonymously on a table in the library. Bunny Project Kalmar. Performance commissioned by Kalmar Museum of Art, Sweden.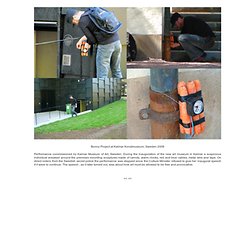 During the inauguration of the new art museum in Kalmar a suspicious individual sneaked around the premises mounting sculptures made of carrots, alarm clocks, red and blue cables, metal wire and tape. On direct orders from the Swedish secret police the performance was stopped since the Culture Minister refused to give her inaugural speech if it were to continue. The speech , as it later turned out, was about how art must be allowed to be free and provocative.
Mark Jenkins // Street Installations. The Garden of Cosmic Speculation. Public Art Concepts - Dan Sternof Beyer 2011. Non-traditional spaces. Street Art.
---