Business Concepts
Is online retail the next bubble waiting to pop? Internet retailing is sizzling, with big bucks chasing a flood of companies hawking everything from coupons to laptops.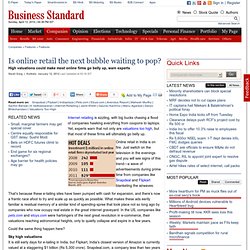 Yet, experts warn that not only are valuations too high, but that most of these firms will ultimately go belly up. Online retail in India is on fire. Just switch on the television in the evenings and you will see signs of this trend—a wave of advertisements during prime time from companies like Snapdeal and Flipkart blanketing the airwaves. That's because these e-tailing sites have been pumped with cash for expansion, and there's now a frantic race afoot to try and scale up as quickly as possible. This Is Generation Flux: Meet The Pioneers Of The New (And Chaotic) Frontier Of Business. Robert Scoble - Google+ - MUST WATCH FOR ENTREPRENEURS: An hour with great company… (6) How to Write a Persuasive Email from Stanford Persuasive Tech Lab.
How to Influence Purchasing Decisions On The Web [INFOGRAPHIC] When savvy consumers are in the market for something — a new pair of kicks, a sweet DSLR camera, hair pomade, a toaster — they turn to the web, knowing there's a wealth of knowledge and information to be had.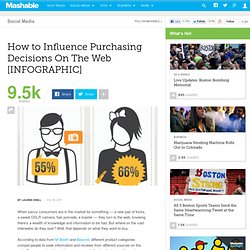 But where on the vast Interwebs do they look? Well, that depends on what they want to buy. According to data from M Booth and Beyond, different product categories compel people to seek information and reviews from different sources on the web. Consumers tend to go the company website for electronics, they rely on search for travel and they go to discussion forums to see what people think about different car models.
Consequently, consumer electronics companies better have a pimped-out website, travel brands ought to put some dough into SEO and car companies better pay attention to what people are saying about their vehicles' performance. How to Make Your Startup Go Viral The Pinterest Way. On Thanksgiving, Pinterest's co-founder Ben Silbermann sent an email to his entire user base saying thanks.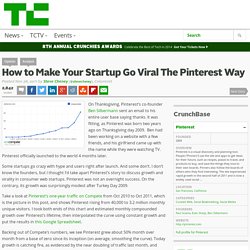 It was fitting, as Pinterest was born two years ago on Thanksgiving day 2009. Ben had been working on a website with a few friends, and his girlfriend came up with the name while they were watching TV. Pinterest officially launched to the world 4 months later. Some startups go crazy with hype and users right after launch.
---