Conceptual
22 Amazing Conceptual Photography - StumbleUpon. This post contains some really amazing examples of conceptual photography in which you'll find that the technique of conceptual photography.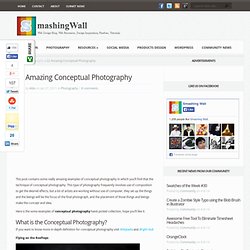 This type of photography frequently involves use of composition to get the desired effects, but a lot of artists are working without use of computer, they set up the things and the beings will be the focus of the final photograph, and the placement of those things and beings make the concept and idea. Here is the some examples of conceptual photography hand-picked collection, hope you'll like it. The Art of Paul Kuczynski - mashKULTURE - StumbleUpon. Unreal Undead: Amazing Zombie Makeup Collection | Horror School.
Here's a collection of amazingly realistic zombie makeup effects, created by some die-hard zombie fanatics.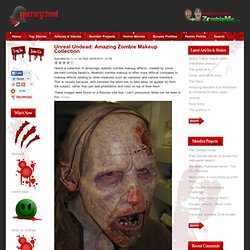 Realistic zombie makeup is often more difficult compared to makeup effects relating to other creatures such as vampires and various monsters. This is usually because, with zombies the artist has to take away (or appear to) from the subject, rather than just add prosthetics and color on top of their flesh. These images were found on a Russian site that I can't pronounce. More can be seen in this thread. 22 Amazing Conceptual Photography. - StumbleUpon. 20 awesome examples of street art - StumbleUpon.
---