TheArtMachine
—
Gazette — Typofonderie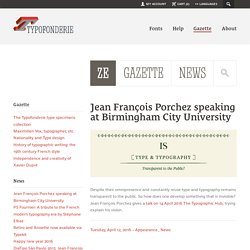 Geneo, designed by Stéphane Elbaz, is a synthesis of historic and present-day visions of typography, a slab serif constructed on an oblique axis. Its subtle contrast evokes both Renaissance elegance and the robustness of the Egyptian typefaces that were in vogue during the 19th century. Geneo falls halfway between the classic styles of Garamond and Fournier, with aspects of contemporary slab serifs. From this blend of styles and genres, it emerges with a singular identity perfectly suited for modern illustrations of quality, savoir-faire, and culture.
Love
Popular All « PrevNext » « Prev1234 ... 80Next » Video Transcript
New Art Prints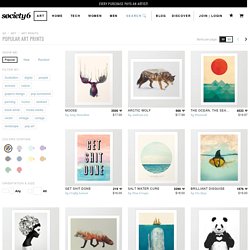 Home Sweet Home
A Love Story
S24qZ
JUN CHA
Colours In Cultures
Ian Strange / Kid Zoom - Australian born, NewYork based artist
"Amer béton" : errance fantastique dans une ville-jungle
LE MONDE | • Mis à jour le | Par Thomas Sotinel Réalisé par un génie de l'informatique américain résidant au Japon, Amer béton arbore son extrême modernité avec panache. Ce long métrage d'animation est inspiré de l'un des meilleurs mangas des années 1990, Tekkonkinkreet, de Taiyo Matsumoto (publié en France chez Tonkam). Le film capitalise sur l'atout le plus évident de la BD : l'originalité de son graphisme, qui s'écarte des normes du manga. Les personnages n'ont pas tous des yeux de biche, le trait est plus anguleux, les couleurs un peu moins criardes.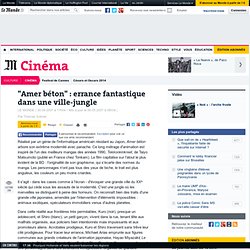 HUGH HOLLAND | photography
--- Alejandro Chaskielberg Photography ---
PHPA | Photo d'Hôtel, Photo d'Auteur par Hôtels Paris Rive Gauche
Jean Noviel Aurore Dal Mas Alexandre Morvan Estelle Lagarde Nathalie Dallies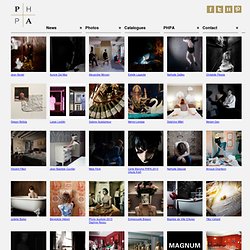 Photographie. Art photographique, tableaux en ligne chez LUMAS
ZACH SHUTA INC.
duch
The Art of Skinner | Welcome to the online home of all things Skinner!
ZOMBIE YETI STUDIOS - FREELANCE ILLUSTRATION & DESIGN
Biography Kristian Hammerstad is a trained illustrator and self-taught animator. He studied at Central Saint Martins College in the UK.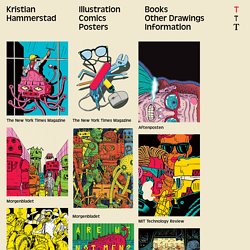 Kristian Hammerstad Illustrator
Mike Giant Home
Buff Monster: Art of Super Happy Pink
Roa's Work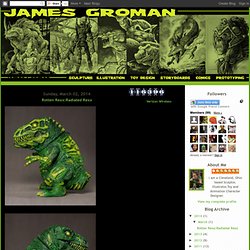 Got a few photos from San Diego Comicon I want to share. I was invited to participate in my first Comicon Panel 5:00 on Friday afternoon. It was a great experience getting to meet Monsterverse publisher/writer: Sam Park for the first time, (Sam and I collaborated on the story: 'Claws of the Werewolf' in issue 2 of Bela Lugosi Presents: Tales from the Grave. I illustrated, he wrote the story.)I actually sat next to one of my favorite artists in comics today, Dan Brereton. In this new age of digital art/painting, Dan shows us what a true master of traditional media is capable of.
James Groman
Play Fucking Loud 47 minutes of underground punk & psyche of the highest calibre. Russell was the director of cult street wear label Silas (back when it was good) and ran Amos toys with James Jarvis, he wrote the graphic novel Vortigern's Machine as well as numerous other texts & comics published by Silas & Amos. He is also the owner of a huge and incredible record collection, spanning all genres of alternative & experimental music.
Alakazam
HOME « REBEL8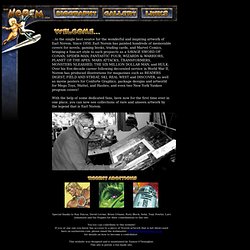 ...to the single best source for the wonderful and inspiring artwork of Earl Norem. Since 1950, Earl Norem has painted hundreds of memorable covers for novels, gaming books, trading cards, and Marvel Comics, bringing a fine-art style to such projeects as a SAVAGE SWORD OF CONAN, SPIDER-MAN, FANTASTIC FOUR, WIZARDS & WARRIORS, PLANET OF THE APES, MARS ATTACKS, TRANSFORMERS, MONSTERS NLEASHED, THE SIX MILLION DOLLAR MAN, and HULK. Over his five-decade career following decorated service in World War II, Norem has produced illustrations for magazines such as READERS DIGEST, FIELD AND STREAT, SKI, REAL WEST and DISCOVER, as well as movie posters for Conforte Graphics, package designs and artworld for Mego Toys, Mattel, and Hasbro, and even two New York Yankee program covers! With the help of some dedicated fans, here now for the first time ever in one place, you can now see collections of rare and unseen artwork by the legend that is Earl Norem.
Earl Norem Intro
Jason Edmiston Illustration
"Tiger & Dragon" is a 30x24in. archival print and poured resin glaze on wood created for the "Beast of the East" exhibit at Sake Bomb in Downtown St. Petersburg, FL. When I was in Zhangzhou China last year I heard a story about people in rural villages betting on fights between cats and snakes. (Similar to illegal cockfights) These disturbing reenactments were supposed to represent the epic battles between the mythological Chinese dragon and fearless, ancient tigers. I thought this story would make for an interesting piece and took some liberties to show a king cobra to take it a step further.
Pale Horse Illustration Portfolio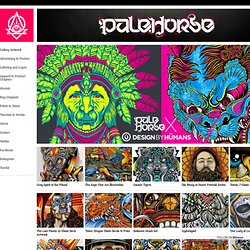 Illustration project- 30 things to do | Su Jin
Ollanski illustrates for you! - Carsten Oliver Bieräugel Illustrations
PRIMITIVE ZERO
Cell DVSN - Home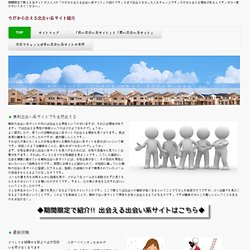 無料の出会い系サイトの中には出会える男性というのがいますが、それには理由があります。 では出会える男性の特徴というのはどのようなものでしょうか。 よく研究したり、見ていけば無料出会い系サイトで出会える理由も見つかります。
NYC SHOP REPORT | Guillotine
seblester.co
Art by Matt Furie
Design Milk: Modern Design
Luna Park
Kadist
Jaeger-LeCoultre et le 69e Festival international du film de Venise
Xavier Magaldi : artiste horloger, entre modernité et tradition
Paper Donut - is the work of Alexis Facca, a french freelance paper and space designer.
unnamed pearl
VICTOR CASTILLO
Toy Art Gallery | Rare, Limited, One-of-a-Kind Art Toys & Sculptures
Paris vs New York, a tally of two cities
MYRIAM HEINZEL
LPCover Lover | The World's Greatest LP Album Covers, 45′s too
showloveworld.com