Tripping
Samorost 2
Samorost 1
Modern Living / Neurotica series
SUPERBAD®
82b1b51bcbda07b1492c746e580721c8fdca97c7.gif (401×301)
OMFGDOGS
Bibio - S'Vive
WTF Japan Seriously!?
SKY.PLANE.GIRL from gusti fink on Vimeo.
Net Artist Spawns Clear Blue Skies, Gentle Waves And Pixel Whirlpools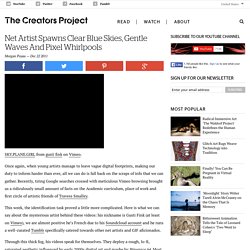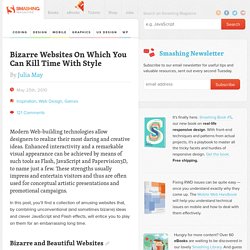 Advertisement Modern Web-building technologies allow designers to realize their most daring and creative ideas. Enhanced interactivity and a remarkable visual appearance can be achieved by means of such tools as Flash, JavaScript and Papervision3D, to name just a few.
Bizarre Websites On Which You Can Kill Time With Style - Smashing Magazine
kaleidoskop.swf from narod.ru
Space Shuttle Discovery - 360VR Images
きゃりーぱみゅぱみゅ - PONPONPON
A History of the Sky
today, a young man on acid realized that all matter is merely energy condensed to a slow vibration -- that we are all one consciousness experiencing itself subjectively. there is no such thing as death. life is only a dream, and we are the imagination of
Plato's Cave (animated version)
STEPHEN FRY: WHAT I WISH I'D KNOWN WHEN I WAS 18 on Vimeo
'Human Slinky' Costume on Sale for $1M - If you can afford it, it may get you an appearance on Letterman...
Wild Wyoming, A Summer of Sunsets & Dark Skies on Vimeo
salad fingers
The Daily Psychedelic Video
Gang Gang Dance - Glass Jar (music video)
SynesthesiaeFilms's Channel
Colour My World
Amazing Horse HD
RSA Animate - Crises of Capitalism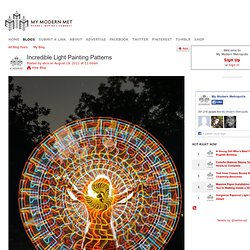 After seeing David Gilliver's gorgeous light paintings in former Nazi-occupied bunkers, we knew that we were only at the beginning of a shockingly amazing art form. Wes Whaley is another "light junkie" who, by day, works as a sales representative for an electrical supply company and, by night, turns into a magnificent artist. Incredibly, none of his pictures are Photoshopped.
Incredible Light Painting Patterns
zoomquilt2.madmindworx.com/zoomquilt2.swf
Michael Valinsky
Ellie Goulding - Lights (Bassnectar Remix)
Sexy Squidward falls while I play unfitting music.
Daft Punk - The Brainwasher
Ratatat ~ Wildcat (Evax Remix)
less talk more rokk